Blue Ash Review Online Vol.1
Welcome to the first release of the Blue Ash Review Online--the digital companion to the longstanding print Blue Ash Review annual literary magazine of University of Cincinnati's Blue Ash College. Started just one year after the founding of the college in 1967 (the college turned 50 in 2017), the Blue Ash Review has been highlighting good art and writing by students, faculty, staff, community members, and visiting artists for decades. The 2018-2019 academic year marks the print Review's 50th anniversary.
We're honoring this timeline by extending the Review's publication to the digital world. We've curated in this online space media, art, and text, the best of what students, staff, faculty, community, and visiting artists have created and shared. As does the print publication, the Blue Ash Review Online celebrates the arts, expanding from visual and written forms to include spoken and multi-media modes. Vehicles for expression may change, but good art does not; we aim to create an experience with every issue that leaves you thinking and feeling and maybe even a little awed.
-Claudia Skutar
Blue Ash Review Online Editor
Karen George
Richard Hague
D. R. James
Eileen Tabios
Janet McFadyen
Kevin Oberlin
Pauletta Hansel
John Trause
Rhonda Pettit
Roy W. Jones
Michael Henson
Matthew Birdsall
H. Michael Sanders
Robert Murphy
Grace Curtis
Sydney Brunner
Shannon Chalmers    
Lauren Kahrs 
Scott Martin
Ariana Miller
Aliyah Motley
Aya Samra    
Brittany Shumate
More on Manifestos
Kendra Carper
Mike Gaines
Nathan Hoover
Melissa Jackson
Danielle Jonas
Rachel Kauffman
Victoria Lantz
Korinna Reed
Katy Schwartz
Maya Addison
Gary Corvi
Devyn Dent
Tom Garino
Alex Huckleberry
Corey Jackson
Margarita Medina
Jared Patterson
Alyssa Tepe
Kirsten Allen
Katie Combs
Josh Carrero
Maria Maldonado
Scott Martin
Aya Samra
2017-2018 Scary Story Contest Winners
Morgan Huber
Athena Babcock
Aaron Doyle
2017-2018 Flash Fiction Contest Winners
Lou Beresford
Jerome Koch
2017-2018 Café Contest Winners
Poetry Café: College Division

Rachael Munns | Corey Jackson

Poetry Café: High School Division

Kay Kemp | Avery Dorsch | Elise Loux

Poetry Café: Song Writing Division

Abbigayle Richards | Hawa Tarawally

Poetry Café: Featured Poet
Jared Patterson
Alyssa Tepe
Merle Rosen was a prolific Cincinnati artist whose art includes acrylic painting, mixed media/collage, works on paper, and sculpture. The fact that she was color blind might surprise those who have appreciated the rich colors of her playful, surreal figures that collectively seem to speak to us about our existence from a world other than ours. These works have been widely exhibited in a range of venues in Ohio (Cincinnati, Columbus) and Kentucky (Covington, Louisville, Lexington), as well as in Scottsdale, Arizona and Kharkiv, Ukraine. A substantial portion of her work is held in corporate and private collections throughout the U. S.
Merle was equally known as a gifted art instructor.  She offered courses and headed programs at the university level, and taught all age levels, groups and individuals, privately at her self-named studio, Blackbird Studio ("merle" is a French word for "blackbird"). She also gave workshops, demonstrations, and lectures in the Midwest as a member of the Golden Artists Colors Working Artist Program. A friend notes that Merle was particularly good with children, and could recite the entire "Jabberwocky" to them.
She was an artist of eclectic tastes and sensibilities, "repurposing" objects and materials in her art and home before the word gained currency. She loved to find bargains in thrift stores, display them in her home, and pass them on to others at the right time. The spontaneity and collage quality of her art was mirrored in her home, garden, and cooking.
Her death from brain cancer on June 19, 2017, left a void in the Cincinnati art scene.
In January of 2018, poet Grace Curtis put in motion a reading of ekphrastic poetry in honor of Merle Rosen. Poets associated with Dos Madres Press of Loveland, Ohio, were invited to select one piece from Rosen's art works, and write a poem inspired by the work. Poets made their selections from among those available digitally or "in the flesh" prior to their sale at the Caza Sikes Gallery in the Oakley Square neighborhood of Cincinnati. Rosen didn't title these works, which both challenged and liberated the poets to set their own course with the work they had chosen. Grace organized the reading schedule and arranged a slide show of Rosen's art so that each of her works was projected as its corresponding poem was read by its author.
On February 23, 2018, more than fifteen poets gathered at the Caza Sikes Gallery to read their poems. Robert Murphy, publisher and editor of Dos Madres Press, hosted the event.
No one, not the poets themselves, the gallery curators, or the many guests and friends of the artist who came that night could have anticipated how the depth and range of the poems in response to the equally expansive work would prove to be such a wonderful highpoint in the intersection of art and words. After the reading, several in attendance began asking how we might share this work with a broader audience. Editors of the Blue Ash Review, two of whom participated in the reading, offered to include the collection of art and poems as a chapbook, contained in a printable pdf file, within the first online edition of the magazine.
Friends have described Rosen as a force, an individual, a "ruffler" of feathers, smart, full of vitality, a healer, energetic, and full of life. Her bold gestural art embodies all of those attributes and more. It creates a perfect backdrop for the poetry in this collection that reflects her amazing life and art. According to Rosen friend, Kathleen Bain, "The magic of Merle was in her attention, her presence, and her ability to take you to a place in the conversation that you never imagined you could get to."
Rosen's art has clearly taken the poets in this collection—most of whom did not know the artist personally—into a conversation with the art and with the artist that they, too, could never have imagined. It is hoped that by reading these poems presented here with photographs of the art, that you, reader, will be drawn into this magical dialog as well.
The editors of Blue Ash Review are pleased to present this electronic chapbook project, originally published as a downloadable PDF insert in the premier edition of Blue Ash Review Online (Fall 2018), and released to coincide with the 50th anniversary of Blue Ash Review.
For more information, go to:
Simply put, a manifesto is a one-sided argument. After that, it gets complicated – and interesting! It's a genre with rules, one of which is: break all rules!
Manifestos can demand, criticize, praise, or boast, sometimes doing all four at once. A manifesto can range in size from two or three words on a page, to a list of principles (the Declaration of Independence), to a book-length critique (The Communist Manifesto by Karl Marx). Manifestos can be text-only, image-only, playful with typeface and size, or use a combination. They can be factual and rational in their progression of thought, or completely absurd and irrational like those created by artists and poets of the Surrealist and Dadaist movements in the early twentieth century.
In other words, manifestos can be radical in form and content, demanding above all else YOUR ATTENTION. They also can be conservative in form and radical in content (again: the Declaration of Independence, as well as the Universal Declaration of Human Rights). They remind us of the possible by demanding the impossible, by planting the seeds of ideals worth realizing. They tend to push back against the status quo, and often break the rules of "good" writing and design in the process.
The manifesto genre can be problematic since it also can be used to promote harmful ideas. It can trade on pathos for good or evil. We must remember: the soul of any genre always resides in the writer!
The fact that manifestos do not contain counter-arguments, logic, or sources makes it easy to serve a bad cause, or serve a good cause badly. This shortcoming can become a teaching moment when students are asked to create a manifesto on a topic they care about, then convert it to a position paper or editorial for public consumption where evidence, counter-arguments and rebuttals, and valid sources are required. Reflecting on their experience analyzing and producing texts in these two genres will help them analyze the arguments they encounter as students and citizens.
In this selection of manifestos by UC Blue Ash students, you'll see a variety of creative approaches and topics of genuine concern.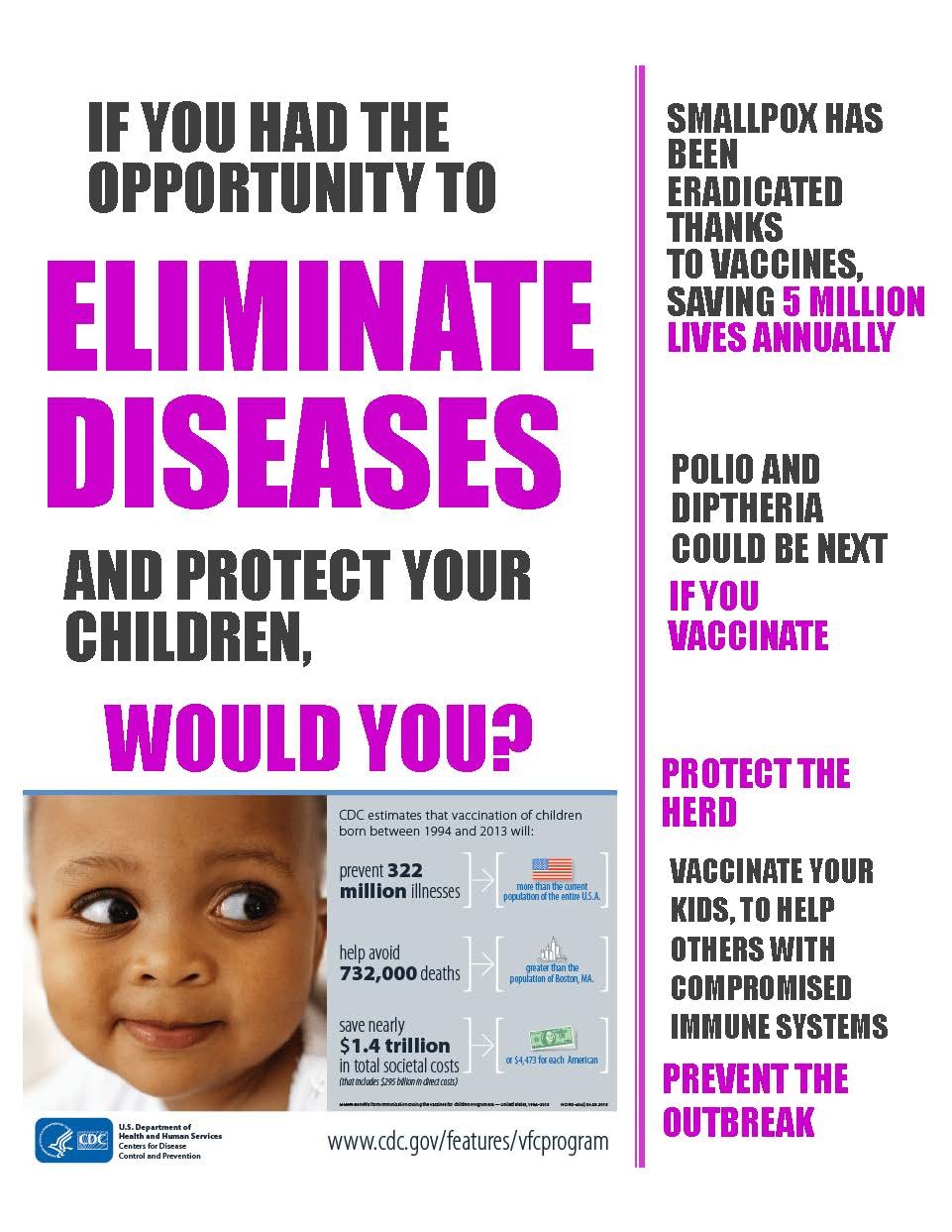 If you had the opportunity to eliminate diseases and protect your children, would you? Smallpox has been eradicated thanks to vaccines, saving 5 million lives annually. Polio and diptheria could be next if you vaccinate. Protect the herd. Vaccinate your kids, to help others with compromised immune systems. Prevent the outbreak. CDC estimates that vaccination of children born between 1994 and 2013 will: prevent 322 million illnesses, more than the current population of the entire U.S.A.; help avoid 732,000 deaths, greater than the population of Boston, MA.; and save nearly $1.4 trillion in total societal costs (that includes $295 billion in direct costs), or $4,473 for each American. Souce of Research.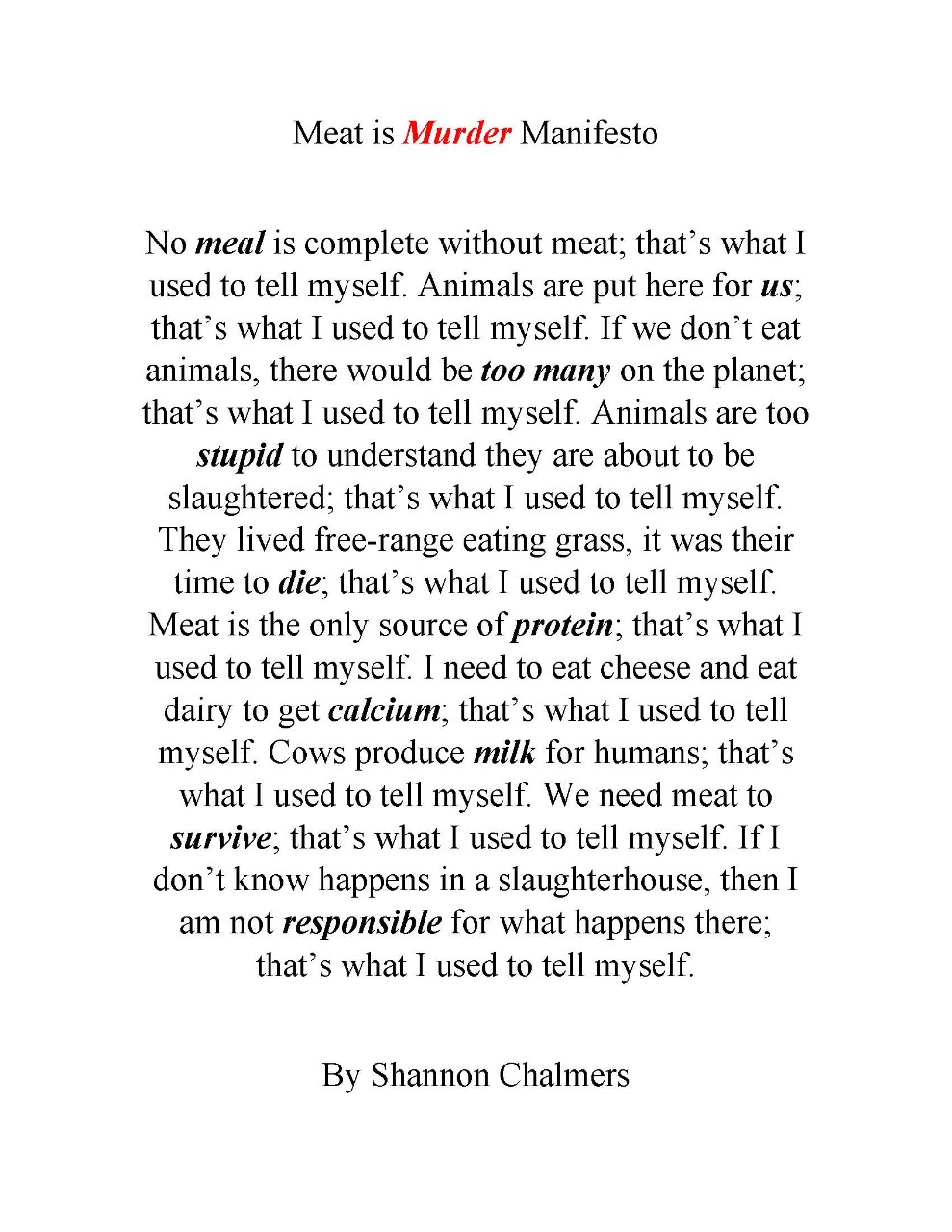 Meat is Murder Manifesto: No meal is complete without meat; that's what I used to tell myself. Animals are put here for us; that's what I used to tell myself. If we don't eat animals, there would be too many on the planet; that's what I used to tell myself. Animals are too stupid to understand they are about to be slaughtered; that's what I used to tell myself. They lived free-range eating grass, it was their time to die; that's what I used to tell myself. Meat is the only source of protein; that's what I used to tell myself. I need to eat cheese and dairy to get calcium; that's what I used to tell myself. Cows produce milk for humans; that's what I used to tell myself. We need meat to survive; that's what I used to tell myself. If I don't know what happens in a slaughterhouse, then I am not responsible for what happens there; that's what I used to tell myself. By Shannon Chalmers.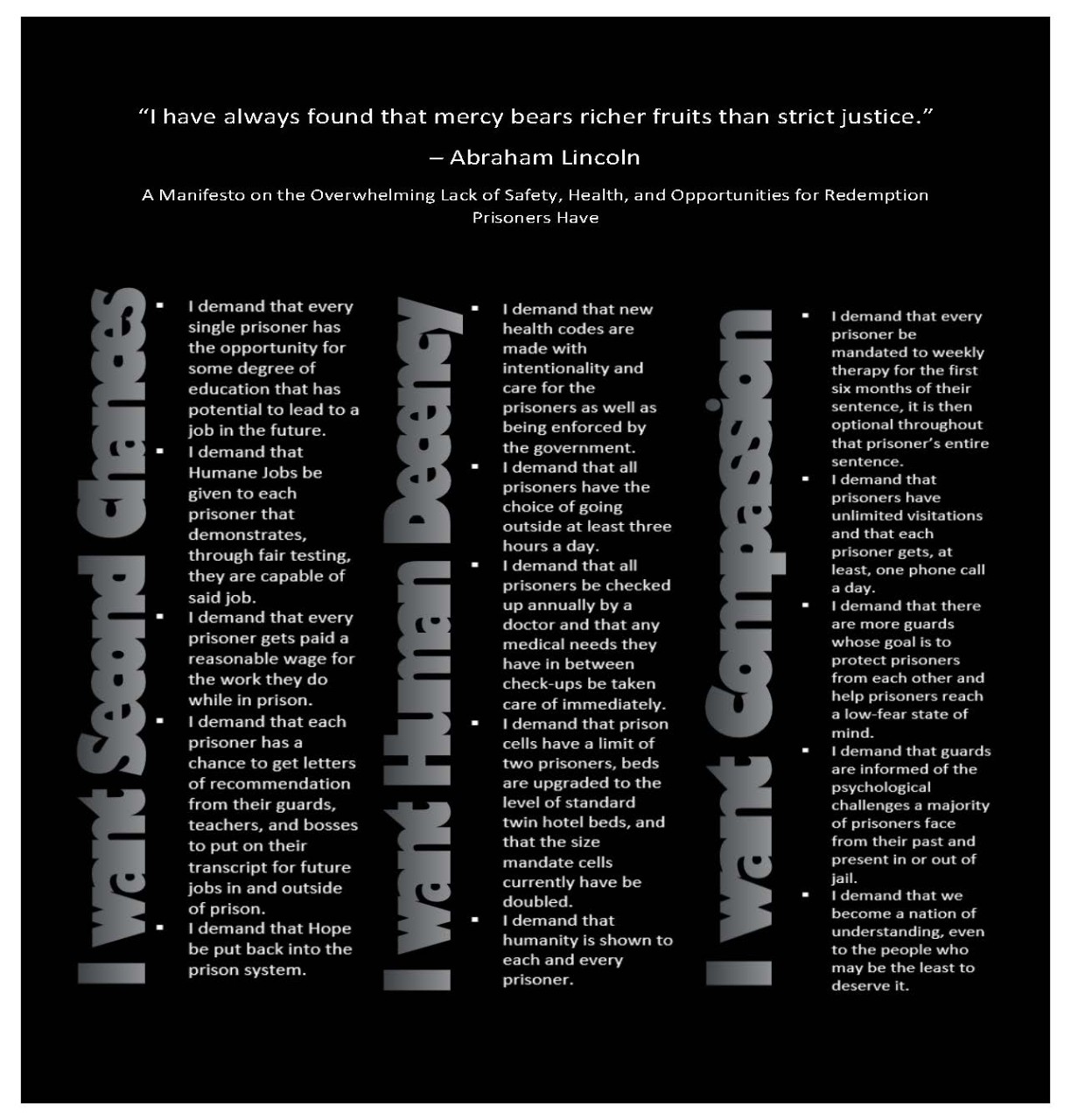 "I have always found that mercy bears richer fruits than strict justice." – Abraham Lincoln
A manifesto on the Overwhelming Lack of Safety, Health, and Opportunities for Redemption Prisoners Have
I want Second Chances
·         I demand that every single prisoner has the opportunity for some degree of education that has potential to lead to a job in the future.
·         I demand that Humane Jobs be given to each prisoner that demonstrates, through fair testing, they are capable of said job.
·         I demand that every prisoner gets paid a reasonable wage for the work they do while they are in prison.
·         I demand that each prisoner has a chance to get letters of recommendation from their guards, teachers, and bosses to put on their transcript for future jobs outside of prison.
·         I demand that Hope be put back into the prison system.
I want Human Decency
·         I demand that new health codes are made with intentionality and care for the prisoners as well as being enforced by the government.
·         I demand that all prisoners have the choice of going outside at least three times a day.
·         I demand that all prisoners be checked up annually by a doctor and that any medical need they have in between check-ups be taken care of immediately.
·         I demand that prison cells have a limit of two prisoners, beds are upgraded to the level of standard twin hotel beds, and that the size mandate cells currently have be doubled.
·         I demand that humanity is shown to each and every prisoner.
I want Compassion
·         I demand that every prisoner be mandated to weekly therapy for the first six months of their sentence, it is then optional throughout the prisoner's entire sentence.
·         I demand that prisoners have unlimited visitations and that each prisoner gets, at least, one phone call a day.
·         I demand that there are more guards whose goal is to protect prisoners from each other and help prisoners reach a low-fear state of mind.
·         I demand that guards are informed of the psychological challenges a majority of prisoners face from their past and present in or out of jail.
·         I demand that we become a nation of understanding, even to the people who may be the least to deserve it.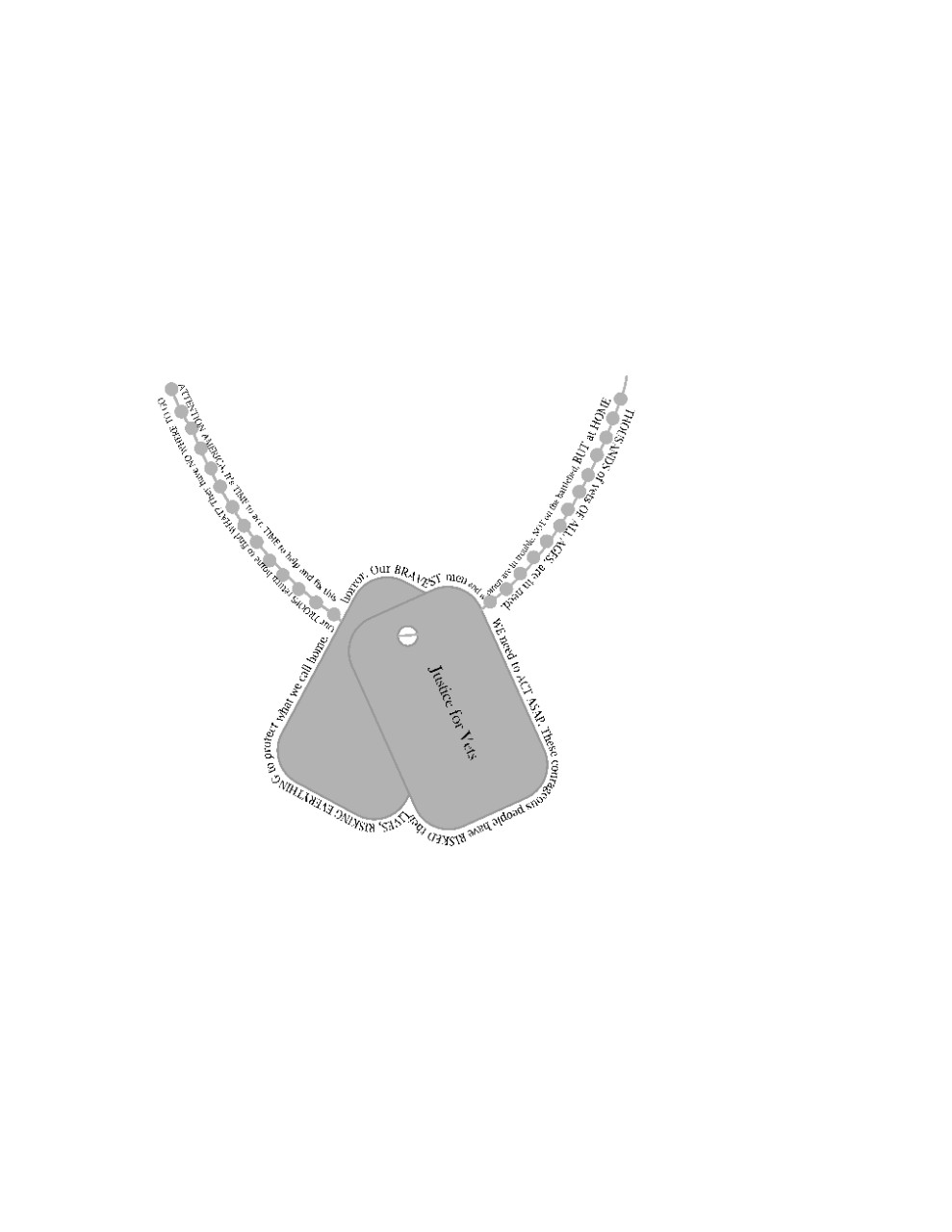 Replace this text component with your accordion's content.
Justice for Vets
ATTENTION AMERICA, It's TIME to act, TIME to help fix this horror. Our BRAVEST men and women are in trouble. NOT on the battlefield, BUT at HOME. THOUSANDS of vets OF ALL AGES. are in need. WE need to ACT ASAP. These courageous people have RISKED their LIVES, RISKING EVERYTHING to protect what we call home. Our TROOPS return home to find WHAT? They have NO WHERE TO GO. This text is wrapped around a picture of military dog tags. 
Further action is required to make this image accessible
One of the below criteria must be satisfied:
Add image alt tag

OR

Mark image as decorative
The image will not display on the live site until the issue above is resolved.
Further action is required to make this image accessible
One of the below criteria must be satisfied:
Add image alt tag

OR

Mark image as decorative
The image will not display on the live site until the issue above is resolved.
Further action is required to make this image accessible
One of the below criteria must be satisfied:
Add image alt tag

OR

Mark image as decorative
The image will not display on the live site until the issue above is resolved.
Further action is required to make this image accessible
One of the below criteria must be satisfied:
Add image alt tag

OR

Mark image as decorative
The image will not display on the live site until the issue above is resolved.
Further action is required to make this image accessible
One of the below criteria must be satisfied:
Add image alt tag

OR

Mark image as decorative
The image will not display on the live site until the issue above is resolved.
Further action is required to make this image accessible
One of the below criteria must be satisfied:
Add image alt tag

OR

Mark image as decorative
The image will not display on the live site until the issue above is resolved.
Further action is required to make this image accessible
One of the below criteria must be satisfied:
Add image alt tag

OR

Mark image as decorative
The image will not display on the live site until the issue above is resolved.
Additional interesting sources of information and contemporary examples related to fine art manifestos may be found through the following links. - Editor
This Wikipedia page provides an overview of the film Manifesto by Julien Rosefeldt. The film features Cate Blanchett in a tour de force performance during which she portrays thirteen different characters reciting an amalgam of manifestos spanning over a century of art history within eye-popping locations and settings.
This is an extended book-length example of a visually complex artistic manifesto, accompanied by Spanish text, produced in 2015 by contemporary artist and writer Pedro Proença.
Artist and filmmaker Julien Rosenfeldt provides access to the individual sequences comprising the theatrical film Manifesto, which replicates the single-channel format of their original presentation with a museum setting. In such installation situations all of the thirteen film segments were playing simultaneously on video monitor within the gallery so that the individual strands of the work interact with one another.
This online version of the print publication MetaDada explores both historical and contemporary manifestations of Dada, an important art and literary movement arising in the early part of the twentieth century that continues to inspire and provoke contemporary artists and writers in a multitude of ways. The manifesto literary form was an important and integral component of the Dada movement and its successors such as Surrealism, Pop Art, and Fluxus.
Student Book Projects From UC Blue Ash eMedia Communications
Driven by the required course work in photography and design residing at the core of the curriculum in Electronic Media Communications at UCBA, photographic books have emerged as an extremely popular method for students to demonstrate their accrued technical and aesthetic skill sets prior to graduation. These "capstone" projects are conceived, designed and produced by students during their final semester in the program. They are intended to serve as an example of their ability to communicate visually and manage a complex production project at a professional level of accomplishment.
Nine such projects have been excerpted for this showcase to illustrate the wide range of subjects, approaches, and techniques employed by the student photographers/designers. A large selection of the most recent photo book projects will soon be on view in the UC Blue Ash College Art Gallery, along with other capstone projects by graduating eMedia students, during May and June 2018. 
Kendra Carper. Flawless. Cincinnati, Ohio: By the Author, 2013. Hardcover with full wrap, 30 pages, 9.25" x 7.25".
This artist-produced photographic book presents twelve pairs of images that each make a direct comparison between a detail of the human body and a detail of a form of natural vegetation. The basic concept is revealed through the depiction of details, including arms. elbows, pubic hair, waist, nose, nipple, chin and back, each containing some sort of surface flaw, irregularity or magnified blemish that potentially renders them "unattractive" or in need of cosmetic attention. The coupling of these images with similarly shaped details of vegetation suggests that such "blemishes" are the natural state of all living surfaces and that, as the epigraph to the book suggests, "A flaw is not a curse of God, but a gift of nature."

Mike Gaines. Reconnect: A Visual Interpretation of the Beatitudes. Cincinnati, Ohio: By the Author, 2009. Softcover with full-color wrap, 70 pages 9" x 7".
This book is composed of eight photographic sequences of five images, with each sequence functioning as either a literal or metaphorical visual interpretation of one of the eight Beatitudes from Jesus' Sermon on the Mount found in the Gospel of Matthew [Holy Bible: Today's New International Version. Colorado Springs: International Bible Society, 2005.]

Nathan Hoover. Creating Space. Foreword by Robert Stephens Slone. Cincinnati, Ohio: By the Author, 2017. Hardcover with full-color wrap, 30 pages, 11.25" x 8.75".
A volume visually documenting the realization of a modern building from inception to completion. The space is a healthcare rehabilitation facility for patients recovering from surgery or in need of physical therapy. The documentation is provided through 26 original photographs, diagrams, artist renderings and reproduced planning documents organized into sections reflecting "Conception," "Construction," and "Completion." This well-designed, aesthetically pleasing and informative book was recognized with the 2017 Director's Award by faculty in Electronic Media Communications.

Melissa Jackson. Reflection. Cincinnati, Ohio: By the Author, 2013. Hardcover with full wrap, 26 pages, 8" x 8".
A complex artist's book presented in a format simulating a personal scrapbook. It combines original photography (both singular and sequential images), original drawings, digital graphics, and text (composed of both original writing and quotations). The subject matter is an exploration of perception, emotion and thought (expectation), refracted through the lens of quasi-Buddhist and/or Taoist philosophy.

Danielle Jonas. Marvelous Martinis. Cincinnati, Ohio: By the Author, 2008. Hardcover with full-color wrap, 44 pages, 7.75" x 6".
A beautifully realized small-format book featuring 34 recipes that are all variations on the classic Martini, the "great American cocktail" as the author notes in her text. Each recipe is gorgeously illustrative with sophisticated full page photographs that epitomize professional product photography at its finest. The imagery is well supported through the graphic design choices and structure of the book. A miniature marvel of aesthetic and technical accomplishment in photography and design.

Rachel Kauffman. Encounters. Lebanon, Ohio: By the Author, 2016. Hardcover with full-color dust jacket, 92 pages. 8.25" x 10.25".
An impressive collection of 81 abstract photographs derived from experience in the Tao of Photography seminar at UC Blue Ash College. The portfolio from this seminar was subsequently built upon and refined over the next year and amplified through the additional of poetic texts. The photographer utilized Taoist principles to encounter and identify with visual subject matter in poetic and metaphoric ways. The work includes singular images, multiple-image works, and photo-collage organized into four categories reflecting the subject matter: Paint and Light, Human-Made, Framings and Natural. Recognized as co-recipient of the 2016 Director's Award by faculty in Electronic Media Communications.

Victoria Lantz. Ernest Hemingway's Hills Like White Elephants. Cincinnati, Ohio: VGL Media, 2016. Softcover with full-color wrap, 50 pages, 11" x 8.5".
Ernest Hemingway's 1927 short story is illustrated in this well-crafted book with an extended series of 22 cinematic photographs that successfully recreates the feeling of the story and fleshes out the implied content buried between the lines of what is nominally a brief travel tale focused on a young couple. An noted in the photographer's introduction, "Through this piece, Hemingway coined the 'iceberg theory.' It is the kind of story you will want to read twice." Hemingway was suggesting in this theory that the deeper meaning of the story not be evident on the surface. This, of course, gave the photographer license to visualize the subtext of the story, contributing a meaningful and sensitive interpretation to our reading of the tale.

Korinna Reed. Invented Memories: A Photo Journal. Cincinnati, Ohio: By the Author, 2016. Hardcover with full-color dust jacket, 28 pages, 13" x 11".
A poetic photographic journal filled with imagery derived from decaying buildings, vehicles and other objects that become metaphorical representations of a series of ten idiosyncratic personal memories, both real and imagined. The photographs reflect these vague impressions from the artist's memory through visual blurring, blending and layering in the manner that our memories decay and transform as they recede farther from the present. The collage-style presentation of over 80 photographs, use of selective focus and image color desaturation all help enhance these impressions. Recognized as recipient of the 2014 Director's Award by faculty in Electronic Media Communications.

Katy Schwartz. Girl Power. Cincinnati, Ohio: By the Author, 2016. Hardcover with full-color wrap, 32 pages, 11.5" x 8.75".
A beautifully produced photographic book that gains its power through simplicity, directness and refined technical execution. It is designed for young girls (ages six through ten), and is intended to encourage their self-confidence and development personal power through a focus on education, sports and creative activities. Thirteen engaging portraits of girls enjoying such pursuits, and two additional multi-image photomontages, are accompanied by inspirational quotations and original text to deliver the content. Recognized as co-recipient of the 2016 Director's Award by faculty in Electronic Media Communications.

Found Poems have been called the literary equivalent of a collage. Pieces of text from different sources – literary works, journalism, advertising, scientific writing, prose on any topic, etc. –  are used to create a new poem. In effect, this process liberates language and imagination. Instead of a writer in search of language for her subject, the writer uses language to see what rises organically, to find a subject, meaning, association, or expression of some kind. In the Spring 2018 poetry workshops, students created found poems made from two sources. First they selected clipped phrases from their own poem draft and those of other student drafts, to revise their initial draft. Later in the semester, with examples provided by Professor H. Michael Sanders, they clipped newspaper headlines and generated a new poem draft.

Further action is required to make this image accessible
One of the below criteria must be satisfied:
Add image alt tag

OR

Mark image as decorative
The image will not display on the live site until the issue above is resolved.
Further action is required to make this image accessible
One of the below criteria must be satisfied:
Add image alt tag

OR

Mark image as decorative
The image will not display on the live site until the issue above is resolved.
Further action is required to make this image accessible
One of the below criteria must be satisfied:
Add image alt tag

OR

Mark image as decorative
The image will not display on the live site until the issue above is resolved.
Further action is required to make this image accessible
One of the below criteria must be satisfied:
Add image alt tag

OR

Mark image as decorative
The image will not display on the live site until the issue above is resolved.
Further action is required to make this image accessible
One of the below criteria must be satisfied:
Add image alt tag

OR

Mark image as decorative
The image will not display on the live site until the issue above is resolved.
Further action is required to make this image accessible
One of the below criteria must be satisfied:
Add image alt tag

OR

Mark image as decorative
The image will not display on the live site until the issue above is resolved.
Further action is required to make this image accessible
One of the below criteria must be satisfied:
Add image alt tag

OR

Mark image as decorative
The image will not display on the live site until the issue above is resolved.
Further action is required to make this image accessible
One of the below criteria must be satisfied:
Add image alt tag

OR

Mark image as decorative
The image will not display on the live site until the issue above is resolved.
Further action is required to make this image accessible
One of the below criteria must be satisfied:
Add image alt tag

OR

Mark image as decorative
The image will not display on the live site until the issue above is resolved.
Further action is required to make this image accessible
One of the below criteria must be satisfied:
Add image alt tag

OR

Mark image as decorative
The image will not display on the live site until the issue above is resolved.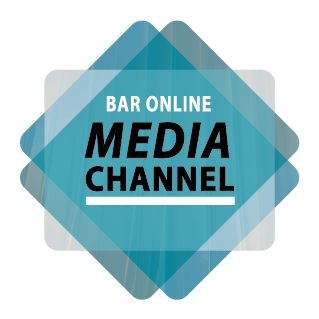 BAR-Online's Media Channel will regularly showcase artistic uses of media in a wide range of forms including animation, audio/music/sound works, video, and visual works (collage, digital imagery, drawing, graphics, painting, photography and sculpture).
This issue features musical recordings, digital graphics, illustration and photomontage by students at UC Blue Ash College.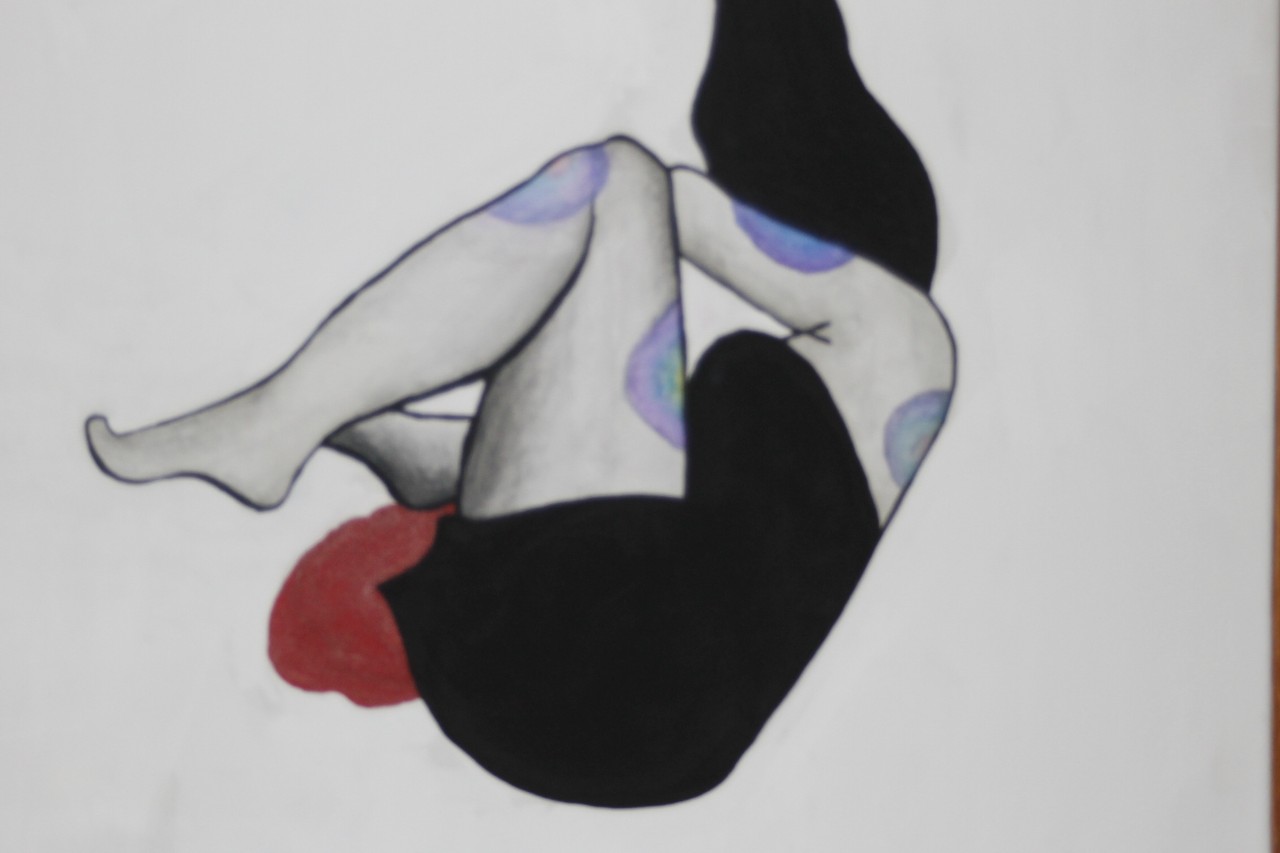 Further action is required to make this script accessible
The below criteria must be satisfied:
Affirm Accessibility must be checked

AND

You have an iFrame in the script without a title, use the 'iFrame Title' input to add one.
The script will not display on the live site until the issue above is resolved.
Kirsten Allen: A Warrior Caught in a War Zone
Lyrics:
I'm not the same no more.
He left me on the floor,
No clothes… No shoes.
Curled up with blood and bruises.
Mhm…
 
[Hook:]
I'll never be me (2x)
He raped away what was left of me.
Now I'm nothing but alone,
With his imprint all over me.
When I think back,
I remember, "I said no." (3x)
 
[Verse 1:]
The other day, I met a boy.
He thought I was cute, said "I shouldn't be alone"
"I should go to this party, and have some fun."
Didn't see the red flags and I went along.
That was the last night, I trusted someone.
Ohh…
 
[Hook}
 
[Verse 2:]
Woke up, it's all a blur…
Didn't clearly understand where I was.
My thighs look like artwork of a screwed up person.
So much red, so much blue
My thighs are scarred and bruised.
Tears rolling down my eye,
All I wanna know is why…
All I remember is "I said no."
He sent pictures to my phone.
I was screaming, I was crying.
Asking why he chose me,
He laughed, "It's my right to have anything"
 
No… I'm alone (2x)
With his imprint all over me.
When I think back,
I remember, "I said no."
 
[Verse 3:}
It too years, I tried to leave the past behind.
Thought I was the only one,
I was wrong (2x).
Many know how I feel,
What I endured and my fears.
 
[Ending:]
I'm the girl on the floor.
I'm not curled all alone.
I am strong (2x).
I'm a warrior caught in a war zone.
I hope he never text my phone.
Yeah, he knows, "I said no."
 
Mhm…(2x)
Ohh… A warrior caught in a war zone.
I'm a warrior caught in a war zone.
Mhm…

Maria Maldonado: Moonlight
Further action is required to make this video accessible
The below criteria must be satisfied:
Affirm Accessibility must be checked

AND

Kaltura or embed is selected, or YouTube or Vimeo is selected and a title is entered.
The video will not display on the live site until the issue above is resolved.
Lyrics:
Everything's white, everything's black
These are the colors leading my life
I'm walking, and it's getting dark
These streets of sorrow are building my path
Where are they taking me in this winter's night
The only thing my eyes can see is the moonlight
Luna, dame un rayo de luz (Moon, give me a beam of light)
Luna, escucha mi corazón (Moon, listen to my heart)
Luna, luna, lunera, tu brillo me quita el dolor (Moon, your shine takes my pin away)
Luna, tú y tus estrellas, bailando este son (Moon, you and your stars dancing this song)
I follow the light, and I can't look back
This is the only way that I can save my heart
I'm going to the place where I'm meant to be
With all the people that I love, dancing this song,
Next to the sea.
Further action is required to make this image accessible
One of the below criteria must be satisfied:
Add image alt tag

OR

Mark image as decorative
The image will not display on the live site until the issue above is resolved.
Aya Samra: Deep into my Thoughts
Further action is required to make this image accessible
One of the below criteria must be satisfied:
Add image alt tag

OR

Mark image as decorative
The image will not display on the live site until the issue above is resolved.
Further action is required to make this video accessible
The below criteria must be satisfied:
Affirm Accessibility must be checked

AND

Kaltura or embed is selected, or YouTube or Vimeo is selected and a title is entered.
The video will not display on the live site until the issue above is resolved.
Let's Call Her Sarah
Sarah is a girl I've had a crush on for a while.
I love to see her laugh. I love to see her smile.
But she doesn't seem to feel the same way about me.
She wants to be friends. Not romantic company.
But sometimes that happens. I get it. It's fine.
I can't expect every single girl to be mine.
I want to accept it. I want to be friends.
But as more time passes my perspective bends.
There are times when I'll see her, open my mouth and say
"How's it going, Sarah?" Cause we're just friends that day.
Other times that I see her my mouth goes on mute
as I think to myself "Holy shit dude, she's cute."
And that's where it is. That's the crux of the issue.
I hate that I feel like I'm always trying to kiss you.
Sorry, you, meaning her. I'm projecting a little.
My emotions lashed out and you got caught in the middle.
But that's how it is. The crush is still there
despite what I do to make me prepare
to run into her, with her uplifting smile
that brightens my day, at least for a while.
But then when I leave, my mindset will change.
I'll feel a bit guilty. I'll feel a bit strange.
I don't want to crush on her day after day.
I don't want to push my friend Sarah away.
This isn't a feeling that I want to relay.
She deserves to have friends that don't see her that way.
So that's where I am, day in and day out
as I spend time with her and I'm riddled with doubt.
"It's okay, you're just friends!" my brain tries to dispute.
But my heart stops and says, "Holy shit. Sarah's cute."
6th Annual Scary Story Contest Winners
First Place: Morgan Huber - Unless
Maxine knew when she woke up that cloudy Friday morning that her father was dead. She knew it as surely as she knew the dew on the grass would soak into her shoes when she ran to chase the bus that always left without stopping for her. There was a chill in the air like a house gone cold and silent with grief not yet tapped. Maxine knew waking up that her father was gone, and she went to go and make coffee.
On her way to the kitchen she passed her parent's room and looked once at their door. It seemed to grow and shrink as she stared, pulsing with invitation to come and look. Come and see. Was he really dead? Was she simply imagining the sheer emptiness around her?
The coffee pot chugged in the background as she flitted from closet to bedroom to dining room, collecting her things for the day. Her books she found scattered below the table her family ate at, long silent dinners where everything tasted like mash potatoes because no meal tastes good with sullen eyes staring, waiting for a mistake. She shivered, poured herself a cup of coffee, and her feet took steps she never told them to toward her parents door.
What if she was wrong? What if she opened the door and he was still quite warm and alive, pulling on his butchers linens. They were what he wore when he cut meat on Tuesdays. "Won't sully my duds with pork chop juice," he joked one morning, ruffling Maxine's hair a little too hard. Then the hand turned gripping and--
Maxine's own hand tightened on the door handle. She took a few breaths for courage, feeling terror curdle in her belly and make knots between her shoulders. A twist, a push, and...
Still in bed. The alarm was blaring and he was still asleep. Her mother wouldn't be home for another hour, back from night shift at the hospital. Anthony Harris never slept in, not once, no matter how bad the dog bit him the night before. He had a cure in the kitchen he'd administer liberally before turning on the real source of his problems. But he never slept in and that's what he was doing now.
Unless.

She took steps forward, cringing violently when the floor creaked, heart pounding like a war drum, but still he didn't move. Closer now, enough to see the lines of broken veins in his nose and around his eyes. She stared at his chest. Unmoving. Once in a movie she saw them use a mirror to check for breath but did she want to turn her back to get one? He might be pretending, faking, waiting for her to make a mistake and then he'd--

Maxine put two fingers to his neck. Cold, pulseless. He was dead alright, as a doornail, gone to meet Peter at the Pearly Gates.

Unless.

She tossed a sheet over his face. It seemed right. She back away, out of the room, never once taking her eyes off him in case she was wrong. In case he was still pretending. Still faking. Then she went to wait on the couch for her mother. There would be no school today, the family had suffered a horrible tragedy. And if the family felt more relief than grief then, well, that was their business.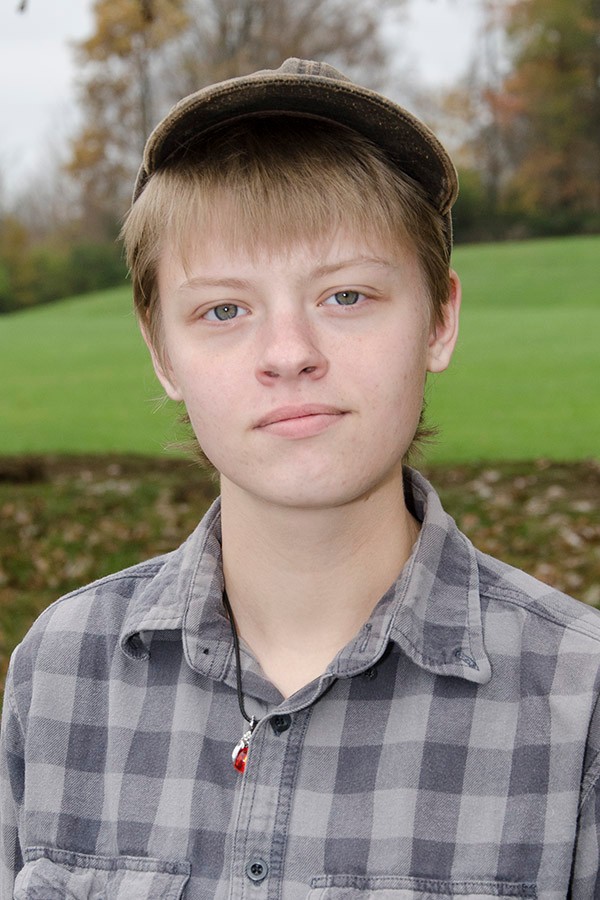 Morgan Huber is a liberal arts major intent on the publishing and editing industry. They have a fondness for the fantastic and superstitious, and an appreciation for the generally creepy.
Second Place: Athena Babcock - The Creek
The crisp air hit me as I walk through the woods with Jack. Leaves twirl to the ground as we hike uphill. Jack begins to pretend his hiking stick is a sword, he smacks it against a tree and the stick breaks, falling far out of my line of vision. "Whoa! Did you see that?" he asks. He smiles and the wind makes his maroon hoodie hit the back of his head. Then he grabs a thicker stick and hits it against the same tree. He looks like he is hitting it with all the force he has in his ten-year-old arms, but the stick doesn't break.

"I thought you wanted to see the cabin," I said stuffing my hands in my hoodie to prevent them from getting cold. "We don't have a whole lot of time."      Jack drops the stick and starts scanning the ground around him. "Yeah hold on," he grabs another stick that stands just a few inches above his head. "Why can't I just go by myself? Mom and Dad used to let me."

His friend Luke has been missing for about a week. Luke is two years older than Jack and my parents used to let Jack go with him on camping trips as long as I went with them. Luke is a skilled survivalist; his Dad was the leader of his boy scout troop and Luke would spend as much time as he could outside. Then one day he went hiking by himself and he didn't come back. By the time his parents came to our door, Jack was in bed. We live in Ohio, no bears, no wolves, no poisonous snakes or insects. We have coyotes, but I am yet to see one try to attack people. However, there is something about being alone in the dark. Especially in a forest, it's hard to tell what might be taking up the space.

The sun was at its highest when we got to the old cabin. The stone foundation is all that is left of it.

"What room do think this was?" Jack asks pointing to the largest room area closed in by stone.

I step on a small stone square that connected with the biggest room. "What do you think it was?" Jack stares at my feet for only a few moments then shrugs. "What do we have in our living room?"

"We have a couch," he slowly drew in the dirt with his stick, "and a TV." Then he looks back at my feet again and his eyes light up. "Is it a living room?"

I nod and look past my brother, I freeze and point behind him. Yards away from the remains of the cabin, is a creek. On the other side stands a deer looking back at us. I creep closer as Jack watches. The deer didn't keep an eye on me. Instead she continued to look around as if we weren't even there. She only looks at us again when I am a yard away from the creek, Jack just a few feet behind me. I take one step into the creek and I feel something start to pull at my foot. The water is dark and muddy, I can no longer see my foot. Then the water starts to bubble and the deer bounds away. I don't realize what is happening until something yanks half of my body into the creek. Jack points his stick in my direction and I grab onto it.
Seconds later, the stick snaps and everything is cold and wet, -but the worst part is the darkness.
Seconds later, the stick snaps and everything is cold and wet, -but the worst part is the darkness.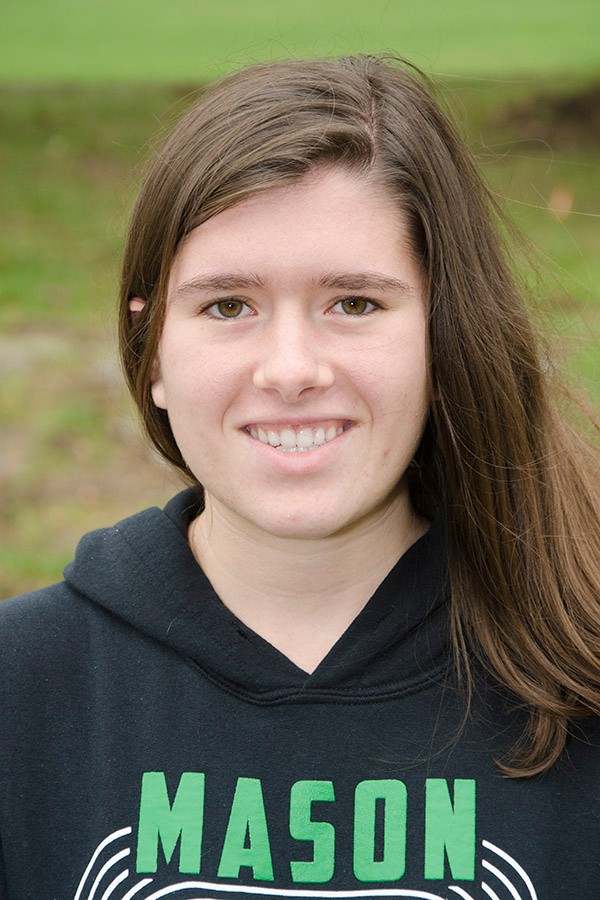 Athena came to UC to become a Vet Tech, but reading and writing are one of her favorite hobbies. She enjoys listening to scary stories on YouTube and also enjoyed reading the scary stories that were published last year.
Third Place: Aaron Doyle - Hungry
Chad jumped out of his grave and stumbled over to a Ford Mustang. He was hungry and thought he'd drive back to his old place for a midnight snack. He hadn't eaten since who knows when. He was hoping that in death, hunger would not be a worry. Unfortunately, though, his belly had been rumbling all through the night. Much to his avail, the keys were in ignition.

There was no owner of the car to be seen. He hopped in and sped down the sidewalk and out of the graveyard, waving goodbye to Betty, the one-hundred-year old zombie he had met not too long ago and had become very close with.
"Wait! Where are you going, dear?" Betty inquired. "I'm hungry. Do you want anything?"
 
"No, thanks. I ate not too long ago." "Well, goodbye then."
 It felt like forever since Chad had driven a car, though it had only been about three months since he was killed by his wife, Mary. In life, death had been the primary fear for Chad. He wasn't religious, but he also couldn't fathom just going to sleep forever. He didn't know how he felt about the fact that he had become a zombie and was still amongst the living, but he had made many friends, like Betty, through the course of his short zombie life. He had seen movies about the undead, about zombies. This was different, though. They were all very formal, dressed in gorgeous white gowns and had better manners than most humans. Also, here in this graveyard, the zombies did not go after the living all that often, only about once a month. That seemed to keep them satisfied. In the meantime, they hung around the graveyard, played cards and had tea and cookies. Chad did not particularly enjoy eating human flesh like the other zombies, but he did seek some cold revenge. He finally pulled up to the house. Mary's car was in the driveway and the lights were on. She was home, but Chad couldn't understand why.
Maybe she was on house arrest? She deserved everything she got, or would get--now. He walked out of the car and found he was very nervous, but also anticipating what would come. He knocked on her door. Mary screamed into the night, but Chad put his hand over her mouth.

"It's just me, Mary."

"How? You're supposed to be dead, Chad."

"I am, technically. Turns out I became a zombie, though. I'm sorry. Guess you killed me for nothing. I'm still very much alive."
 
"Guess it's too late to ask for forgiveness. How about some tea?" "Tea sounds good."

Chad walked into the house. It was exactly the same as it was when he left three months prior. He looked over at the spot where it happened. He remembered everything. There was a long silence between them. How could either of them find the words to say after what happened.

"Have a seat," offered Mary.
"I'm good. I'll just stand. I don't like sitting. I've been doing nothing but lying in a grave and sitting drinking tea with the others for the last three months."
 
"Wow, sounds interesting."

"Yes, Mary. It's very interesting living at a graveyard. Thank you for that, dear."

"You know, Chad, I know we had our issues. God, I wish I had never put that bullet in your brain. I was drunk and had a long night. I was so pissed at you, but deep down I still loved you. I'm glad you're still here on earth, Chad. I'm glad I could tell you what I hadn't told you in ten years of our marriage, before you died. I'll tell you now. I need you to know that I never stopped loving---."

As Chad leaped on Mary, she screamed in terror. She was the perfect midnight snack. After devouring Mary, Chad ran back out to his car and drove back to the graveyard. He came back with a grin on his face. Betty was still in the same spot he had left her, and she waved at him as he walked over.

"Did you get something to eat, Chad?"

"Yeah, I just had my wife for dinner. Mary should've known—revenge was mine." "You might be speaking too soon, Chad."
 
"What are you talking about, Betty?"

As if the night weren't dark and cold enough, it got darker as the lights in the cemetery went out. The wind screamed. A strike of lightning shot down hard, much like the bullet that struck down Chad. In an instant, as the nearby clock tower rang one, a presence walked out from behind. There she was. Mary, in a white gown, with jet black hair and gnarly green and yellow skin. She looked like death. She was now with them, in full zombie form, having tea with Betty.
"Hello, Chad. Fancy seeing you here."
THE END.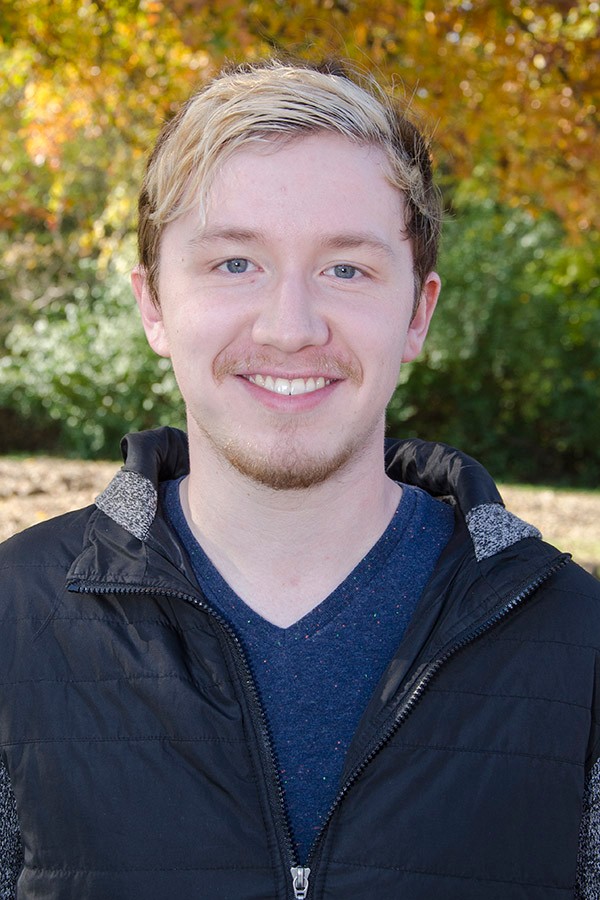 Aaron is currently a sophomore in the English major with a Rhetoric and Professional Writing track. He has been writing stories since he was five and started by creating picture books. His plan is to either work for a publishing company or become an environmental writer, but he would love to be a full-time author and illustrator as well.
Flash Fiction Contest Winners
The Writing and Study Skills Center's first annual Flash Fiction Writing Contest offered aspiring writers to submit their best story in fewer than 500 words.
First Place: Lou Beresford - Qualms
During the eulogy of my mother's boring, yet heartbreaking funeral, I started thinking about calling off the wedding. Rob is a wonderful man, he has been there for me throughout the whole time that my Mom has been in and out of the hospital. Sure, we had lots of fights, and I slept on the couch quite a few times, but we made it through.
I glanced over at the stained-glass window and took his hand in mine. His hands were firm and strong, I squeezed it tightly and felt all the small cuts and blemishes from his work as a welder. I shifted restlessly, trying to tune out the sounds of the priest's voice. I don't want to think about mom being dead. She was a bitch, she hated that Rob and I were together, but she was my mother. Some people you just have to love, and sometimes you still miss them even after all the wrong they've done to you.
Mom never wanted us to get married. Two men should never be in love, let alone destroy the sanctity of marriage she always said. I can't hate her. She was there for my first step, my first accident, and my first day of school. I love her, but I hate her.
If I call off the wedding she will get her way, but if I don't I might regret my decision. Rob and I don't click the way we used to. We don't do things that we used to enjoy. Rob and I used to sit outside and talk for hours, but then I became more distant and reserved as family situations became tenser. I'm not sure if we can go back to the way things used to be.
The service ended, and Rob leaned over, "It's okay Babe. I'm right here. I know it's complicated, but I love you no matter what." My heart dropped as my mind raced to the thoughts of breaking it off I had a few moments ago.
"I love you too." I whispered and kissed his stubbly cheek. "Thank you." Now what do I do?
Inspired by a writing prompt in Fiction Writers Workshop by Josip Novakovitch.
Lou is a pre-early childhood major at UCBA, but they also have a passion for writing inclusive and thought provoking pieces. They have two unpublished novels, and a portfolio of short stories. This is their first published piece.
Jerome Koch: Second Place - El Amado
In the Arizona desert, the sun beat down on a young girl. She laid on a bus stop bench wearing a short red dress and a straw hat to cover her face. Her arm dangled over the side of the bench; just high enough to taunt any desert creature scavenging in the morning light. Her name was Rosalina.
Her brother, Rico, had dropped her off and headed to finish some other errands in his van. Rico loved her more than Wayne did, but he knew that wouldn't stop her. She had worked in a diner to earn an honest living and met Wayne when he spilled coffee gawking at her. He apologized to her in poor Spanish, and she pardoned him in exceptional English. He tried salvaging the conversation, but Rosalina was a worker. Every time he asked about the weather or the diner or the latest newspaper piece she answered politely and attended to her responsibilities. He tried getting information from her co-workers, but they knew as much as he. His usual interrogation method couldn't pry anything useful.
It was a late night that followed a long day. The cartel had entered a shootout with a cop on patrol in the early morning, and the quietus reached farther than the crime scene. Wayne came in for a late-night coffee and didn't so much as notice Rosalina. He ignored the workers cleaning; his attention was arrested by the coffee's steam. When the employees finished and were turning off lights, he joined them at the door and wandered to his car. He was waiting for the light poles to go out. Footsteps behind him made him stiffen. He flung his door open and jumped out of his car. In front of him, a womanly figure advanced towards illumination. Her eyes glistened as she took small steps toward him. Rosalina broke down onto his tense chest once she reached him. He staggered but removed his hand from his waist to comfort her. He wrapped his coat around her and drove her to a motel in a nice part of town. She didn't protest as he booked a room. He guided her to the room and gave her the key.
"I'm going to pick you up again tomorrow," he said after she unlocked the door. "It doesn't have to be a motel, but I'm going to you up tomorrow." She nodded and went into the room. He picked her up every day from then on.
Rico didn't know any of this. He was forced to squeeze it out of her to learn it. He felt betrayed. She was his little sister. He should be the only one she goes to for comfort, but he knew he couldn't stop her, so he let her go. Wayne would be soon to see her.
A rattlesnake slithered across the road. It was getting to be hot, and it wanted shade. It curled up under the bus stop bench uneventfully; it hadn't seen Rosalina's dangling arm.
Jerome is a Biology major getting a creative writing certificate from University of Cincinnati. His passions include reading and writing, sci-fi of all types, animals of most types, and quiet places away from humans. He hopes to graduate in 2019.
2018 Poetry Café Contest Winners
Each year, UC Blue Ash College conducts poetry and song writing contests for UCBA college students and high school students in the Greater Cincinnati area. Winners were featured at our Poetry Café, along with guest poet Mary Ann Taylor-Hall, reading from her recent poetry collection, Out of Nowhere. Contest winners for the 2018 include Rachael Munns and Corey Jackson (College), Kay Kemp, Avery Dorsch, and Elise Loux (High School), Abbigayle Richards and Hawa Tarawally (Songwriting), and Leo Aboubacry, Adrienne Anderson, and Denise Anderson (Poets on Fire! Open Mic). Thank you to our judges: Greg Metz, Kevin Oberlin, and Robert Murdock; and to our sponsors: UCBA Dean's Office, the Office of Student Life & Engagement, and to Willis Music.

Poetry Café, College Division First Place: Rachael Munns - a woman I used to know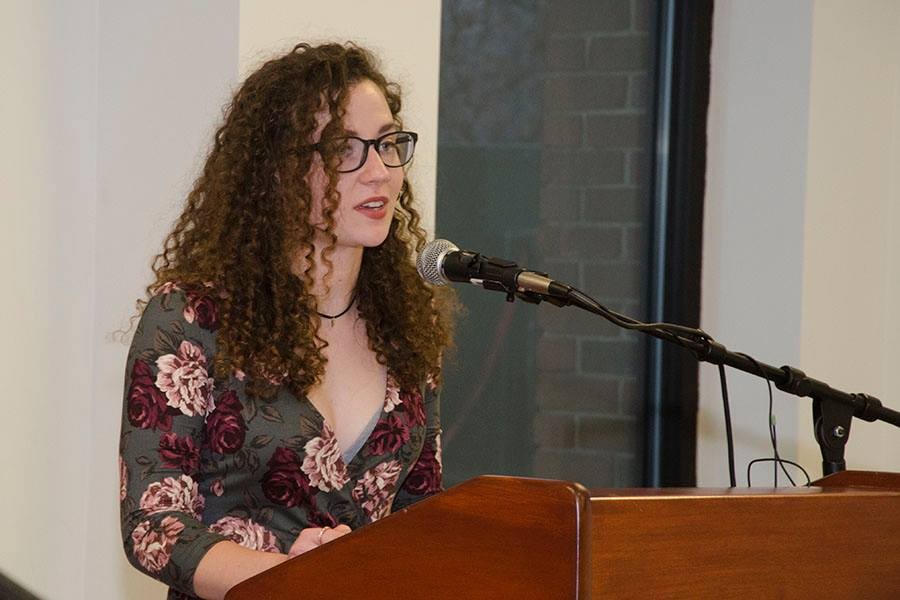 She was born and raised in cigarette smoke
Dangerous things were the only things, she knew how to let in.
She was a mix of sprite and gremlin, her slight figure and mischievous smile
Her nails like talons always grabbing at whatever scraps of opportunity life threw at her
She was more myth than woman, something out of a dark fairytale
A she-wolf, a witch, a goddess, I'm still not sure what sort of underworld she sprang free from
I only know that she is not of this earth
I saw her one morning, naked, eating blackberries in the early morning light.
The crimson juice between her fingers, dripping down her hand onto her thighs. Mouth open, pouring them in by the handful. Staining her chin, staining all the way down to her polished toes.
I told her she looked like a work of art and she laughed, revealing her bloody smile, cheeks tinted with delight
I saw her turn her feminine curves into switchblades, pregnancy tests into bear traps
Her delicate face like a fairy's, Eyelashes like spider legs
I saw her beat a man with the heel of her shoe after an unsavory comment directed towards another girl
After ten minutes, he apologized through a swollen lip
I saw the dark circles like halos form under her eyes
Translucent skin, protruding bones, a skeleton wearing pantyhose
With red lips and angel dust under her nose
I see her as she trips one afternoon, stumbling in her stilt like heels, like some invisible hand had tilted the earth and only she could feel its cosmic shove.
Boys across the parking lot laugh at this spectacle, jeering at the show,
She regains her balance on the tightrope, palms scraped, and I remember the blackberries
I ask if she's ok and she tells me to fuck off
Poetry Café, College Division Second Place: Corey Jackson - Roy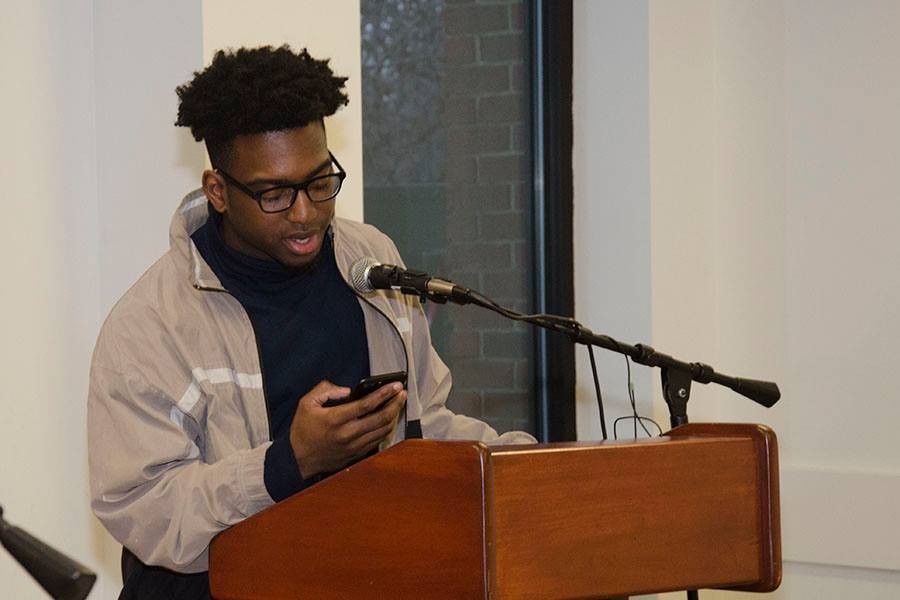 Lightly painted
golden brown, Roy
Strong in wisdom
experienced, Roy
Young
adventurer, Roy
Adventured into Vietnam
The black boy, Roy
Where the world couldn't
Tell him nothing, Roy
3 years He fought and fought
Just to come home, Roy
still the Black boy.
Police hated, Roy
"No matter what I do for my country,
I'm still a nigga."
Roy.
Poetry Café, High School Division First Place: Kay Kemp - Cassiopeia's Cigarettes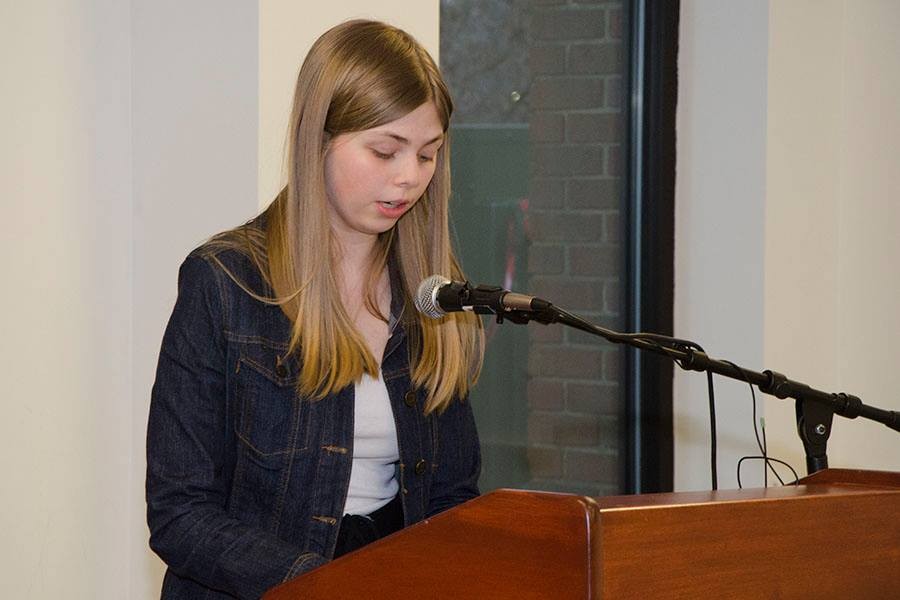 I am thinking
about when we went to school together, and wondering
if you would approve of how I turned out.
I wonder if it matters
that my cleanest memory of you
is you and your too old boyfriend throwing up together,
like new soldiers who have just seen real gore
for the first second and third time,
or preschoolers with the stomach flu.
I am wondering why,
no matter how many pictures I don't see of you,
when I imagine you smiling,
it is the clandestine grin of a child who tortures cats (pulls in different parts, contrasts)
instead of the wild smile of a tiny adult
injecting cosmic dust
and puffing on supernovas.
I can't imagine you alone in a hospital bed,
pumped full of clear blood substitute,
lifewater from the Aquarian jar,
sleeping until
you disappear into a smoky, labyrinthine haze
like a cigarette wasted,
flicked onto a sidewalk with tobacco still pulsing through its rolled paper veins
full of the future heat death of the solar system and the cold death of the Earth.
I wonder if it matters that I can't imagine you crying
though I know you must've because I can't imagine you laughing either. A perpetual indifference, a pervasive apathy that hides in your bared teeth and ripped jeans,
your gold and sterling piercings and that thumb ring you took from Paige W. in fifth grade. I imagine under your ripped jeans and gold and sterling piercings,
your sheepskin cloak of Bootes the Herdsman,
is Orion's garter of soft pink lace and a flowered rosary,
the stardust wings of Apus the Bird of Paradise.
Leaving the tent in the armor of Achilles but the body of Patroclus
speared through by Hector while the Warrior Prince
sulks; having dropped his KitKat at recess today, he steals yours.
Cassiopeia the sacrifice met with only disappointment.
Cassiopeia the seamstress, temptress, princess.
Remove your armor, Cassiopeia! Stay inside today!
Instead, Cassiopeia,
deaf to the pitiful songs of Orpheus
(which raise the dead but only if you trust them)
you take a drag
cough up a gilded lung
and press the still-smoking butt into the soft waiting hands of Cepheus
the Consort, kneeling on the dark grey sands of
a forgotten beach stained with the spilled
grape juice of 27 first graders.
We'll always be in your classroom palace
looking out the window at the church you never belonged in
wearing the uniforms that never fit you right,
skirts rolled up at the hem in silent rebellion
on the playground you made a war zone when you had the voice to command and hands to mandate.
Imaginary control turned real,
where you decided what games we would play and then
fixed the winners, pulling the strings of a royal court
and see-sawing your favor.
When I cry, Cassiopeia,
princess, angel, lover,
you laugh your silent blue dust laugh.
Poetry Café, High School Division Second Place: Avery Dorsch - :paint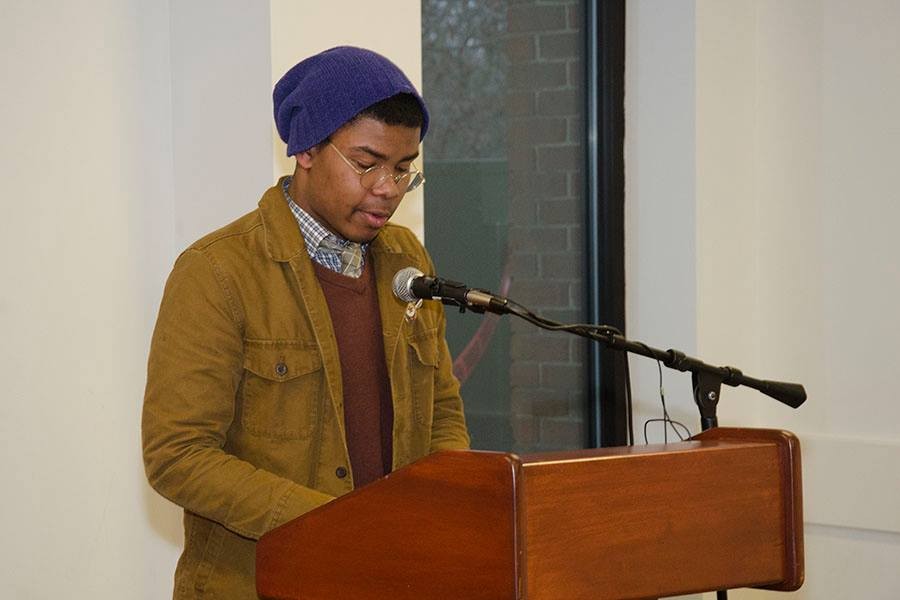 "I love what you've done with the place"
having myself buried characters under miles and piles of page turns and black ink,
and graphite, and crayon,
and dozens of layers of acrylic
folding in on themselves for inches and inches as the 5th generation of stylizers and re-decorators walk into a room with a can of paint.
eager to cover over all those stains and blemishes
left behind by silly putty and sticky hands and cream soda, before walking out again,
that much happier than they were before,
having just the know-how as to why their worlds are closing in on them
and what would you expect them to do? when the walls are ever
closing in, closing in,
until shreds of sky slip with silvan grace
into that ever-encroaching rain day,
where the pedestrians that glide
like otters over slicked and shining streets are allowed to carry only
black umbrellas,
and all those signs and symbols that are never found but cooking nicely together
in a stew of
molasses and the Sichuan pepper,
and all those cubes of congealed duck-blood.
Poetry Café, High School Division Third Place: Elise Loux - Title II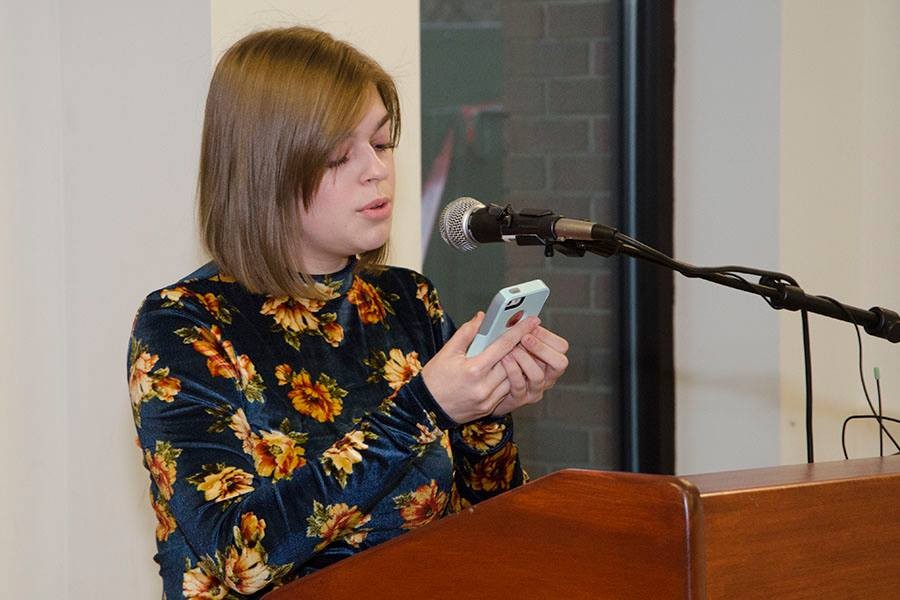 I have only two palms, spread among two hands, with five fingers each, and what sits on the tips of it all,
is the core of my individual, my spirits' composition
and all of life's maps -
laced, sketched, and spun dizzy into a resting tornado
silenced on my fingers
- but still, I have only two palms, spread among two hands, with five fingers each - in which others were held,
and with their needle and thread, fours hands were sewed into two,
woven as mountains under and above my skin, but aligning with the break of my heart - the thread followed,
and left were their stitches to form a sorrowed blanket, which then concealed my precious fingertips and they were lost for eternity,
lost along with myself into the hands of others
Poetry Café, Song Writing Division First Place: Abbigayle Richards - Moon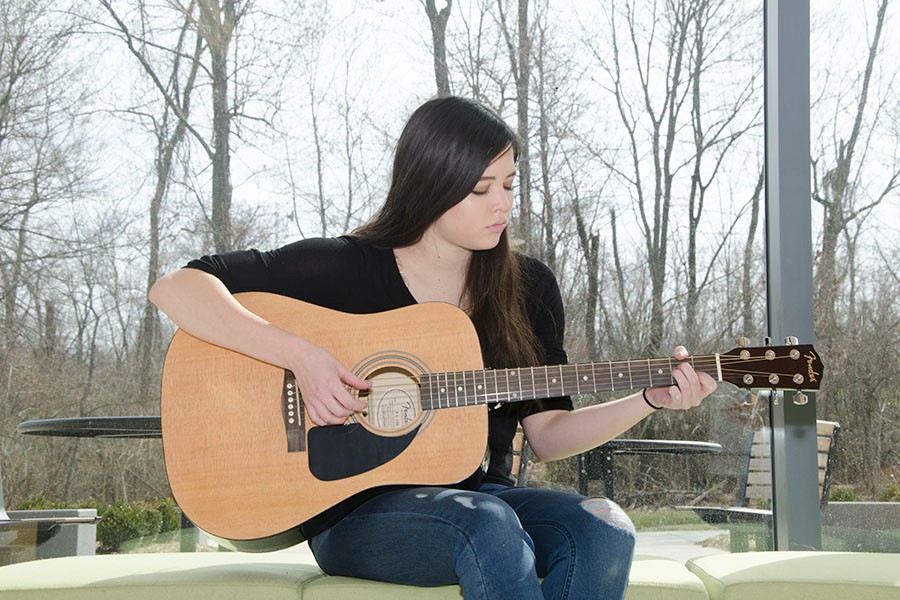 Verse 1
Darling do you remember
how we met under storm cloud weather?
I tried to beat the thunder's roar
You laughed as me as the rain poured
Then you took my hand, and you ran
Oh you took my hand and we ran
To dry ground, to dry ground
Verse 2
Darling don't dive in unless you're sure that you can swim
Against the currents and the waves of hate and love and love and hate
They'll suffocate you're brain, they'll suffocate your brain
They'll drown you, they'll drown you.
Chorus
Maybe I'm delusional
But I can't live if I lose you so
I'd rather be insane than without you, I'd rather be insane than without you, you know I'd rather be insane than without you
You're my moon, you're my moon
Verse 3
Darling don't go crazy yet
I need the chance to reconnect
With the man I fell in love with
Calloused hands and fingertips making melodies with metal strings
Making melodies with metal strings and my voice
And my voice.
Poetry Café, Song Writing Division Second Place: Hawa Tarawally - Open Up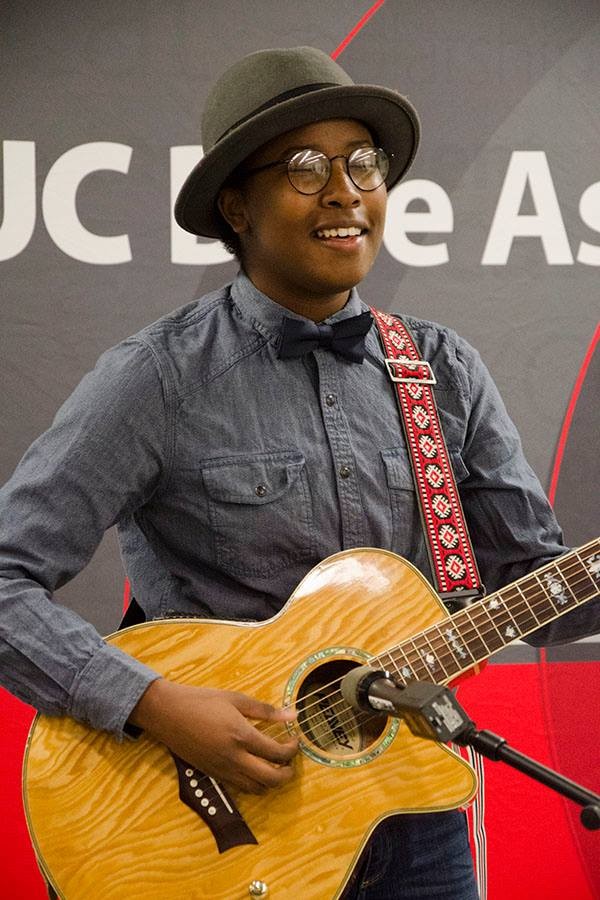 Verse 1
I'm wide awake in the ocean
The tide pulls me in
Im hoping and praying
Im hoping and praying|
Hoping for you
Let me know if you're trying
Cause I'm bad at it
I'm sorry for writing
I'm sorry for writing
Writhing about you
[Chorus]
Silence fills the air
I cant breath
I cant breath
I saw you there
Why'd you leave
You leave
I knew this day would come
But it came much to soon
So leave your key with me
And I'll bury it someplace no one knows.
Verse 2
I know you like running
Running from truth
But this song wont stop playing
But if it stops playing you'll hum its tune
It's written for you
[Chorus]
Silence fills the air
I cant breath
I cant breath
I saw you there
Why'd you leave
You leave
I knew this day would come
But it came much to soon
So leave your key with me
And I'll bury it someplace no one knows.
[Bridge]
You're a lover's heart (2x)
Broken, badly scarred
Your hands are mended shut
Open up
Open up
Thank you to our Song Writing Contest Sponser: Willis Music
2018 Poetry Café Featured Poet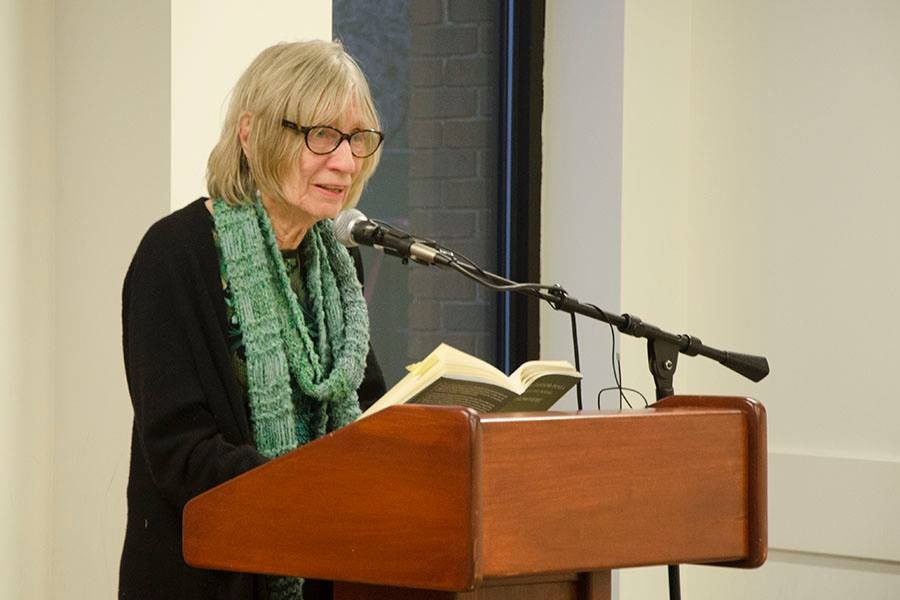 Mary Ann Taylor-Hall is the author of three works of fiction (At the Breakers, How She Knows What She Knows about Yo-yos, and Come and Go, Molly Snow) and three volumes of poetry, including the most recent, Out of Nowhere: New & Selected Poems (Old Cove Press, 2017). Her work has appeared in the Paris Review, Kenyon Review, Sewanee Review, Ploughshares, Shenandoah, and the anthology The Best American Short Stories. She also is co-editor, with Bobbie Ann Mason and Kristin Johannsen, of the anthology of prose against mountaintop removal mining, Missing Mountains (2005).
The seeping away of darkness, the light gathering color
as it opens, each single leaf, each blade
alive in light, as light looks for something else
to land on – the pokeberries shining in their deep color,
the morning glories translucent, God going in one side
and out the other, drunk. Leaves stir in the wind,
leaves send out their two-sided message: We are alive,
we are becoming light. We fall like light.
The unfurling then of the weather, visible, invisible,
across the large sky. And underneath the weather,
our lives unfurling, flying off, flapping into
and out of the light, visible, invisible,
and then, like the weather, gone.
-from Out of Nowhere: New and Selected Poems
by Mary Ann Taylor-Hall, Old Cove Press, 2017
Jared Patterson "Route 55"
The lights from the state cruiser flashed rays of red and blue into the back of Oliver's 2002 Ford Fusion. The clock read 2:13 A.M. on his dashboard. Oliver reached over into the passenger seat and grabbed the half empty twenty-four pack of Natural Light. He immediately threw it into the back seat and covered it up with his St. Richard's letterman jacket.
On route 55 out in the middle of Dallas, Texas, Oliver stared out onto the dark highway lit up only by the lights of the cruiser. He cupped his hands and breathed into them to get a whiff of his breath. Time was moving slow and Oliver couldn't focus. Where was the Listerine mouthwash that he had always kept in the car? Oliver shuffled through the old abused car, throwing empty cans left behind from his friends earlier in the night. He spotted the green bottle far in front of the passenger seat. He snatched it as fast as he could and sat up. He unscrewed the cap and downed the last quarter of the bottle as fast as he downed the mix drinks he had just an hour before at his best friend's, John's party.
"Ahhhh," Oliver screamed out while he twisted his head back and forth. Cupping his hands again, Oliver took another big whiff and was more satisfied with the smell this time. Oliver heard the shut of a car door. He sat up as straight and as confident as he could. This has happened many times before and each time he'd been able to bullshit his way through it.
The state officer walked up and bent over and knocked on the window, while flashing his flashlight directly into Oliver's eyes. Oliver was unable to see anything. The light was hurting his head and he rolled down the window half way as to use half the window as a shield between the officer and him.

"Good evening, officer. How are you?"

"Please get out of the car vehicle sir," said the officer with a stern look on his face. He was serious.

The strong deep voice of the officer made Oliver uneasy. He felt his palms begin to sweat and his heart beat faster and faster. The officer had broken Oliver's cocky facade in just eight words.
Oliver was a taller kid. He stood around 6' 3'' and was built heavy, weighing around two-hundred pounds. This had always given him advantage in football. He could truck his way through anyone and everyone. He had started playing varsity football as a freshman. The coach put him in the second half of the first game as full back. On the first play, Oliver ran a sixty-five-yard touchdown. Since then, coach hadn't taken him out of the game. From that day on, he walked the halls of St. Richard's high like a lion walking through a cat cage.
Oliver rolled out of the car and as he stood up, the feeling of a thousand pounds fell onto his head. He squinted his eyes and fell over at the waste, holding himself up with his left arm on the hood of the car. The Listerine mouthwash now started to turn on him and made his stomach grumble. He could feel it creeping up his throat and the muscles under his jaw begin to tense. He took a few deep breaths and then lift himself back up. As he stood back up he could see the officer now. He had long black hair that went down to his shoulders that made him look more like a biker than a state trooper. Juxtaposed with the mean biker look, were big glasses that made him look a lot less more intimidating. He was short and only stood up to Oliver's shoulder's. He was fresh shaven and had the appearance of a child in the face except for the nasty scar above his right eye shaped like a thunderbolt. The only evidence that this man was older than Oliver was the few bits of gray in his hair. With all this in mind, Oliver came to the conclusion that this man was harmless.
"I need you to step right on over here now." said the officer. Oliver walked slowly and carefully to where the officer was standing. "We're just going to have to do a few tests on you boy to make sure that you are in fact capable of driving this late at night. Alright? What are you doing out so late anyways?" asked the police officer.
"A good friend of mine had a party tonight for his birthday officer," said Oliver.
"Let's hope it wasn't too good of a party. Have you been drinking at all this evening?"
Oliver didn't respond. His stomach was turning and he was only focused on one goal which was to make sure he didn't throw up all over this officer's black shoes.
"Any drinks tonight?" asked the officer again.
"No officer. No drinks." said Oliver.
The officer immediately changed his expression to the most serious face Oliver had ever seen. Oliver couldn't look him in the eyes so looked below his jaw line and he now caught the name of the officer for the first time. His name was Officer Rivera. This struck Oliver as a bit strange. A white Rivera. It made Oliver chuckle a bit.
"Well let's just test your integrity boy," said Officer Rivera. "I'm going to need you to walk in a straight line with one foot right in front of the other."
Oliver started off slow making sure to put one foot directly in front of the other. He quickly remembered the trick his friends all taught him for being able to pass this test. He stuck his tongue to the roof of his mouth. This gave him the focus and balance to not fall over and pass out onto the floor. He took ten steps in one direction on that empty dark highway counting out loud, "1…2…3…4…," and then took ten steps back to Officer Rivera. He approached him with his head held high and a smirk on his face. He towered over Officer Rivera, but Officer Rivera didn't flinch. He whipped his hand to his side and pulled out his flashlight again and shined it directly into Oliver's eyes. Oliver's head began to put on weight again, but this time it felt like a thousand pounds instead, and officer Rivera could see this. His eyes seemed to say "I've got you now. Let it all out."
This is exactly what Oliver did. He accepted defeat and gave up. He threw down the barrier between his stomach and his mouth. Ten throat loads came out back to back right after one another with the combination of all the colors of the rainbow. It all landed right onto Officer Rivera's black police uniform. Oliver collapsed to the floor and leaned up against the back tires of his car. The sight wasn't pleasant but the smell wasn't bad Oliver thought. Thank god for that bottle of Listerine that he had downed; otherwise, the smell probably would have just made him thrown up ten more throat fulls.

The officer threw down his flashlight so hard that it bounced off the ground and was lost in the dark night. He twisted his neck as if he was about to transform into a monster of some sort. With each passing millisecond, his face grew redder and redder. He was a time bomb and after two seconds he exploded. He walked up to Oliver and now it was he who towered over Oliver.
Oliver knew he had fucked up. He knew that this night right now, this moment would change him forever. He wouldn't be able to play football his senior year and because of that he would not be able to get scouted by a good college. He would be stuck playing football at one of the unimportant junior colleges around Georgia. He would never accomplish his dream and he would never be able to escape this town.
Oliver stared out into the dark abyss of the highway with tears rolling down his face. He was completely unaware of the fact that Officer Rivera was still there. He didn't even glance at Officer Rivera.
Officer Rivera, towering over Oliver still, reached onto his side and pulled out his baton and pointed it within a few inches from Oliver's eyes. Oliver gave a half an effort to stand up but his bottom didn't make it more than a few inches off the ground of the highway.
This has happened many times before and each time he'd been able to bullshit his way through it.
"Well fuck," Oliver let out with a few chuckles and his eyes filled with tears. Then it turned into full on laughter. But Officer Rivera kept a straight face.
Officer Rivera cranked back the black metal baton as far as he could and let it down with all the momentum that his little body could produce. It struck Oliver right across the head and Oliver went flying across the ground. Still unaware of what was going on because of the loss of his dream, he had no idea what had hit him. He grabbed the side of his head and blood dripped from his hand. He could now taste the alcohol enriched blood in his mouth as it raced down the right side of his face. He had taken some extremely hard hits in his years of playing high school football but this blow was by far the worst.

"This has happened many times before and each time he'd been able to bullshit his way through it."
He lay there on the side of the highway, gazing up into the empty night sky. Not a star in sight. There was only a plane gliding across the night sky and Oliver imagined being on it, and it taking him to somewhere better. A place he had always dreamed of. He felt a million pounds lift off his chest and he could breathe. Then all the sudden a sharp pain shot up the front of Oliver's left front leg. He turned onto his side and grabbed for his leg. He could feel the femur of his leg split into two. The two ends of what used to be his one femur scratching at each other with every slight movement.

He now was forced to look into Officer Rivera's eyes as Rivera was hovering over Oliver's broken body. He had both his hands on Oliver's cheeks, shaking his head back in forth. He was screaming something but Oliver was unable to make it out. All he heard was a ringing in his ear. And all he could see was Rivera's face and his mouth frantically moving up and down as spit was hitting Oliver's bloodied face. He punched Oliver on the side of his head that he had struck his baton to.
Rivera stood back up with his blood-stained hands and stood there over Oliver who was trying to crawl to a safer spot. Rivera let Oliver try to crawl away but didn't let him get more than two feet before he struck again, the same leg as before, with the baton.
Oliver let out a scream that was lost in the dark night on the highway. Rivera struck it again. This time Oliver let out an even more painful scream. Rivera than went to town on Oliver's leg. Hitting it twenty times, one right after the other, with each hit harder than the last. Oliver didn't feel anything after the fifth one. His femur was a sheet of glass that had been shattered and then shattered some more.
"You fucking kids think that you can do it all. Do whatever you want with no consequences for your actions. You let my Emily deal with the results of you bastard's actions. Well that's not how it's going to be anymore!" screamed Officer Rivera.
Oliver heard this but couldn't make out what was meant by Officer Rivera's words. He tried to compose himself to speak but all that came out was,
"Emily?" and mouthful of blood that followed it.
"Someone needs to pay for it all. You all need to pay for it. She was all I had. She was everything. She was only seven for Christ sake," said Officer Rivera who was so close to Oliver's face that Oliver could smell the cigarette that Rivera must not have smoked too long ago. His eyes were widened and a smile sat across his face. He reached down and dipped his hand in the puddle of blood that was surrounding Oliver. Then he grabbed Oliver's face and as Oliver tried to turn his head away, Rivera kept turning Oliver's head back to look him in the eyes. Oliver was letting out screams of horror and pain and Officer Rivera was laughing in time with Oliver's cries.
Officer Rivera then grabbed Oliver's neck and squeezed as hard as he possibly could. His face steaming red, his teeth clenching his bottom lip, and spit rolling down his lower lip. Oliver's face felt like it was a balloon about to pop and if he didn't do anything, that he was going to be done for. He shook his body side to side to try to get Rivera off of him. After a few attempts and a few weak punches, Oliver's body went limp. The endless darkness of that highway at 2 A.M. became even darker. Then all of the sudden a light approached. It was true Oliver thought. There is a light when you die that you go toward. He saw the light approach closer and closer and then the pressure from Rivera's hands seemed to go away slowly until Oliver realized that Officer Rivera's hands had let go of him. Rivera had vanished. Oliver looked around the car in his peripheral vision but couldn't make out where he had gone.
The light was still there though. And it was blinding Oliver making his drunkeness feel ten times worse.
"Holy fucking shit! I told you that had to be Oliver's car," said the voice of a guy who Oliver recognized almost immediately.
It was the voice of Charlie, one of the boys who Oliver knew from school who gained his popularity from the fact that he was the only one who sold drugs.
Oliver could see the outline of his best friend, John's, blue Honda civic. Charlie ran from the passenger side and John quickly sprinted from the driver's seat to the sight of his bloodied friend.
"Oliver! What in the fucking world man. What the hell happened to you?" said John frightened by the blood of the scene.
Oliver attempted to speak but he couldn't make out a word. Everything he tried to say was drowned out by the blood in his mouth. He wanted to warn his friends about officer Rivera and to hurry the fuck up and get themselves and him out of there.
"Okay we need to get him to a hospital immediately," said John as he him and Charlie grabbed Oliver and pulled him up onto his feet and to the car, with each of them wrapping one of Oliver's arms around their shoulders.
The pain of Charlie and John moving Oliver made Oliver scream as tears flooded his eyes. He couldn't handle it and even wished Officer Rivera would have just killed him while he had his hands wrapped around his neck. Oliver quickly looked around now but Officer Rivera was nowhere around. The cop car had also vanished. Both Rivera and the cop car were gone. Oliver was so confused by the thought of them being gone so quickly and realized he must be more drunk then he had thought. And once again on the way back to the John's car he projectile vomited all his stomach had left to offer as well as the blood from the blows of Officer Rivera.
He knew that this night right now, this moment would change him forever.
"Oh my God!" screamed Charlie as he dodged the vomit and dropped his half of Oliver's body, throwing more weight onto Oliver's already shattered femur. Oliver fell to the floor and at this point didn't even scream at all. He felt nothing. Too much had happened for his alcohol drenched brain to process. He entirely passed out at this point and was on the ground motionless.
John helped Oliver back up and laid him in the back of his car and told Charlie to stay back there and to keep an eye on him. John then dashed to the driver's seat and without hesitation, shoved the gas pedal to the floor, leaving Oliver's old beaten up Ford in the darkness of Route 55.
The next day, Oliver woke up in a hospital bed to the sight of a bunch of concerned familiar faces and confused unfamiliar faces. Of the familiar faces were John, Charlie, and Oliver's father. Of the unfamiliar faces were the deputies of the state patrol police.
"Oliver! What in the hell were you thinking last night? Do you realize what you've done? I told you not to hang around with these fucking losers," Oliver's father said as he pointed directly toward Charlie and John. "Now your entire football career is over!"
"We already told you we found him on the side of the.." the two boys began to say.
"Shut the fuck up!" interrupted Oliver's father as he began to bolt toward the two boys. Two of the officer's grabbed the angry father and pinned him down.
"Now just wait until we ask some questions first and figure out what really happened." said the officer in the Sheriff hat. He stood as the leader of the pack of officers. "Okay Oliver. We already know about the amount of alcohol in your system. So how much of last night do you remember?" asked the sheriff.
Oliver may have been drunk off his ass but what had happened to him was something that he would never be able to forget. He knew everything down to the last detail about what had happened. It was too frightening to have to tell though. He didn't want to have to relive it again.
"Can you explain how you, St. Richman's all star running back, was found lying on the side of the highway, outside your car, at 2:30 in the morning?" asked the sheriff.
Oliver knew he had to answer but tried to keep it as brief as possible so he wouldn't have to see the face of Rivera in his mind. "Yeah. One of your officers pulled me over for a sobriety test and proceeded to beat the living shit out of me and my leg," said Oliver motioning to his leg which was now wrapped up in a huge cast and slung upwards in the air.

"One of our officers? That's not possible," said the Sheriff.

"Yes, it is possible. And Officer Rivera. That was the officer's last name" Oliver said as the scene was beginning to slip back into his mind. He was holding back tears and taking deep breaths between his sentences.

"Well son. There are no officer Rivera's around here."

"Yes, you do. He stopped me last night on route 55. He was white with long black biker hair."

"Wait officer Rivera was white?" asked the sheriff and it sent a chuckle throughtout the room.

"I've never heard of a white Rivera before," said one of the other officers with a laugh.

"You guys aren't taking this serious. Are you not believing me right now? How do think I got beaten up like this then?" said Oliver.

"Okay calm down there sport. I'm sorry. We are taking this serious. Could you describe Officer Rivera in any more detail?" asked the Sheriff

"He was white with glasses and black biker hair. He wore glasses. A smaller guy. Smaller than me at least."

"Okay. Anything else?"

"Yeah, he also had a scar above his right eye."

"Hey, don't you think this is sounding a lot like Mr. Henson?" asked one of the sheriff who was sitting in a chair in the corner of the room.

"I was thinking the same thing but he's been locked up for years." said the Sheriff.

"No sir, he escaped about a week ago."

The sheriff stood there frozen thinking. Whoever Mr. Henson was, the sheriff seemed to show a great amount of fear toward. His face showed the same amount of fear as Oliver's.

"He's back," said the sheriff. "Let's go boys." The sheriff rushed out of the room with all the other officers follow directly behind.

"Wait who is Mr. Henson?" asked Oliver as quickly and as loud as he could but the sheriff didn't stop moving.

"Consider yourself lucky," said the last officer as he rushed out the door with the rest.
Alyssa Tepe "The Little Boy in the Grass"
To be nervous would be the understatement of the year, for little Jeanette (though at the age of 16 as she'd like to point out) felt as though the whole world were a giant box, closing in around her being, stealing every ounce of breath she attempted to inhale. That's how her emotions told her to feel as her eyes, grey as the sky above her, scanned the home her beloved grandparents owned. The structure itself brought memories of her grandparents' face—old, wrinkled, and worn from all the adventures they went on. The wavy grass encircling the building represented the hair, skinny and soft to the touch. Jean couldn't think of what the birds in the sky would characterize—the way their gaze would tour the scene before them maybe? Poor Jean didn't know; she shouldn't think of such things. After all she hadn't seen them since she was a mere toddler.
The front door creaked open, revealing her grandparents. They hadn't changed since the last time she saw them—her grandmother still had extremely long silver hair that flowed down her back like a river and her grandfather still moved around with a wooden cane, his name etched into the curve of the handle. They smiled widely at her but, even with being several meters away from the house, Jean could tell they were fake. Plastered on like fresh wallpaper. But she did the same thing when her grandmother strolled over to wrap her thick arms around her torso.
"Jeanette! Hello darling, how are you?" she greeted, stepping back just as her grandfather shuffled over.
"I'm fine, Grandma. It's Jean by the way."
"Jeanette, my dear," her grandfather jumped in, embracing one arm around her neck. "Oh, it's been so long."
"Jean, Grandpa. It's Jean." A little sigh escaped her lips. "But yes, it's been a while."
Her grandfather peered at her with his wrinkled hand lingering on her shoulder. "I'm sorry about what happened."
Jean's gaze lowered to the evergreens surrounding them. "I am too." Not too long ago her parents were killed in a car accident caused by a mindless teen texting on his phone. In their will, it stated that Jean was to have her father's parents be her new guardians, so shortly after the funeral, she filled her suitcases and flew from her home in New York City all the way to her grandparents' home in Brookville, Indiana, otherwise known as "The Place Where Nothing Ever Happens" according to Jean.
A few silent moments passed by between the three of them before her grandmother cleared her throat and said, "Let's not think about that now. We still have to show Jeanette her new room, William."
"Ah, yes, yes. Would you like me to carry one of your suitcases, Jeanette?"
"No, thank you. I got them." You can barely walk, even with that old cane, thought Jean. What makes you think you can carry my stuff? And did I mention my name is Jean?
As her grandmother dragged her into the tiny house, Jean wondered why her parents never updated their will. Why did they appoint her grandparents as her future guardians? They hadn't spoken in years; why would they choose them to look after her? These people didn't know her—not her dreams of becoming a professional ballerina, not her ability to play the piano and the cello, not her interest in touring the world and visiting all sorts of historical towns and cities. And most certainly not her wish to leave her grandparents' home at once and to never return.
The inside of the house was just as ancient and timeless as her grandparents: Floral patterns decorated almost every piece of furniture and lightwood flooring covered the ground. Every curtain was pulled back, but it was still dark in the house with that giant thundercloud looming right outside their home. The house held a very peculiar scent too; the smell of dust and something burnt dawdled from room to room. Jean caught sight of a grand piano in the corner of the small living room. It was a funny view, really—why would they place something so large in such a tiny room?
Jean's five-foot-three grandmother opened an old, wooden door to a little bedroom, nothing but a twin-sized bed and a broken dresser in the far corner. "This used to be your father's room when he was younger," her grandmother explained, letting Jean enter the chamber with heavy footsteps. "Sorry there's not much in here. He took pretty much everything when he married your mother."
Jean ran her skinny hand along the surface of the uneven dresser; her grandmother noticed this and piped up, "Your grandpa and I can get another dresser for you. We know it's broken, but I…didn't expect your new fashion sense. You must need a lot of room."
The teen sighed deeply, a way to keep herself from talking back to her grandmother. She knew she dressed differently from all the other 16-year-old girls in the world—her outfit for the day was an ankle-length skirt the color of the evergreens outside, heavy combat boots, a white button-down shirt with an old, faded yellow jacket over top that she found in the depths of a thrift store, a spiked bracelet, and several rings encircling her bony fingers. Her bob-styled hair was dyed a dull white, but shined brilliantly in the right lighting. She tucked a loose strand behind her ear, recalling when she colored her natural blonde hair as a rebellious act against her parents. What argument led to this sort of change? She couldn't remember, but wished she did.
"Can I have the room to myself for a while?" she asked her grandmother. "I just need a moment to…" She trailed off, unable to finish her sentence with that weighty feeling inside her chest.
"Of course. We'll be in the kitchen if you need anything." After the old woman gave her a crinkled smile and gently closed the door behind her, Jean lowered herself onto the bed, waited a few moments, and then silently cried to herself.
A week passed by, but it felt like centuries to Jean. Everything was so different and she could barely handle it. Her grandmother was always making something in the kitchen and her grandfather usually sat in a rocking chair in the corner of the living room, attempting to figure out crossword puzzles in the newspapers. Besides the sounds of pots and pans clinking together and boiling water on the stove, hardly any other noise could be heard in the miniature home. Jean tried playing the piano one day so she wouldn't have to hear the sound of loneliness, but every key she pressed was horribly out of tune and eventually her grandmother asked her to stop playing—the music was giving her a headache.
The sound of this empty and boring house is giving me migraines, but you don't hear me complaining, Jean thought to herself as she pushed herself up from the creaky piano bench.
The inside of the house was just as ancient and timeless as her grandparents . . .
She attempted to dance in her bedroom, her father's bedroom, but for some reason found it extremely difficult to do so. True, it might had to do with what little space she was given, but she couldn't even make herself do a simple rond de jambe. She even dressed up in full ballerina attire, complete with a full black tutu. She stared at her reflection in the window in her room. Normally this would fill her with confidence and delight, but all she felt was hollowness and some terrible void deep in her chest.
Her mind traveled back in time to when she first decided that she wished to be a ballerina. Mom and Dad led her by her hands to go see a performance of Swan Lake for her fourth birthday. Jean remembered the big, colorful tutus the dancers sported and all the graceful leaps and spins they performed. She recalled the way they moved their slender and flexible bodies to the mysterious violins and flutes playing in the orchestra pit. One of her favorite parts was when Odette, the beautiful swan princess, jumps into the arms of her handsome prince and he holds her high above the air, like she weighed nothing more than a little doll, as she spreads her long, white feathers. Jean was in a deep trance for the entire recital.
After it ended, an enchanted Jean began to mimic all the dance moves she saw on that grand stage, making short hops and quick twirls. Her parents laughed and asked her what she was doing. "I'm gonna be a ballerina," she exclaimed with a joyful and determined smile on her face.

As the memory faded and she slowly came back to the present, she looked at herself once more in the glass and tried to see what she saw when she was a little girl with a big mind and passionate intentions. But she couldn't; she couldn't see the swan princess she thought she was. All she saw was a lonely and rather ugly duckling.
On her eighth day living with her grandparents, Jean told them that she was going outside to get some fresh air—the overbearing smell of yeast in the kitchen was suffocating her. As expected, her grandparents coated on another plastic smile and told her to be back in time for dinner.
If dinner smells anything like that, I'll stick with a glass of water, please, she thought grumpily as she walked out into the whipping wind.
She strolled on forever, it seemed, seeing nothing but distant pine trees and the tall evergreen grass brushing against her hips. She strolled backwards for a bit, staring at the isolated white house while she slipped her hand into her black bellbottom jeans pocket and pulled out her purple iPod Nano. She spun around as she hit the play button on her device, her favorite song flowing against her eardrums. "Spanish Sahara" by Foals was a song that was introduced to her by a friend in middle school and she fell in love with it instantly. The gentle strums on the guitar, the occasional sound of waves crashing against a shore, and the lead singer's calming voice soothing her senses. She slowly closed her eyes and stood there in the grass for a while, getting lost in the lyrics.
The Spanish Sahara
The place that you'd wanna
Leave the horror here
"What are you doing?"
Jean's eyes flew open at the additional voice. She turned her head and spotted a little boy standing a few meters away, gazing at her like he never saw a girl before. Her thin eyebrows scrunched up at the sight of him and she slowly answered back, "L-Listening to music…"
"Oh." The boy's big blue eyes widened with curiosity, much like a cat's.
"How?"
She held up the hand that held the iPod, still confused at the boy's presence. "With this."
He tilted his head. "With a little purple box? Wow…" He stared wonderingly at it like he just found the fountain of youth. "How does it work?"
Jean glanced around the perimeter. Everything looked the same—rare pine trees in the distance, the never-ending army of evergreen. Almost no other sign of lifeform, except for this mysterious little boy.
"Uh, what's your name?" Jean didn't really know how to approach children; she never had to work with them before, not even babysitting situations.

The little boy stood up straight like a solider and responded with an enthusiastic tone. "I'm Klaus." He smiled broadly at her. "Who are you?"
"Jean. Um, Klaus, where did you come from?"
"What do you mean?"
"I mean, where are your parents? Do you live near?"
The boy shrugged his shoulders playfully. "I don't know. They were supposed to pick me up from school, but never showed up."
"School? What—?"
"How do you have white hair? You're not old."
Jean studied the strange boy and his appearance. He was dressed similarly to her, very old fashioned. He wore a caramel colored vest and a white button down shirt with faded black pants and worn out shoes. A saggy grey hat sat atop his short choppy hair, the color of maple syrup. His skin was just as pale as hers except for the few freckles sprinkled across his nose and cheeks like tiny chocolate chips. His eyes, however, were the brightest and most captivating part of him: they were wide like golf balls and held an electric blue color and they were always moving, searching for something unknown.
She remembered what he said, about his parents picking him up from school. That was impossible; there were no other buildings around besides her grandparents' house. There was literally no place he could've came from—downtown wasn't for another few miles at least. And he looked, what? Nine? Maybe ten? How could he be alone in a great field like this, no parent or young adult by his side? It's almost like he appeared out of thin air.
"What's that little purple box called?" she heard the boy ask, pointing at her hand. "Purple is my sister's favorite color."
She stuffed the device in her pocket. Didn't he know what an iPod was? Technology was practically taking over the world—all sorts of kids had iPads and cell phones nowadays. He was acting like he never heard of the modern world.
"Klaus, I need you to tell me where your parents are so that I can help you."
Klaus looked up at her. "I told you, I don't know where they are."
Jean peeked at the direction of the house. Should she take him there? Maybe her grandparents had a phone. "Klaus, do you mind coming with me to my grandparents' house? I'm thinking I can help you there."
He shook his head. "I can't leave. I have to wait."
"Wait for what?"
He shrugged. "I don't know."
She reached out to gently touch his arm. "Well, you have to—shit!" Her fingers flinched away from his bare skin. He was so cold! It was like touching an iceberg, frozen to the bone. "You're freezing!"
Klaus's mouth formed a small O and pointed at her own lips. "You said a swear word! That's not nice!"
"How are you so cold? It's—It's August!"
The little boy giggled, jumping up and down before running out further into the evergreens. "You're funny! You should come here more."
Jean took another glance over her shoulder in the direction of the house. "Seriously, Klaus, we should…" She turned her gaze back to the boy, but her sentence fell to pieces when she realized he was gone.
She felt her chest stop; her heart, lungs, and vocal chords seemed to halt altogether. Nothing stood in front of her but swaying grass, much less a lively boy. She spun around and peered all around her like that would make a difference. How could he just disappear? There was nothing to hide behind or place to run off to—there was nothing. Was it all her imagination; was she going crazy? No, it was all too real. She heard his words clear as a bell and felt his bitter cold skin. The boy was real. He had to be real.
Jean hurried back to the house after that and told her grandparents of her discovery. "I saw a little boy out in the field. He was all alone out there. We have to help him." But the elderly couple simply looked at each other with confused glances and told Jean that there wasn't anybody else near but them.
"The next house isn't for another three or so miles," her grandmother explained. "And those are the Langs. They don't have a little boy, or kids for that matter."
"But I saw him. He was out there and alone and…"
"Jeanette, I think you're just tired. Maybe you should go to bed early."
"I know what I saw!" she shouted. Her grandmother jumped back in surprise, but her grandfather spoke in a firm tone. "Now young lady—"
"No!" She stepped back from them, anger boiling within her like the bubbling pot of water on the stove. "You can't tell me what to do! You don't know anything about me or what I've been through. I didn't ask for this; I don't want any of this. You can't tell me what I did or did not see. You're not my parents, you're—" She didn't process what she said until it came out of her mouth and once it did, her hands flew to her mouth as her vision began to blur. "I just want to go home," she cried out through her fingers before running off to her room, crying herself to sleep again.
Somehow Jean managed to get through the next morning with minimal contact with her grandparents. The atmosphere was a lot thicker though, and she couldn't stand it for much longer. So she quickly decided to make it her goal to go find Klaus, that little boy in the grass.
She stormed in the direction that she saw him yesterday, not completely sure why she figured he'd be there. But, nevertheless, she was right.
There he stood, swaying in rhythm with the evergreens, his eyes closed with a satisfying grin on his face. When she came closer, he peeled open his blue eyes and his grin widened in happiness.
"You came back! I was hoping you would—"
"Where did you go yesterday?" Jean interrupted him, eyes narrowed, lips frowning.
The smile wiped clean off from Klaus's face. "What?"
"Yesterday, you left out of nowhere. I turned my head for one second and then you were gone. Where did you go?"
Klaus's thick eyebrows slowly upturned. "Are you mad?"
Jean sighed heavily. "No, I'm not mad. I'm—"
"You're mad, aren't you? You're really, really mad. I'm sorry! Please don't be mad at me." His eyes began to water and his lips curled up as if to hold back sobs. His little hands fisted around his chin as his shoulders began to tremble.
Jean shifted her weight uncomfortably, not sure on how to handle this. "Klaus, I'm not mad…"
He peeked up at her, his weeping stopping for a moment. "Promise?"
"Yeah, I promise. You just scared me a little is all."
Klaus suddenly perked up, his watery eyes and tiny sobs completely vanished. "Yay! So we can play now, right?"
Jean's eyebrows crinkled in confusion. "Wait...you were just…"
Klaus slapped her hand and ran off to her right. "Tag, you're it!"
Jean stood there, unsure of anything at this point. Klaus turned to look at her with wide eyes. "You have to chase me now. Do you know how to play 'Tag'?"
"I—"
"No talking! Chase me!"
That's how most of the time they spent together went. Klaus would insist they play some sort of game and Jean eventually learned to stop questioning and go along with it. Whenever she did try, however, Klaus simply ignored her questions with that wide smile of his. And when Jean closed her eyes in exhaustion, she usually opened them to find Klaus gone, just like that first day they met.
This had gone on for many weeks and Jean was getting curious (more than usual) about her little friend, so she read up on some research. She went downtown with her grandfather once to get groceries and snuck off to the nearest library to use one of the ancient computers they had. She didn't know exactly what she was looking for so she randomly typed in "disappearing people" into Google.
Websites dedicated to missing persons popped up but she also found other interesting "theories". Some people thought beings who disappeared and/or reappeared could travel to other dimensions, which Jean thought was kind of silly. But there was one term that caught her attention. There was a label for beings that could disappear and reappear out of nowhere, present themselves to only certain people, and typically were cold to the touch or their presence alone brought the current temperature down.
Her grey eyes widened when she read the word "ghost" in the text.
Everything she had experienced with Klaus fit with the description of a ghost so it made sense in a way. To be honest, she felt a little dumb when she didn't see it earlier. But, nevertheless, she went on with her research and typed in "ghosts in Brookville, Indiana" into Google.
It took her a while to find out what she was looking for. A bunch of websites of ghosts in different towns named Brookville and ghosts in Indiana overall, but nothing that had to do with her current situation. Eventually she found a page dictated to a tragic event that apparently happened in the correct city of Brookville, Indiana which she hastily clicked on.
According to this website, a school fire had taken place in Brookville in the year 1931. How it happened was a mystery itself but one thing was for sure: two little boys had died in that fire. One was named Norman Miller and the other Klaus Allen.
She forced herself to keep reading, despite the sinking feeling in her stomach.
Once the fire was extinguished, firefighters were able to find both the boys' bodies and were able to identify them and take them to their families where they were given a proper burial in Brookville's tiny graveyard. The school, however, was beyond repair and was knocked to the ground. Now all that stood where the school once belonged was the evergreen grass—too bad the website didn't know about Klaus's spirit.
She decided she would ask Klaus about this the next time she saw him.
Two days later, Klaus and Jean laid themselves down upon the grass, Jean staring up at the baby blue sky while Klaus rambled on about the deformed clouds overhead.
"Look at that one! It looks like a cat with long whiskers! Do you like cats? I've never had a cat before, but I wish I did. I would name it Fish."
"Klaus," Jean interrupted. "Can I ask you something?"
"What?"
A short pause. "Are you dead?"
For once, Klaus didn't reply right away. He turned his head toward her and gave her a slight smile. "Well, it took you long enough."
She expected to be alarmed, shivers sent down her spine and her heart drop all the way to her toes. But she somehow felt more relieved than frightened.
"Why didn't you tell me?"
"I thought you wouldn't want to play with me if I told you. It's happened before."
Jean glanced at him and noticed he was looking at the sky again. "What happened to you?" she asked him although she already knew the answer.
His expression slowly saddened as he explained. "There was a fire at my school. I don't remember how to happened, but it did. We were all outside and my teacher was calling our names out like in attendance at the beginning of the day. But when she called out my friend's name, Norman, he didn't say 'here'. He wasn't outside with us so we thought he was still in the building. I didn't want him to die, I wanted to save him. So I started running back to the school, but once I opened the door, I heard a huge explosion and something bright flash in front of me. And then I remember opening my eyes to this place, where my school used to be. I've tried leaving, but I always end up coming back here. I…" He sniffed, holding back tears. "I just want to go home.
The boy was real. He had to be real.
Jean stared at him. Her heart cracked even more at the sight of little Klaus silently crying. Suddenly a tiny smile curved on his lips despite his flowing tears. "Sometimes I can hear my classmates laughing like they're playing games." He turned to look at her, eyes red. "Can't you hear them?"
At first, she couldn't. Just the gentle grass swaying above them and a bird chirping in the distance. But then something else joined the grass and bird in melody. It was children, all small and happy, laughter dancing among the wind. Her eyes widened and Klaus's smile broadened. "You do, don't you?"
She slowly nodded her head.
Klaus giggled. "You know, there was a girl in my class, Josie, that liked to dance. You like dancing too, right? Maybe you can dance with her."
She felt something prick her chest like a needle slowly pressing itself in.
"Klaus, I can't. I've…I've forgotten how to."
"No, you haven't. You just don't want to. My teacher always said to never feel sorry for yourself, like it was a waste of time." His cold finger poked her hooked nose. "You should start looking on the bright side, Jean. You're always so grumpy and sad." He turned back to the sky and babbled on about other things his teacher said, his friend Norman, and other things that Jean couldn't remember the next morning. That one line stuck in the back of her mind, the one about her forgetting to dance. She thought about all night and didn't sleep at all. Once the morning sun rose, Jean lifted herself from her bed, changed into some clothes, and headed back to Klaus.
Klaus ran up to her once she was in his line of vision. He asked if she wanted to play tag or hide and seek. She told him that she'd rather sit down in the grass, just like they did yesterday, because she had something to tell him. Klaus was happy, nevertheless; he always was it seemed. Once their heads touched the ground and a few moments had passed, the boy looked at Jean and asked her what she wanted to say.
"I really don't know how to say this, but…" She sighed, feeling a ton of weights piling on top of her. "It's—It's okay if you didn't save Norman."
Klaus frowned; she felt his excited presence fall apart at her words. "What do you mean?"
"I mean, it wasn't your fault. You had no control over the situation. It wasn't your job."
"But he was my friend."
"It doesn't matter."
"Yes, it does! He was my friend; I had to do something."
"Look, bad things happen and there's nothing we can do about it. I completely understand that you feel responsible for his death but there was nothing you could've done, Klaus. Bad things happen but we still have to move on."
Klaus glared at her and looked to the sky, refusing to talk. She didn't like him being upset. She didn't want him to feel like everything was his fault. She knew the feeling all too well. She looked at him and then whispered, "You did save me though."
His ocean blue eyes expanded and he turned hastily to her. "Huh?"
She smiled in what felt like the longest time. "Yeah, you did. I don't know how but I feel a whole lot better now than when I did a few months ago."
His own smile brightened his features. "Really?"
"Really. So…" She pecked his round nose. "Thank you, Klaus."
His pudgy nose crumpled up as he turned away. "Ew! Cooties!"
They both laughed and Klaus hurriedly turned to give her a hug, his icy arms embracing her neck. "Thank you, Jean."
Her throat tightened as she hugged him back. She knew he was going to disappear soon, probably for good, and didn't want to say goodbye. Not like this. She hated goodbyes. So she pulled out her iPod from her pocket and tried to turn it into a "see you soon".
"Do you want to listen to some music?"
His facial features brightened at the sight of her "little purple box" and he nodded his head like a bobble-head. She gently placed one of the earbuds in his ear, which caused him to giggle at the touch, and the other in her own. She scrolled through her songs and said, "This one is my favorite. I hope you like it," before playing "Spanish Sahara".
The expression Klaus held was priceless once the song began to play. It was the happiest she'd ever seen him, his smile wider, his eyes livelier. She eventually handed the purple device to him and said he could look through it, play any song. He happily did but never changed the song—it just on played on repeat for several times. Jean looked up at the sky once more, listening to the Foals and feeling Klaus's head bob to the beat. Everything was perfect, even if it was just for a moment. Jean finally fell asleep to her blissfulness and when she woke up, she found Klaus gone, his earbud on the ground, the Spanish Sahara still playing.
She let herself cry a little at his absence but picked herself back up. She started heading to her grandparents' house, to home, but stopped in her tracks. She glanced at the iPod in her hands, still blaring music, and, without exactly knowing what she was doing, turned back to the spot Klaus once sat at and placed her device there. She let the music carry on and she stood there for another moment. Finally she curved back to the way her home was, walking back, but eventually she found herself dancing back.
This surprised her; she didn't mean to start this. But now that she had begun, there was no stopping her. That familiar warm feeling returned to her chest—oh, it's been so long and she missed it terribly. Why did you ever leave me? she asked her rapid heartbeat, falling in love with dancing all over again.
She twirled and soared and bent and swayed and curved among the grass as she headed home. Her moves were a little unbalanced from not practicing for so long, but she knew that she'd pick it up again soon enough.
The Foals never left her head either; their inspiring lyrics flowed through her elegant dance moves as they continued to play for her.
The Spanish Sahara
The place that you'd wanna
Leave the horror here
Forget the horror here