College Credit Plus: What's Happening?
The College Credit Plus Program at UC Blue Ash College offers students from 7th to 12th grade the option to experience education at a higher level and prepare themselves for the next steps in their educational journey. But you don't have to take it from us; hear about College Credit Plus from students who have already found success within the program.
Video link: https://www.youtube.com/embed/3kKWGNYnaX8?rel=0
Number of Applicants 2018-2019
310 students applied
136 students accepted
63 returning students
Most Popular Classes for UCBA CCP students
English 1001
Psychology 1001
Sociology 1001
Chemistry 1040
Political Science 1010
Spanish and ASL (most popular foreign languages)
UCBA CCP Graduating Seniors Confirmed for UC Fall 2019
63 total
11 UC Blue Ash
52 UC Uptown
CCP Campus Engagement
Our CCP students are active and engaged on campus, with participation in the Kindness Campaign, Yoga on the Green, Sister CIrcle and the LBGTQ Alliance.
CCP By-The-Numbers

| Semester | Number of Classes Taken by CCP Students | GPA By Semester |
| --- | --- | --- |
| Summer 2018 | 57 | 3.66 |
| Fall 2018 | 290 | 3.53 |
| Spring 2019 | 258 | 3.51 |
The opportunity to be a part of a secondary education institution at a younger age has been extremely rewarding. Not only was I able to solidify my decision to continue my education at the University of Cincinnati, but I've gotten the chance to complete many credits in benefit of my future as a matriculated university student.
Henry Green, CCP Student
College Credit Plus Success Story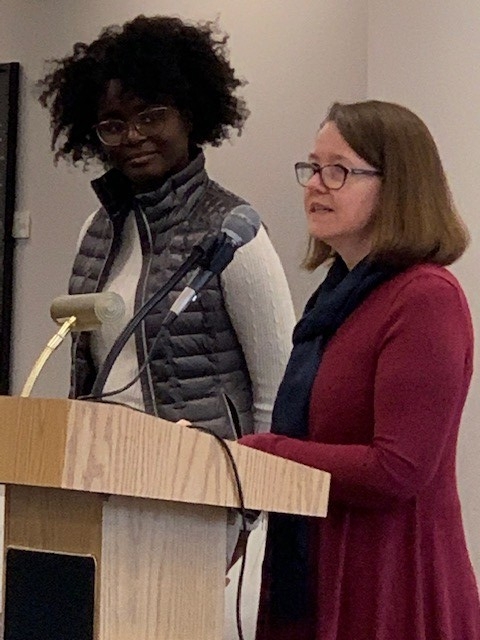 Blessing Fanegan, a particpant in the UC Blue Ash College Credit Plus program, recently won 2nd prize in the University of Cincinnati's 22nd Annual Compositon Writing Contest. The contest is an annual celebration of the best student writing in English composition courses across all colleges at the University of Cincinnati. Students were encouraged to submit their best work from Intermediate Composition, English Composition or Introduction to Composition.
Blessing submitted her work, titled "A Literature Review of Common Risk Factors Between Eating Disorders," in the Intermediate Compositon category. Her award was presented to her by Brenda Refaei, an Associate Professor of English at UC Blue Ash College.