There is no better way to understand the options and atmosphere of UC Blue Ash College than to visit. Please review the opportunities below that will allow students to see first hand what the UC Blue Ash experience is all about.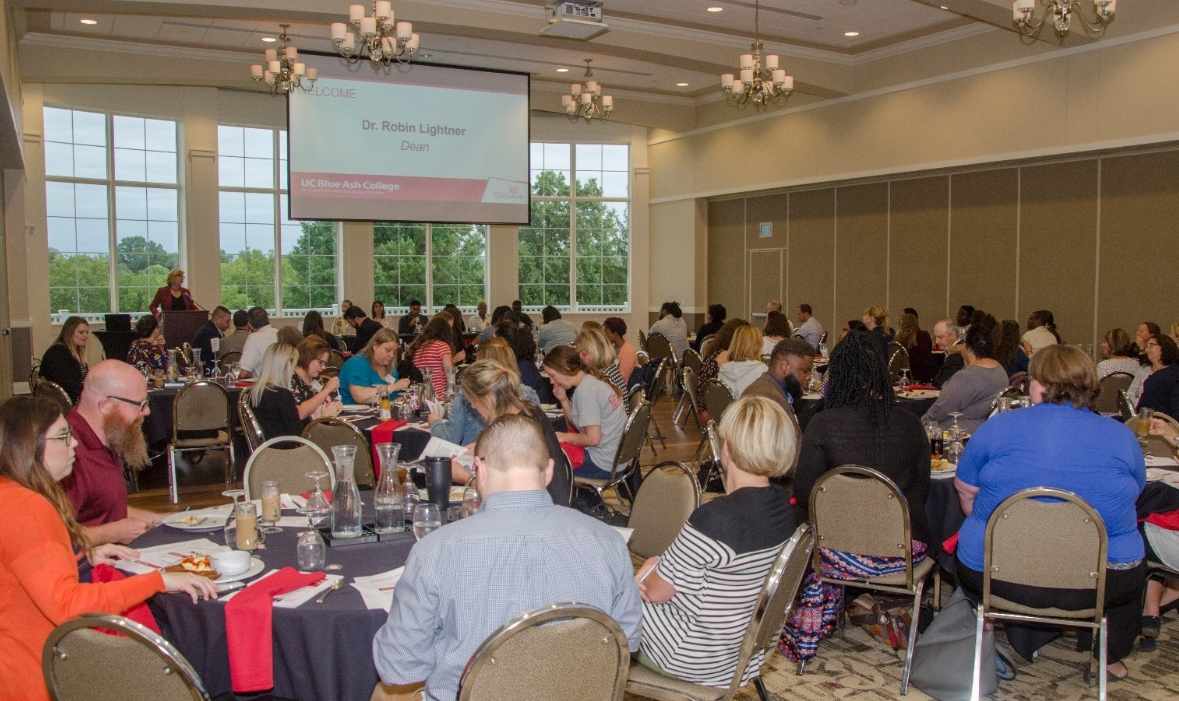 Join us for breakfast on September 10, 2020 for UC Blue Ash College's annual Counselor Breakfast and College Credit Plus Update. You'll have the opportunity to learn more about what UC Blue Ash College offers prospective students while enjoying excellent food, great conversation and even a few gifts.
Event Details
When: Thursday, September 10, 2020 from 7:30 a.m. - 9:00 a.m
Where: Cooper Creek Event Center, 4040 Cooper Road, Blue Ash, OH 45241
Registration: Opens on August 1
There's never been a better time to be at UC Blue Ash. We invite students and families to come see what our great college has to offer. Campus visits allow students to see firsthand the great facilities and location of UC Blue Ash College.

Campus visits are by appointment only and can be scheduled using the link below. All tours are in a group setting and include an information sesssion as well as a campus tour. The information session will brief students and families on the application process, resources available and the financial aid process.
Campus visits are offered three days a week. Sessions are offered on:
Monday 2:00 p.m. - 3:30 p.m.
Wednesday 5:00 p.m. - 6:30 p.m.
Friday 10:00 a.m. - 11:30 a.m.
The UC Blue Ash Open House is the perfect time for students and families to come see our beautiful campus. This is a great chance to hear directly from our professors and students, see our campus up close and have all of your questions answered. Better yet, students who attend and complete an application on site will have their $50 application fee waived!
Upcoming Open House Dates:
Tuesday, March 10, 2020 from 6:00 pm to 8:30 pm
Saturday, April 18, 2020 from 1:00 pm to 3:30 pm

What a student can expect at an Open House:
Learn about UC Blue Ash College and the admissions process
Speak with over 50 different academic program representatives

Attend a breakout session for Dental Hygiene, Nursing and Veterinary Technology


Discover student support services & financial aid
Explore our campus on a guided tour
Submit an application on-site and have $50 application fee waived
Express Application events are quick, easy and allow students to learn about UC Blue Ash College and apply to the college, all in less than one hour!

Upcoming Express Application Events:
Sunday, May 3, 2020 from 2:00 pm to 4:00 pm
Sunday, June 7, 2020 from 2:00 pm to 4:00 pm

What a student can expect at an Express Application Event:

Learn about our affordable tuition and nearly 50 degree and certificate programs in a quick overview presentation

Take a tour of our beautiful 135-acre campus
Submit an application on-site and have the $50 application fee waived