Phone Number: 513-558-9589
Must call to schedule an appointment, no walk-ins available.
Brightening Smiles for More Than 50 Years
Since 1967, the Dental Hygiene program at UC Blue Ash has been preparing well qualified and caring dental hygienists for employment throughout the region. Led by our nationally-recognized faculty, students are guided in the development of knowledge, skills and attitudes needed for positions of responsibility in the oral care system through a unique blend of laboratory, clinical and classroom experiences. This accredited two year program leads to an Associate of Applied Science Degree.
Our dental hygiene clinic is open to the public, enabling students and faculty to serve the community through dental evaluations and preventive treatment.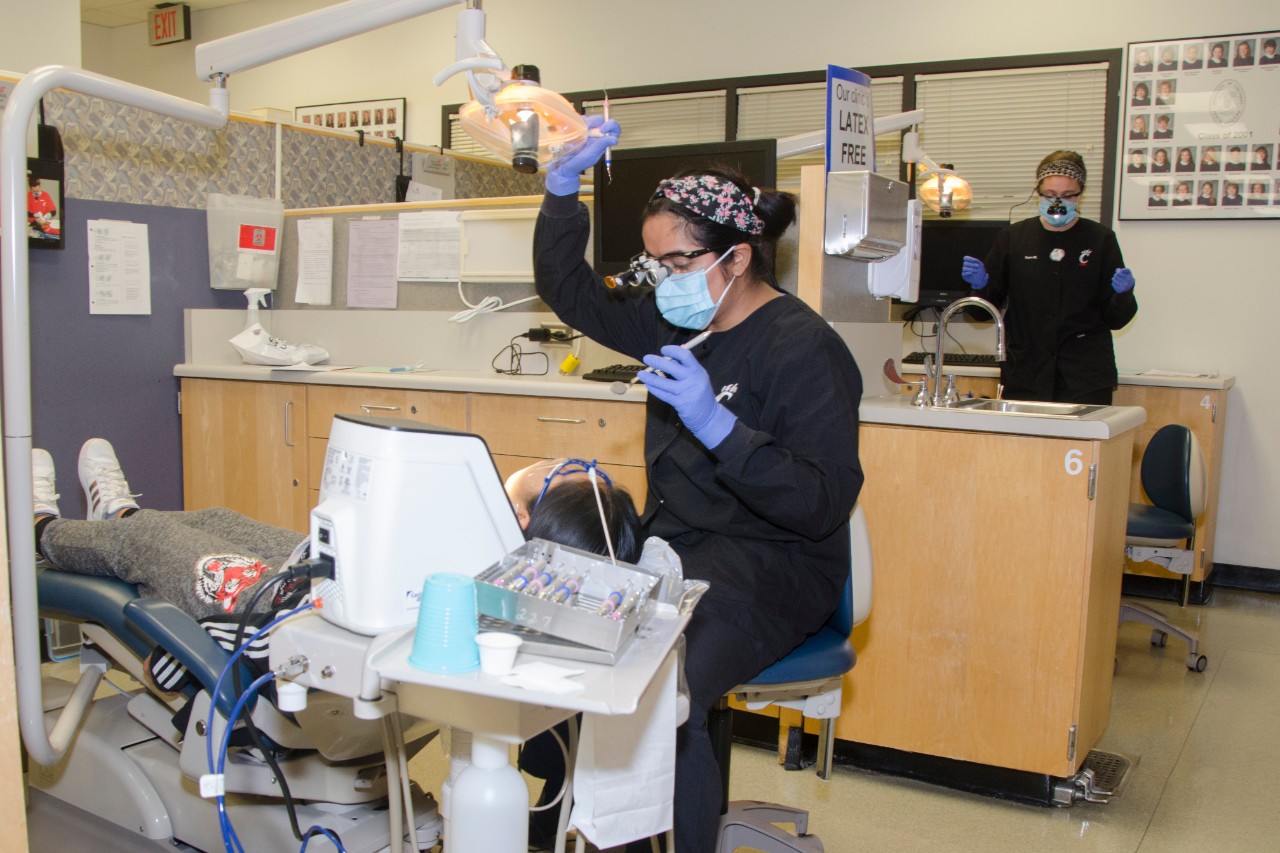 It may take two or more appointments to ensure complete and thorough treatment. Each appointment may last up to four hours. The services rendered by our students are carefully observed and evaluated by faculty members, therefore treatment proceeds more slowly than in a private office.

Advancement of our students and successful treatment depends on your commitment and ability to keep all scheduled appointments.
In the event you must change or cancel an appointment, please give the clinic at least 24 hours advance notice. Due to limited appointment times available, we may be unable to reschedule missed or cancelled appointments.
We are located in Walters Hall at the far end on the first floor. As you face our campus, we are the building on your right. You will find green-lined visitor parking spaces by our entrance. If spaces are full, please park in any of the white-lined student parking spaces.
We are located on #4 Metro Bus Line (Plainfield Rd.).

Additional Local Cincinnati Dental Clinics
If you can't make it to our clinic on the UC Blue Ash campus, check out this map of dental locations to find low-cost, Medicaid-eligible and free clinics in the Cincinnati area.
Please note, this listing does not imply an endorsement or sponsorship by UC Blue Ash College.
Preventative Treatment Services Provided
Health History (including Blood Pressure Screening)
Oral Cancer Screening
Periodontal Assessment
Oral Hygiene Education (including home care products)
Radiographs (X-rays)
Tooth Desensitization
Local Anesthetic
Oral Prophylaxis (scaling, root planing and polishing)
Fluoride Treatment
Cleaning of dentures
Smoking Cessation Education
Nutritional Counseling
Tooth extractions
Root canals
Fillings
Crowns
Implants
Dentures
Partials
Restorative work of any kind
Teeth whitening
*While these services are not provided on a daily basis at the clinic, some services may be offered on a limited basis during our annual Community Dental Day event.
The following fees include all applicable services listed above:
Dental Hygiene Clinic Fees

| Age/Service | Fee |
| --- | --- |
| 3 to 15 | $20.00 |
| 16 to 64 | $30.00 |
| 65+ | $15.00 |
| Student Discount | $10.00 |
| Military  | Free |
| UC Faculty & Staff | Free |
The following fees are not included:
Additional Fees

| Service | Fee |
| --- | --- |
| Sealants (17 & younger) | $5.00 per tooth |
Fees are non-refundable
The clinic accepts credit cards, checks and money orders
Cash is not accepted
The clinic cannot accept or process any insurance.
All payments due at appointment.
Open: September-April (by appointment only) 
September - first week of December Hours of Operation
Morning Sessions: Tuesdays and Thursdays 
Afternoon Sessions: Wednesdays
Mid-January - Mid-February Hours of Operation
Morning Sessions: Tuesday and Thursdays
Afternoon Sessions: Wednesdays
Mid-February - April Hours of Operation
Morning Sessions: Tuesday, Wednesday and Thursdays
Afternoon Sessions: Tuesday Wednesday and Thursdays
Due to the popularity of our clinic we cannot guarantee an appointment.
To schedule an appointment, please call 513-558-9589.
It is necessary that patients seek additional care from a private dentist, since services performed by our students are limited to preventive treatment and do not replace regular dental care.

Dental Waste Recycling
Gather your dental waste.

Manual toothbrushes
Toothpaste tubes
Floss containers
Packaging

Drop off your items.

Drop-off locations outside the UC Blue Ash Dental Hygiene Clinic in Walters Hall 

We turn your trash into cash.
We send your items to TerraCycle. They send us money.
We fund treatment.

All money earned through dental waste recycling goes to fund treatment in our clinic.
Dental Hygiene Clinic
Phone: 513-558-9589