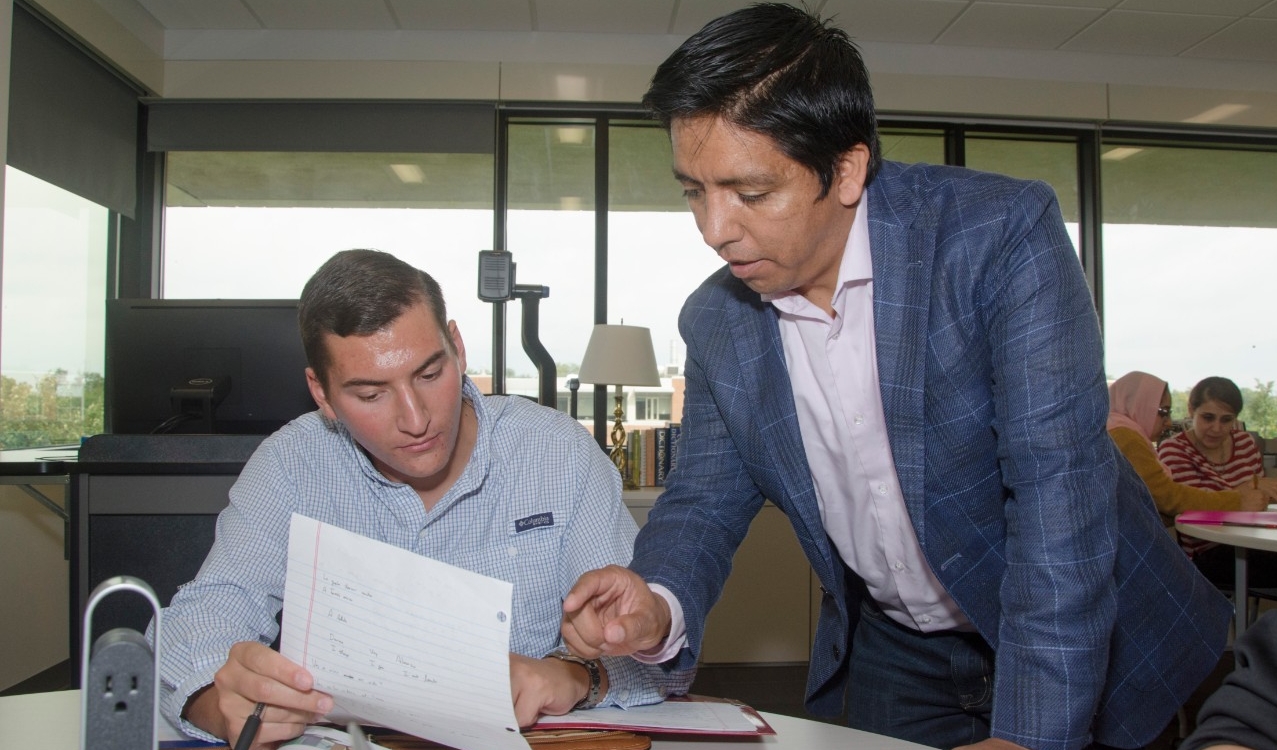 You're More Than Just a Number
This is your education at UC Blue Ash: Small class sizes, professors who know you by name and a supportive environment from your first day of classes to graduation.
93% - A vast majority of graduates surveyed said UC Blue Ash helped them achieve their educational objectives.
92% - Our graduates are thoroughly satisfied, and the majority say they would recommend UC Blue Ash to friends and family.
Be empowered and inspired by the individual attention that will help you grow as a student and a person. From our welcoming staff to expert professors, we get to know your talents and interests and take pride in your achievements. Everything we do is built for your success, every step of the way.
With an average student-to-professor ratio of 18:1, it's easy for our award-winning faculty to get to know you by name and help you achieve your academic goals. Whether you're at the top of the class and ready to be challenged, or working hard to adjust to the rigor of college-level academics, we are here to teach and to inspire you to succeed academically, personally and professionally.
Some of the benefits of small classes:
An average of 19 students means you'll get the personal attention you deserve.

Small class sizes allow for more flexibility in the way we approach teaching and assessment.
They enable professors to dedicate their time to getting to know you and your talents, struggles, and ambitions.

They help our students interact with each other easily and recognize familiar faces on a daily basis.
The campus was lively, the people were genuinely willing to help me, all the faculty and staff.
Jessica Brawand, UC Blue Ash College Alum
Professors will get to know you by name. It's not a cliche, it's how we approach your education. Our faculty and staff make a point of devoting one-on-one attention to every student and learning about your academic and professional goals.
My professors definitely influenced my future plans - they encouraged me to get involved and experience different opportunities in the field before I graduate.
Tara Dupps, UC Blue Ash College Alum
It's all a part of our student-centered approach to teaching and comprehensive services that are designed to support you through each step of your journey.
You learn much better just because they're smaller classrooms and you have more 1-on-1 interactions with your professors.
Brigitta Kulburg, UC Blue Ash College Alum
Our vibrant campus is invigorating, inviting and every bit as UC as you want it to be.
UC Blue Ash College is proud to offer all of our students a wide variety of services to assist with their educational needs. Students that need help improving their skills in writing or studying, math topics, scientific learning or with a foreign language can find resources in one of our any labs. These services are included as a part of the tuition to offer support to every UC Blue Ash College student. Take advantage of these opportunities meant to help you succeed!
'Making it Possible' for All Students.
We understand that our students come from a variety of backgrounds, so we meet you where you currently are and help you get to where you want to be. A diverse population of students choose UC Blue Ash College due to our accessibility, affordability and convenient location. We make it possible. You make it happen.
Our student population makes us the most diverse college within UC.
UC Blue Ash College has a long and successful history as an instituion where students benefit from one-on-one attention from faculty and staff. Take a look at some of our recent student success stories to get a feel for the help we can provide to you.