Welcome to UC Blue Ash College Human Resources. Whether you're looking to join our team, are a new employee, or have been at UC Blue Ash for years, we have services and information to answer your questions.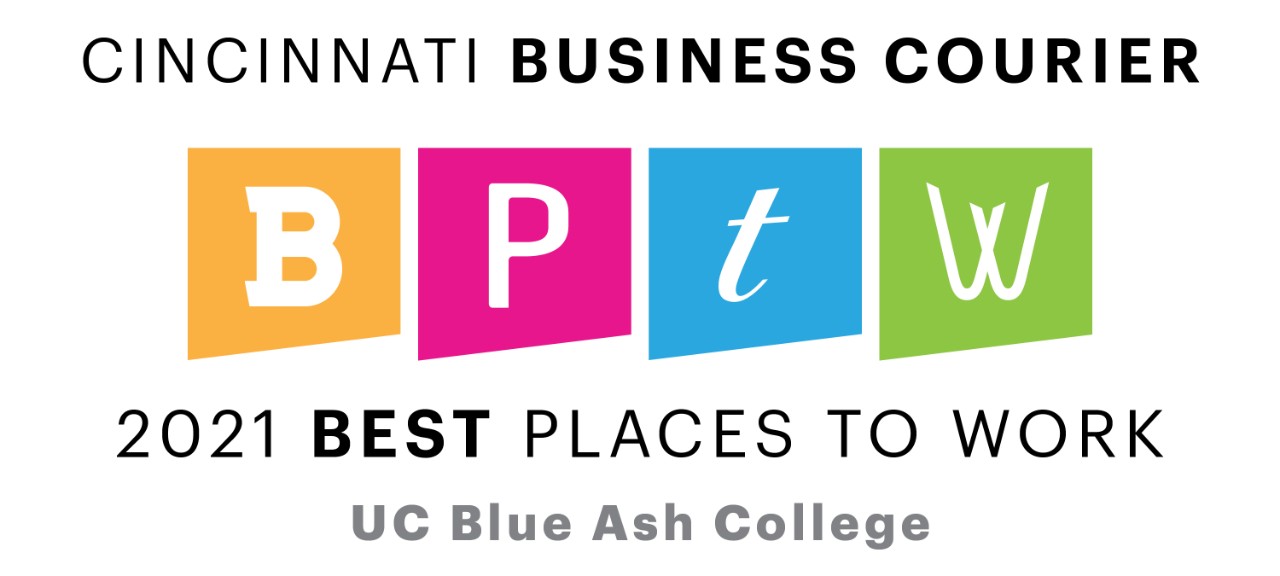 UC Blue Ash College is honored to be recognized as one of Cincinnati Business Courier's Best Places to Work. 
Why work at UC Blue Ash College? Our convenient location and close-knit working environment makes UCBA the place to be.

Be a part of our award-winning team. Inquisitive. Engaged. Passionate. Those are a few words that describe our award-winning faculty and staff. Our educators work, research and innovate – on our campus and around the world.
Competitive pay and benefits. UC Blue Ash College and the University of Cincinnati offer competitive pay and benefits to our employees. We expect a lot from our team, and reward accordingly. Learn more about benefits.

Convenient Blue Ash location. UC Blue Ash College is conveniently located in Blue Ash, Ohio. Our campus has lots of parking, easy access, and simple pathways to get from place to place. The campus is minutes from all of Greater Cincinnati's major highways.

Learn about the various employment opportunities available at UC Blue Ash College. Join our award winning faculty, effective staff team, or teach part-time.

New Employee Guide / Onboarding
Welcome to UC Blue Ash College! Here you can find resources to help you be prepared for your first day, first week and first month on campus.

Student Employment & Internships
Are you a current student interested in being more closely engaged with your campus? Take a look at our on-campus employment opportunities at both UC Blue Ash and the wider University of Cincinnati network.
Human Resources News & Events
SuccessFactors: UC's Hiring System
You will use your SuccessFactors profile if you are selected to participate in a new employee search committee and also if you are applying to any UC position. SuccessFactors may also be used as an employee directory, organizational chart, and used by UC recruitment for internal candidate searches to find a candidate with a specific skill set.
This is a new program to promote overall wellness for faculty and staff. This isn't just about diet and exercise! We will also be promoting financial wellness, giving tips on how to reduce stress, and having Lunch and Learns on a variety of topics.
Kristy Otten
Human Resources Coordinator
Muntz Hall | Room 140
Phone: 513-558-7858
Email: ottenkr@ucmail.uc.edu