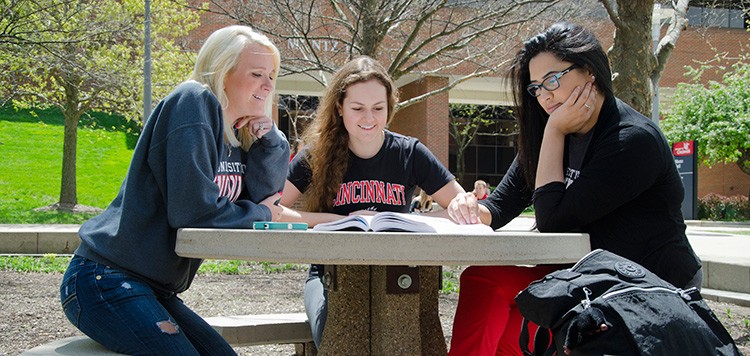 Welcome to the Accessibility Resources headquarters at UC Blue Ash College. Our mission is to provide students with any type of disability (visual, hearing, physical, psychological, cognitive, learning, ADD, medical condition, etc.) equal access and appropriate accommodations while participating in college courses, programs and activities.
The Accessibility Resources office will provide online support Monday through Friday from 8:00 a.m. - 5:00 p.m. The on-campus office is open by appointment only Mondays and Tuesdays from 8:00 am to 12:00 pm.
During the migration to online instruction for the remainder of the spring 2020 semester, we understand that both students and instructors will have question about accessibility accomodations. We have compiled some of the most frequently asked questions below to address any concerns.
Yes, Accessibility Resources is still open Monday through Friday, 8:00 a.m. - 5:00 p.m. AR will not be proctoring exams while virtual instruction is in place at University of Cincinnati, Blue Ash.
If you have a question or concern, please either call the office by phone at 513-558-9414; or email ucbadso@ucmail.uc.edu.
AR will not be proctoring exams while the University's instruction remains online only. Please communicate with your instructors to discuss your exam accommodations in their courses.
Some instructors may opt for alternative assessments (e.g. essays, untimed exams) which would not require exam accommodations.
If your instructor is creating online timed exams, please notify your instructor if you will need extended time. Academic departments are responsible for setting up extended testing time in Canvas and may opt to use HonorLock.
AR is available to instructors and students to consult about unique circumstances.
In the event of inclement weather where the University of Cincinnati is closed, students scheduled for testing will be sent an electronic invitation instructing them to join an online testing session at their regularly scheduled testing time.
Once you have learned from your instructor on how they will adapt the course for virtual instruction, please let your note-taker know if you would like to continue receiving notes.
You may find that you no longer need a note-taker due to the course design changes. For example, lectures that are prerecorded videos can be watched at your own pace. On the other hand, some instructors may still opt for scheduled class meetings with real-time communication using Canvas.
Regardless of your decision to continue receiving notes, all established note-takers volunteer to share their notes.
Completed META agreements will be honored, though reasonable modifications to the structure of the agreements may be needed with the shift to online instruction. Please contact your instructors to discuss any additional barriers presented by changes to the course format. Let your Accessibility Resources Director know if you need any assistance right away.
Complete the Online Application for Services.
Upload Documentation of Disability

We accept documentation from a variety of sources including; IEPs, 504 Plans, psychological evaluations, medical records, letters provided by qualified medical professionals or a Medical Professional Disability Verification Form

. Once available, documentation must be uploaded to this application for review.

An application cannot be saved and completed 0later date so start this application when you have all required documentation.

Call our office a 513792-8625 or email ucbaar@uc.edu to schedule Intake Accommodation Appointment. Please contact Accessibility Resources 513-558-9414 or email ucbaar.uc.edu

 with questions.
We acknowledge the significant effort required to quickly adapt your courses to online instruction. We want to collaborate with you to ensure that access for students with disabilities is maintained through this transition. Some students may encounter disability-related barriers with online instruction or assessment (e.g. students who use assistive technology, students with medical limitations on screen usage). AR staff are available for consultation regarding best practices and accessibility. (Phone: 513-558-9414; Email ucbadso@ucmail.uc.edu)
If you have students in your course who are utilizing accessible media, please notify our Accessible Media Team of any added materials by contacting Mitchell Jones at jmc@ucmail.uc.edu. The Communication Action Team is proactively working with instructors of Deaf/Hard of Hearing students to ensure captioning for prerecorded videos and/or arranging interpreting/transcribing services for real-time class meetings via Canvas/WebEx/Teams. The team is also working proactively with instructors of blind students to discuss accessibility strategies for course lectures, documents, activities, etc.
Below are some tips to keep in mind as you are creating virtual course content (adapted from DO-IT):
Use clear, consistent layouts and organization schemes for presenting content, and make instructions and expectations clear for activities, projects, and assigned reading.
Offer outlines, scaffolding tools, and adequate opportunities for practice to help students learn.
When selecting new materials, try to find videos that are already captioned, and articles that are available in a text-searchable format (meaning you can highlight and search the text within the document; view an example).
Images can be made accessible to blind and low-vision students by providing captions or inserting alt text into the image. Use large, bold fonts on uncluttered pages with plain backgrounds and color combinations that are high contrast.
Provide flexibility and understanding as this experience may cause disruption to the student's home life and available resources – which may negatively impact a student's disability symptoms. 
For more tips, visit "Tips for Accommodations While Teaching Remotely" from UC's Center for the Enhancement of Teaching and Learning.
Extended time on exams as an accommodation generally only applies to traditional, time-limited exams. If you decide to offer alternative means of assessment (e.g. essays, non-timed exams, project work), then a student's extended time may no longer be applicable. We encourage to speak with registered students if that is the case.
AR will not be proctoring exams while the University's instruction remains online only. All exams should be administered online or through other remote assessment methods by faculty. Academic departments are responsible for setting up extended testing time in Canvas and HonorLock.
Please communicate with your students to discuss their exam accommodations in your courses. AR is available to instructors and students to consult.
Prior to making time allotment adjustments, please confirm how much extended time each of your students should get for their quizzes/exams.
You can also confirm an individual student's extended time multiplier by checking their Course Accessibility Letter email or contacting AR. Extended Time in Canvas: Use Moderate Quiz Function:
Once your quiz is published, look at the quiz page (From the list of quizzes, click the link for the quiz, but don't click the button to edit it).
Along the right-hand side, you will see the option to Moderate this Quiz. From here you can see quiz progress and, depending on your settings, give additional attempts or additional time.
Extended Time in Canvas: Instructors/departments must work with their Canvas point-of-contact to apply extended time. For questions, please email ucbadso@ucmail.uc.edu.
Completed MET agreements should be honored, though reasonable modifications to the structure of the agreements may be needed with the shift to online instruction. Students with MET agreements should be contacting you to discuss any additional barriers, if any, presented by changes to the course format. AR is available to instructors and students to consult.
Auto-captioning can be a great option in a pinch for those who might require subtitles for the deaf or hard-of-hearing. Follow the steps below to turn on auto-captions in your Microsoft Teams conversations. 
Once in a chat call, select the three dot icon indicating "more options" 
Select the captioning function to be displayed
The captions will start to appear automatically at the bottom of the video chat
You can turn the captions off the same way they were turned on
The UC Blue Ash College Accessibility Resources office (AR) seeks to ensure that all students with a documented disability can freely and actively participate in all facets of college life.
To that end, Accessibility Resources creates opportunities for and promotes educational experiences, advocacy, and enrichment to persons with disabilities.
Finally, AR seeks to increase the awareness and training among the UC Blue Ash College community so that students with disabilities continue to be perceived as people with promise.
Specific Accessibility Accommodations
UC Blue Ash offers a variety of acessibility services, including guides for parents and a full explanation of benefits you can expect to receive during your time as a student.
Accessibility Resources Overview
The following presentation provides an overview of the recent changes to Accessibility Resources, and an overview of the services the office provides. The rest of this site provides plentiful resources for students, parents, UC Blue Ash College faculty, and staff.
These are some of the most needed Accessibity Resources forms for students:
Policies and Grievance Procedure
If you have encountered an accessibility barrier either online, in a physical space or with an academic accommodation and wish to file a complaint, please see the following steps:
The University encourages the reporting of incidents of disability discrimination. Individuals who believe they have experienced disability discrimination in a University program or activity are encouraged, but not required, to discuss the matter informally as follows:
Students who wish to participate in informal resolution of their concerns may contact

Executive Director for Accessibility
ADA/EIT/Rehabilitation Act Coordinator (the "Coordinator")
Steger 630
2801 UC MainStreet
Cincinnati, OH 45221-0638
Tel: 513-556-9791
Heidi.Pettyjohn@uc.edu
If there is a conflict of interest with the Coordinator, students may contact:
Executive Director of Equal Opportunity & Access
5150 Edwards Center 1
45 Corry Blvd
Cincinnati, OH 45221-0214
Tel: 513-556-5503
oeohelp@ucmail.uc.edu


Employees who wish to participate in the informal resolution process may contact their immediate supervisor. If there is a conflict of interest with the supervisor, employees may contact the University Section 504/ADA Coordinator.
The representative of the OMBUDS office will facilitate discussion between the parties during the informal process. The parties may participate in joint and/or separate sessions with the facilitator to attempt to resolve the complaint. The sessions will be confidential to the extent permitted by law.
Participation in the informal process is voluntary, and the grievant may end the informal process at any time and file a formal complaint.
The informal process generally will be concluded within 30 business days. Within 10 business days of the conclusion of the process, written notice of the outcome will be provided to the parties and the Coordinator.
If the informal Step 1 process does not resolve the matter, or if the grievant does not wish to use the informal procedures set forth in Step 1, a written complaint may be submitted to the Coordinator. The Coordinator will investigate the complaint personally or through his/her designee. If the Coordinator is the subject of the complaint or otherwise has a conflict of interest, the complaint shall be submitted to the Senior Vice President for Administration and Finance who will appoint another administrator to conduct the investigation.
The complaint shall be signed or otherwise attested by the grievant and include 1) the grievant's name and contact information; 2) the facts of the incident or action complained of; 3) the approximate date of the incident or action giving rise to the complaint; 4) the type of discrimination alleged to have occurred; and 5) the specific relief sought. Names of witnesses and other relevant evidence may also be submitted. If in the investigator's judgment the complaint also falls within the jurisdiction of the Student Code of Conduct, the investigator shall refer the matter to the Office for Judicial Affairs. The investigation provided for in this procedure shall continue in parallel with any action taken by the Office for Judicial Affairs.
An investigation of the complaint will be initiated within 5 business days following the submission of the written complaint. As appropriate, the investigation shall include an interview of the parties and witnesses, a review of relevant evidence, and any other steps necessary to ensure a prompt and thorough investigation of the complaint. The investigation shall generally be completed within 30 business days after initiation.
A written disposition of the complaint shall be issued to the parties within 5 business days of completion of the investigation. If discrimination or harassment was found to have occurred by a preponderance of the evidence, the disposition will include the steps that the University will take to prevent recurrence of any discrimination/harassment and to correct its discriminatory effects on the grievant and others, if appropriate.
If the grievant wishes to appeal the decision in Step 2 above, he/she may submit a signed or attested written appeal to the Senior Vice President for Administration and Finance within 10 business days after receipt of the written disposition.

The only permissable grounds for appeal shall be:

New information was discovered, which was not available at the time of the hearing, and such evidence is material and is likely to affect the outcome of the matter; or...
A substantial procedual error occured in the process, which materially affecte the decision; or...
a sanction of suspension or dismissal from the university was imposed and is not commensurate with the violation.
Within 30 business days, the Senior Vice President for Administration and Finance or his/her designee shall review all the evidence presented to the previous investigator. If the Senior Vice President for Administration and Finance or his/her designee determines that he/she agrees with the grounds for appeal, he/she may, if deemed necessary, require that additional investigation be conducted or shall make his/her own determination.
Written notice of the Senior Vice President for Administration and Finance's decision will be given to both the grievant and the respondent. If discrimination or harassment was found to have occurred, the disposition will include the steps that the University will take to prevent recurrence of any discrimination/harassment and to correct its discriminatory effects on the grievant and others, if appropriate.
The University hereby provides assurance that it strictly prohibits any form of retaliation against any person for asserting his/her rights under Section 504 and/or the ADA. Anyone engaging in retaliation will be subject to disciplinary action. Complaints of retaliation may also be addressed through the foregoing procedure.
A person is not required to use this procedure and may instead file a complaint directly with the U.S. Department of Education's Office for Civil Rights, 1350 Euclid Avenue, Suite 325, Cleveland, OH 44115
Additional Accessibility Information
Accessible Voter Registration
The following sites (offices) at the University of Cincinnati shall operate as voter registration sites for students and other persons with disabilities affiliated with the University:
Accessibility Resources Office
9555 Plainfield Road
Cincinnati, Ohio 45236-1096
Tel: 513-558-9414
Fax: 513-792-8624
Accessibility Resources Office
210 University Pavilion
Cincinnati, Ohio 45221-0213
Tel: 513-556-6823
Fax: 513-556-1383

Accessibility Resources Office
Enrollment & Student Services
4200 Clermont College Dr.
Batavia, Ohio 45103
Tel: 513-732-5327
Fax: 513-732-5303
John Kraimer - Program Director
Muntz Hall | Room 112L
(Far right corner of computer concourse)
Hours: Mon-Fri 9:00 a.m. - 5:00 p.m.
Phone: 513-558-9414
Email: ucba.accessibilityresources@uc.edu