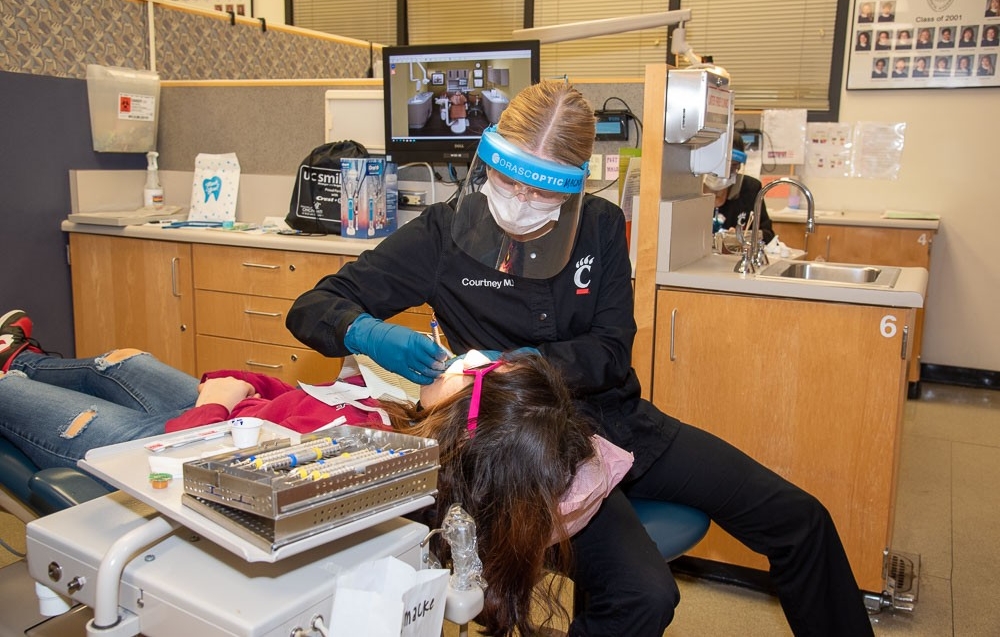 Stronger and Brighter. For Life.
The UC Smiles program brings area children to the UC Blue Ash campus and provides them with the resources they need to attain good oral health, while encouraging them that a college education is attainable for everyone. During the event, children receive:
A Road Map to college
A tour of University of Cincinnati Blue Ash College complete with a book bag filled with UC swag
Nutritional information to make wise choices for overall health
A healthy lunch
Complete prophylaxis (teeth cleaning)
Dental radiographs (x-rays)
Oral care instructions (brushing and flossing education)
Necessary home care products to continue with oral health
An overall assessment of the condition of their teeth and mouth including their risk for caries (tooth decay)
Building Community Partnerships
The UC Smiles program connects with school districts around Greater Cincinnati to help meet the need for oral health care, particularly for students who are underserved. During first two years of UC Smiles, we partnered with one area school to pilot the program. We expanded to serve two schools in 2012 and, thanks to generous funding by Procter & Gamble, UC Smiles now has seven events scheduled with multiple school districts participating during each academic year, with two of those dates being restorative days. Local dentists and other dental care professionals volunteer their time on these two days to expand the services we provide.
Students who participate in the UC Smiles program receive a free oral health exam and teeth cleaning, free oral health supplies provided by Crest + Oral-B, and information about UC Blue Ash College and how attainable higher education can be. The program has served more than 2,500 area students.
The children, their families, and the Dental Hygiene students all gain valuable information from this experience; it gives us all a reason to smile! With our area presenting such a need and the program's demonstrated success, we plan to continue to provide this important community service for a very long time.
Thank you to our sponsors!