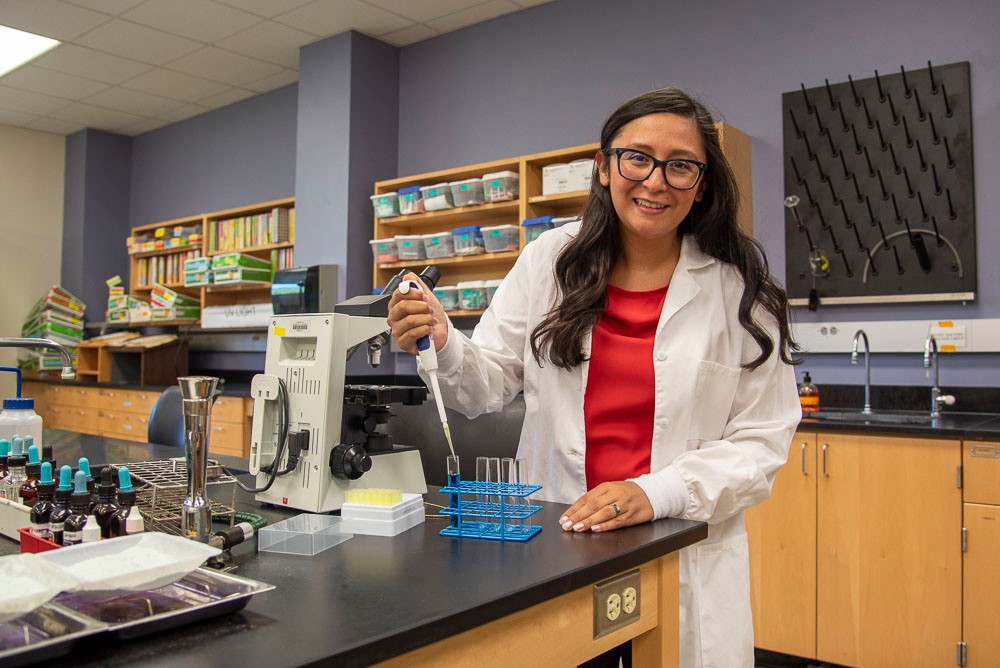 Our students come to UC Blue Ash College from all walks of life, with all sorts of plans and dreams. Learn more about how our college provides the rigorous academics, inspiration and resources that help them succeed.
UC Blue Ash Success Stories
We have so many stories of bright and ambitious students who attend our college for an authentic University of Cincinnati education and leave with so much more. Here are the stories of some of our students and alumni who talk about how they found their path to success at UC Blue Ash College.

Anastassia Jenjebir credits the education she received at the University of Cincinnati Blue Ash College with preparing her really well for her next step: being admitted to the UC College of Pharmacy to pursue her doctorate in pharmacy. 
Belden Rowley transferred to UC Blue Ash College after finishing his associate degree in Cincinnati State's Civil Engineering Technology Surveying program. He chose to pursue the Bachelor's in Technical and Applied Studies to support his future plans.
For CeJay Henson, UC Blue Ash was a great environment to learn. The small class sizes and individualized help from professors keep him focused on his degree
Chris Hummer took a few years off after high school before attending college; he chose to start at UC Blue Ash because of the small class sizes.
From the top of her high-school class to numerous leadership roles on campus, Grace Meyer has forged a path of excellence during her time at UC Blue Ash College.
From working in leadership roles in the non-profit field, to owning and managing her own event planning business, UC Blue Ash College Young Alumnus Outstanding Achievement Award winner, Haley Fritz, can really do it all, and for that, she credits her time at UC Blue Ash College.
As a Student Ambassador, a pre-med student, and a soldier in the U.S. Army reserves, Jercell Respecio is the image of service. And he made it all happen at UC Blue Ash College.
First-generation students are some of our favorites, because they often come to higher education with unmatched energy and excitement.
Busy student Lauren Altman used her time at UC Blue Ash to begin building her business acumen, eventually leading to management of several regional restaurant groups.
Thanks to his drive and determination, Ludwing Gonzalez is well on his way to making his dream of becoming a successful entrepreneur a reality.
When Mackenize Cornell was looking for a degree program that could combine her education and experience, she found UC Blue Ash's eMedia program and thrived.
Maddie Munro is funding her education herself, so the low cost tuition at UC Blue Ash was a major factor in her decision.

Maria Huls graduated from the Applied Graphic Communication program at UC Blue Ash College in spring of 2017 and left her mark on the college by creating the college's 50th Anniversary logo.
As a graduate of Cincinnati's School for Creative and Performing Arts, Mariah Emery loved connecting with people, getting involved and making a difference – and discovered UC Blue Ash was just the place for her.
Rayshon Mack has a healing heart. For 16 years, he's worked for Good Samaritan Hospital as a Patient Care Assistant, and wanted to complete his Nursing degree to advance his career.
Annabella and Antoni Rojas, twins from Valencia, Venezuela, came to the United States to pursue a college education and fell in love with UC Blue Ash during a campus visit.
Suaad Hansbhai credits her parents, as her first and most important teachers, with sparking her passion for education, and salutes her professors at UC Blue Ash for inspiring her future endeavors as an international educator
Tara Dupps knows what it takes to succeed in school – involvement, dedication, drive. And most importantly, the support to help you go the distance. She's felt that support first hand at UC Blue Ash.
Zachary Ziv has always thought about a career in politics, and he bagan his journey on that path right here at UC Blue Ash.
In addition to recent and current student stories, UC Blue Ash College has a long history of successful alumni stories that we are proud to share.
A Salute to Military Veterans
Active military, veterans and their family members can count on our Veterans Affairs Office to identify the benefits and resources available to support their education and their success.