Video link: https://www.youtube.com/embed/kz84gibZSmw?rel=0
The UC Blue Ash College Honors Program, designed specifically for our most academically exceptional students, launched in fall 2017. If you have a high school GPA of 3.2 and an ACT score of 25 or higher (or SAT of 1200), you will be invited to join this selective group, and we'll provide you with opportunities both in and out of the classroom that will enrich your education. Current UC Blue Ash and transfer students can also apply to be admitted to the program.
UC Blue Ash Honors is built around experiential learning. Whether it is in specially-designed honors seminars, special leadership opportunities, research projects with professors, or study abroad programs, students in our Honors program learn by doing and by reflecting and connecting their experiences to their larger academic, career and personal goals.
If you have any questions about the UC Blue Ash Honors Program, please feel free to email us at UCBAHonors@uc.edu.
What are the requirements?
All students need to complete the following requirements in order to graduate from the UC Blue Ash Honors Program:
Enroll and complete Gateway to UC Blue Ash Honors, a one-hour introductory course.
Maintain a cumulative GPA of 3.2 by the time of graduation.
Enroll as a full-time student at UC Blue Ash every semester in the program.
Complete two Honors Experiences, in addition to the Gateway course.
Design and regularly update a Learning Portfolio.
Meet regularly with Honors Advisor. 
Academic Rigor: Take special honors-designated classes with other outstanding students.
Special Perks: You will enjoy perks that include early priority registration for UC Blue Ash classes.

Experiental Learning & Leadership: Participate in a wide range of exciting opportunities to take learning beyond the classroom.

Honors Scholarships: Compete for scholarships available specifically for our Honors Program students.

Prestige: Get featured in our print and website promotions, as our best and brightest students! Plus, the Honors designation is noted on students' diplomas.

Students who successfully complete the UCBA Honors Program will be able to:
Demonstrate knowledge and utilization of resources and opportunities available at UCBA, UC, and in the greater Cincinnati community to help you pursue your academic and career goals.
Reflect on your thinking and learning to describe ways to apply knowledge to future situations.
Synthesize and articulate the impact that Honors experiences and courses had on your understanding of course content and program curricula.
Describe your personal, academic, and professional pursuits and articulate how the ideas and experiences provided by the Honors Program inform will help you achieve them.
All students who complete the program and graduate from UC Blue Ash will receive the notation "With Honors from the UCBA Honors Program"on their transcript. Also, we encourage all students who are eligible to also apply for membership in the UC Blue Ash chapter of Phi Theta Kappa, the international honors society for students at two-year colleges.
Students who successfully complete the UC Blue Ash Honors Program and transition to UC's Uptown Campus to complete their baccalaureate program may have the opportunity to enroll in the University Honors Program, if selected. Those who enroll in the UHP will receive credit for their Experiences at UC Blue Ash.
All students enrolled in UC Blue Ash Honors automatically receive a $500 UC Blue Ash Honors Scholarship for every semester they are in the program. Students also have the opportunity to apply for special scholarships only available to honors students.
In addition, UC Blue Ash Honors Students can apply for the more than $60,000 that our college gives out every year as part of its general scholarship program.
How does the program work?
Full-time students in any UC Blue Ash academic track are eligible for UC Blue Ash Honors. The program is designed to be flexible, and is built around these two key features.
Through experiences, students engage in focused, experiential learning activities that are also flexible, since UC Blue Ash Honors students are enrolled in a variety of academic programs. Students need to complete two Experiences in order to graduate with Honors from UC Blue Ash College. These include:
Honors Seminars: Courses specially designed around interdisciplinary and experiential learning, where the focus is on discussion and exploration. The Honors Seminars align with one or more of the honors thematic areas of Community Engagement, Creativity, Global Studies, Leadership, and Research. Seminars include creative activities and projects that allow students to experience learning in new ways. Experiential learning may include site visits, fieldwork, service learning, lab work and other research, performances and exhibits, and more. The Spring 2020 Honors Seminar is Media Literacy in a Media-Saturated World.
Honors Intermediate Composition: Special sections of UC's core writing class built around experiential and service learning that are offered in both Fall and Spring semesters.
Research Experiences: Work with a UC Blue Ash professor on a project, or design your own, and present your work at the college's annual research conference, Mediated Minds
Creative Experiences: Write, design, paint, sculpt, and show off your work in the Blue Ash Review or at the UC Blue Ash Gallery.
Study Abroad: UC Blue Ash offers two to three well-designed and affordable study abroad programs every year, that automatically count as Experiences.
Leadership Experiences: Serve as a UCBA Student Ambassador, Student Orientation Leader,  or in any number of other college leadership opportunities.
The goal of the experiences is to provide students with the flexibility to design a program that fits their interests and goals, and develop as scholars, leaders and people.
In order to connect their experiences and other UCBA Honors activities to their larger academic program and personal development, each honors student develops and updates a personal Learning Portfolio, a public website where students not only show off their work but also thoughtfully reflect on what they learned during their Experiences, and how to build on them in the future.
Reflection is a vital learning tool that helps students make connections between their different classes and activities, and UC Blue Ash is a leader in helping students integrate thoughtful reflection into all parts of the learning process
How do I get into the program?
Students are admitted into the UC Blue Ash Honors Program through two pathways:
Requirements for New Incoming Students
First-year students with no college experience are admitted based on their high school achievements. All students with a minimum 3.2 high school GPA and a 25 ACT or 1200 SAT, who apply and accepted to UCBA, are automatically invited to enroll in UCBA Honors. The priority application deadline for Fall 2019 admission is May 1, 2019.
Requirements for Currently Enrolled Students
Cumulative college GPA of 3.2 or higher (confirmed via transcript or through the university for transition students)
Minimum of 12 hours of completed college credit (at UC or another university)
Currently enrolled full time as a UC Blue Ash student, or, if transferring, planning to enroll full time at UC Blue Ash in Spring 2020
Must be able to enroll in and complete Honors 1015: Gateway to University Honors their first semester in the program (this is a one-credit hour introductory course)
Evidence of interest in and desire to engage with the UC Blue Ash Honors Program. 
The UCBA Honors Program is excited to invite current and transfer students to apply for admission beginning in the Spring 2020 semester. Applicants must be full time UCBA students with at least two semesters remaining until graduation or transition.
Please have your application submitted no later than 5:00pm on December 1, 2019.
Carla Henderson, DNP, MSN, RN, CNE, CHSE
Last Names A-D
Walters Hall 281
513-936-7103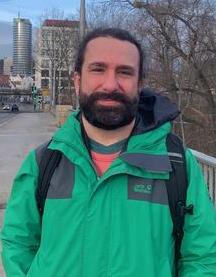 Robert R. Gioielli
Associate Professor of History Director, UC Blue Ash Honors Program , UCBA History
284 BA WALT
513-936-7117
I am an environmental and urban historian whose work focuses on the intersections of social and environmental issues in the American city, especially when it comes to racial and class inequalities. I also have a significant interest in the origins and development of environmental activism, both in the United States and around the globe, and how environmental politics has both created and reinforced other inequalities and hierarchies. 
My teaching is focused on American and environmental history. In the classroom I work to help students understand how historical thinking is a vital tool for understanding their contemporary world. My environmental history classes in particular are focused on experiential learning, and encouraging students to get involved in the greater Cincinnati community through research, volunteering and service learning. Courses I have taught include American History, Global Environmental History, Race and the Environment, and Environmental Activism. I am also firmly committed to international education, and have taught through the University Study Abroad Consortium in Chengdu, China. 
Finally, I am also the director of the UCBA Honors Program, and work to provide a tremendous experience for all of our honors students. 
Books
Environmental Activism and the Urban Crisis: Baltimore, St. Louis, Chicago
. Philadelphia: Temple University Press, May 2014. Paperback July 2015. Refereed.  
Refereed Publications
"Not Quite Suburban: Progressive Politics in Postwar Chicago" in
Social Justice in Diverse Suburbs: History, Politics, and Prospects
, edited by Christopher Niedt. Philadelphia: Temple University Press, 2013.  
 "We Must Destroy You To Save You: Highway Construction and the City as a Modern Commons,"
Radical History Review
, Issue 109, Theme: "Enclosure," Winter 2011. Refereed.  
"How can any community be expected to accept such a scar?: The Movement Against Destruction and Environmental Activism in Postwar Baltimore," in
Common Ground
:
Integrating the Social and Environmental in History
, edited by Genevieve Massard-Guilbaud and Stephen Mosley. Newcastle upon Tyne: Cambridge Scholars, 2011.  
"Get the Lead Out: Environmental Politics in 1970s St. Louis,"
Journal of Urban History
, 36 (4), May 2010. Refereed.  
"Suburbs vs. Slot Machines: The Committee of 500 and the Battle over Gambling in Northern Kentucky,"
Ohio Valley History
, 5 (2), Summer 2005. Refereed.  
Public History Projects
Rethinking Porkopolis: Cincinnati and the Ecology of Slavery
museum exhibition and speaker series in partnership with the Harriet Beecher Stowe House, Cincinnati, OH. September to December 2016. Project director, chief historian and curator.
https://issuu.com/robertgioielli/docs/porkopolis_sample_pdfs
Work in Progress
Race and Urban Sustainability: How White Supremacy Made the American Metropolis Unlivable,
book manuscript in progress.  
"Don't Do it in the Lake: Gordon Sherman and the Public Interest in Postwar Chicago," article in progress for edited volume tentatively titled
Chicago Environmental History
(University of Pittsburgh Press), William Barnett, Kathleen Brosnan and Ann Durkin Keating, eds.  
"Environmental and Conservation Movements in Urban America," under contract with the
Oxford Research Encyclopedia in American History
(Oxford University Press), Jon But