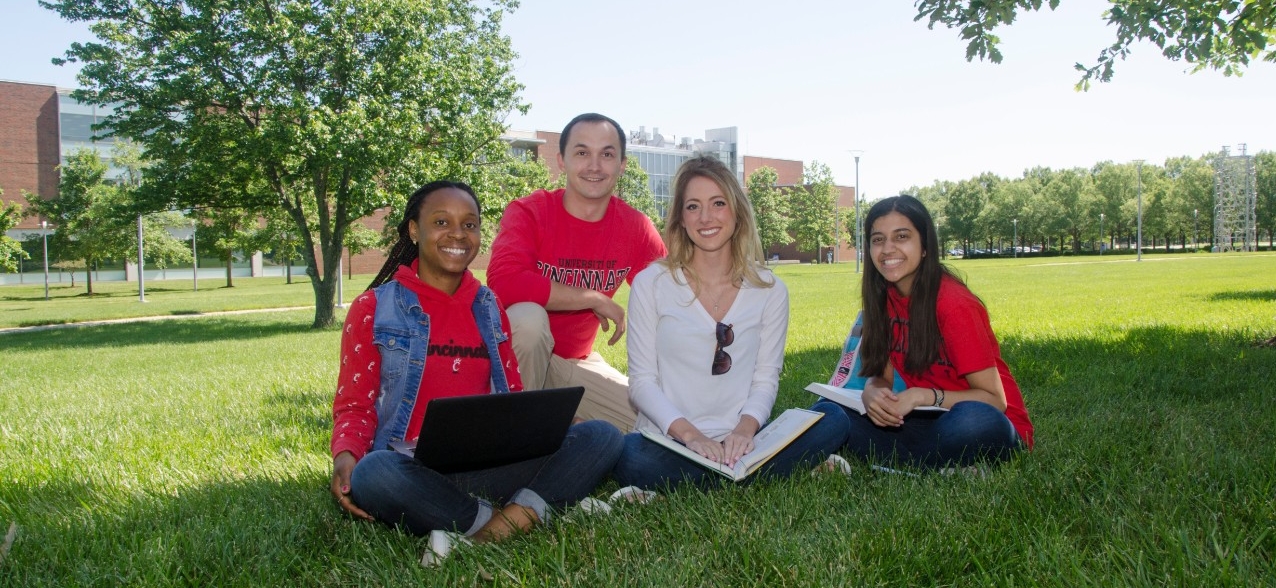 A Great Learning Environment
From our scenic campus to the thriving Blue Ash community, we offer the perfect location for your college education. Our safe and friendly campus covers 135 acres and offers plenty of green space for studying, playing or just enjoying a beautiful day.
Our Beautiful Suburban Campus
Our campus is vibrant and exciting, offering plenty of space to connect, study, or grab a bite to eat.
My dad and I came by one day and just walked around the campus and I immediately enjoyed the feel of it.
Wilson Cochran, UC Blue Ash College Alumnus
There's never been a better time to be at UC Blue Ash. We invite you and your family to come see what our great college has to offer. Campus visits allow you to see first hand the great facilities and location of UC Blue Ash College. Take the tour and learn more about our programs, our student experience, and why we're a good fit for your education.
Our Campus is Conveniently Located and is Very Accessible
Only 12 miles separate UC Blue Ash from UC's Uptown campus.
UC Blue Ash College is easily accessible from Cincinnati highways due to its central location in Blue Ash, Ohio. Less than a mile from Ronald Reagan Highway, UC Blue Ash has many routes of access from all over the Greater Cincinnati area.
Within a 20-minute drive, you can be nearly anywhere in Greater Cincinnati, including downtown Cincinnati's many cultural, entertainment and sporting venues, like Great American Ballpark, the home of the Reds, and Paul Brown Stadium, the home of the Bengals. In addition, if you work in another community, your commute will take far less time than from many other areas in the region.

Another benefit of our sprawling suburban campus is our expansive parking grid. No need for a tightly packed parking garage or waiting in line at a gate, making it accessible and convenient for students that need to be able to get on and off campus with ease.

Shuttle Service to UC Uptown Campus
Because of our proximity to the UC Uptown Campus, we offer a free shuttle service that travels to and from each of our campuses all day Monday through Friday. This convenient service helps students attend classes in Uptown, live in the dorms, and participate in student activities and club sports.
Bus Service To Our Front Door
Queen City Metro's Rt. 4/Montgomery Road bus stops in front of Muntz Hall on our campus, making us easy to access from anywhere in the city.
Discover Our Backyard: The Vibrant Blue Ash Community
Not only is our location in Blue Ash, Ohio accessible, but the City of Blue Ash offers a lot for prospective students to get excited about.
Located just 20 miles north of downtown Cincinnati, Blue Ash offers a unique blend of small town charm, top-rated amenities, major employers and big city access that makes it the perfect place to hang out. A long list of great restaurants, free summer concerts, annual festivals and the state-of-the-art Blue Ash Recreation Center are just a few of the attractions.
The Blue Ash Recreation Center
UC Blue Ash students can take advantage of a special student membership at the state-of-the-art recreation center located less than a mile from campus.

Spanning 130-acres, and just around the corner from UC Blue Ash, the city's newest park boasts a performance pavilion, restaurants, an observation tower, ice skating rink, and many other recreational facilities.

Blue Ash Business Community
If you're looking for potential internship or job opportunities, you won't have to look far from home. Blue Ash is the largest suburban office market in Greater Cincinnati. More than 2,200 of the most successful companies in the region and around the globe are located here, including Fortune® 500 firms and the corporate headquarters of several leading companies.
The City of Blue Ash features more than 2,200 businesses, from local companies to international headquarters, as well as great restaurants and beautiful parks.
Blue Ash is the region's second-largest employer, an economic force that trails only downtown Cincinnati. That means our students have access to employment, internships, coops and business connections from leaders in information technology, bio health, consumer products, brand development and more.
City of Blue Ash Information