50th Anniversary Initiatives and Announcements
UC Blue Ash College first officially opened its doors on September 25, 1967, when were known as Raymond Walters College and had an enrollment of 632 students. To mark this important occasion, we celebrated our 50th Anniversary throughout the 2017-18 academic year with a variety of events and activities. The list below offers a summary of many of the events and initiatives specific to our anniversary.

To learn more about our history, you can watch our new video about the history of our college, UC Blue Ash College Through the Years, that was featured at our Faculty/Staff Convocation.
Our tagline for the anniversary was Inspiring Student Success. Then. Now. Always. Thank you to all who have made this possible in the past, and all who are helping us build on our rich history as we start the next 50 years at UC Blue Ash College!
50 Photo Day was taken September 21 at 12:30 pm in the Quad. Everyone wore red or black and helped us mark our 50th Anniversary by creating a human number 50 in the Quad.
50th Birthday Party on September 25 in the Quad. We had pizza, cake and a short program to celebrate the day our college opened.
50th Anniversary Gala on Thursday, September 28 on our campus. All proceeds supported our Student Scholarship Fund.
UC Blue Ash College Day at UC Football for the UC vs UCF game on Saturday, October 7.
50th Anniversary Speaker Series was an ongoing event throught the 2017-18 academic year.
Marketing/Communications Efforts
Billboards on Ronald Reagan Highway through the Fall 2017 semester.
Full page, full-color ads noting our 50th Anniversary in the Cincinnati Enquirer on September 24, 25 and 28.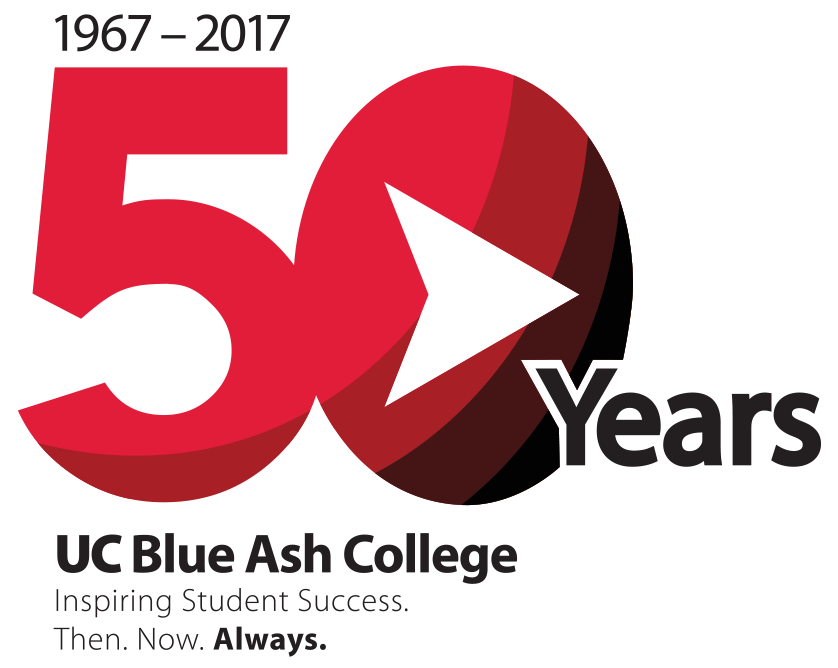 The 50th anniversary logo, created by UC Blue Ash student (now alumnae) Maria Huls, was included on all printed materials and #UCBA50 is on all social media posts throughout the year.
50th Anniversary book by UC Blue Ash history professor, Rob Gioielli. Copies arrived in mid-September and were provided to those who attended the 50th Anniversary Gala.
50th Anniversary t-shirt (no longer available).
Proclamations recognizing our 50th Anniversary from the Ohio State Legislature and City of Blue Ash.
Cincinnati Museum Center in UCBA Library (this display can now be found in the UC Blue Ash library)