Get Psyched Psychology Club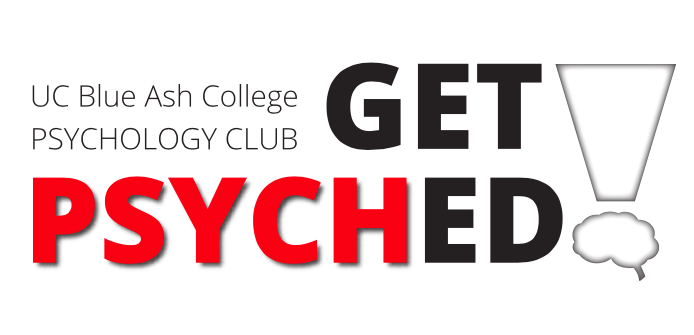 'Get Psyched' is a new student organization at UCBA for anyone interested in Psychology. Our mission is to provide UC Blue Ash students who are interested in psychology with opportunities to enhance their understanding of psychology, interact with like-minded others who are also interested in psychology, and meaningfully develop their own personal and professional identities.

Why Should You Get Involved?
Because it is GREAT! Get Psyched will help you…
Get connected with other students and the psychology faculty.
Reach your goals as major (minor) in psychology
Explore career pathways within psychology.
Acquire leadership experience and build your resume.
Take full advantage of your education!
'Get Psyched' meets every third Tuesday of the month from 12:00 to 1:00 in Progress Hall, room 211. A schedule for the next three meetings is provided below.
September 18th: How to be a Successful Psychology Student: Advice and Recommendations
October 23rd: Self-Care and Studying: Psychologists' Guide to Sanity and Success
November 20th: Get Psyched Career Talk and Pizza Party for Psychology Students
How Can You Get Involved?
Harper Nelei-Nunnemaker | President



Student Life Office
Muntz Hall | Room 123
Phone: 513-558-9429
Email: bastdlfe@uc.edu