First-Generation Student Stories
UC Blue Ash College is home to a high number of first-generation students. These are a few of our most recent success stories.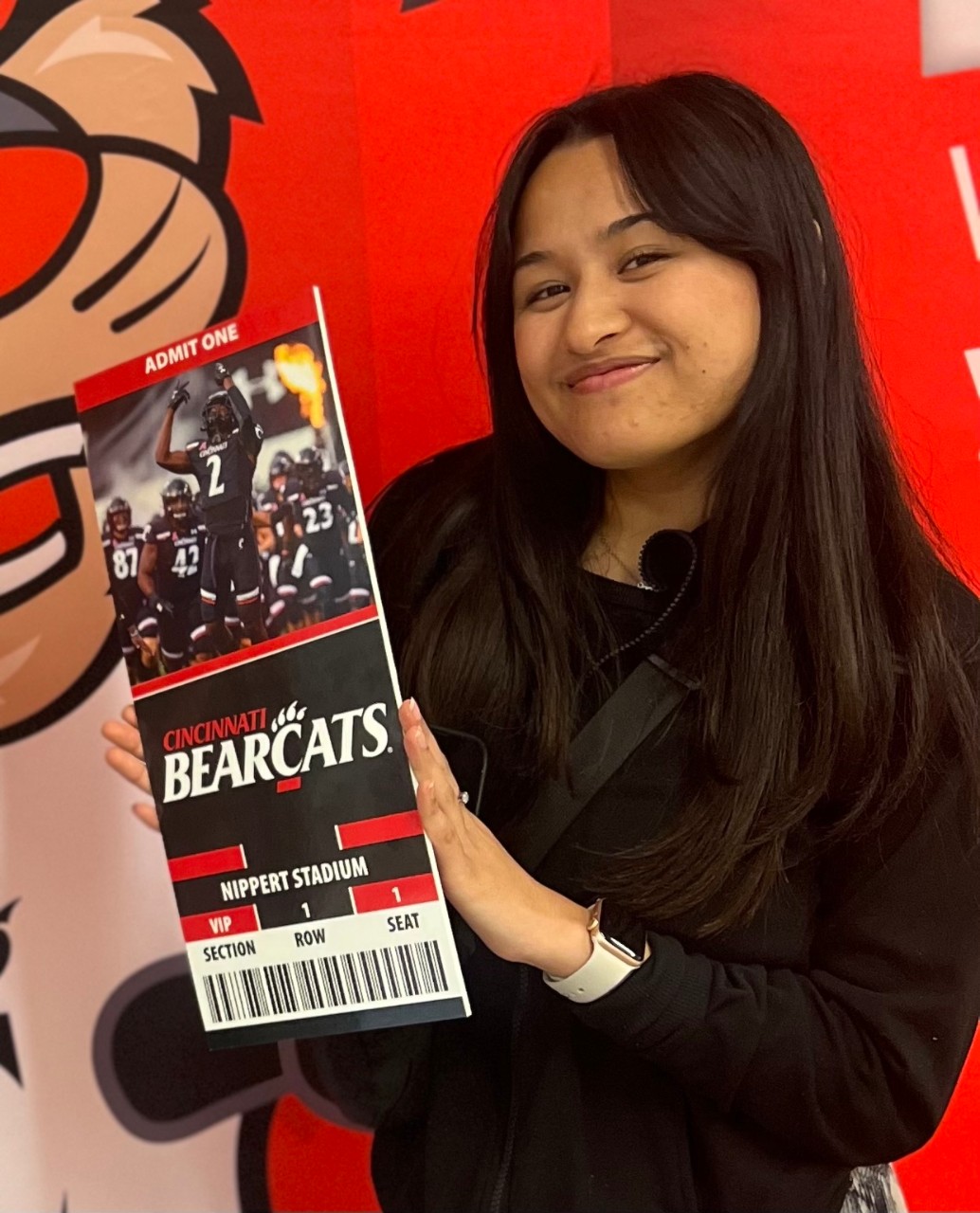 Stephanie Garcia
I grew up in a suburban area of Cincinnati and attended Princeton High School. My motivation to go to college comes from my parents. I am majoring in biology and my future goals are to become a family practitioner and help others around the world by working in international hospitals. I have always been passionate about medicine ever since I was little.
My family is proud that I graduated high school and continue my studies/education to help my family and the community. It is a lot of pressure being a first-generation college student, but it is all worth it. My advice to other first-gen students is to always ask for help because that will go a long way. I wish I knew that, instead of doing my own trial and error in college.
Kayli Moore
I grew up in Bethel, Ohio and graduated from Bethel-Tate High School in 2019.
I made the decision to go to college because I want to ensure that my future children won't have to go through financial hardships, and to make sure I can provide for myself and my family. My future goals are to attend medical school and become a cardiologist.
My family unfortunately does not support my decision to go to college. They wanted me to go straight into the workforce, but I made the decision that I knew would be best for me and chose to attend college.
As a first-generation student, I have dealt with a lot of hardships, financially and emotionally, but I have come to realize that those hardships have made me into a better and stronger person. No matter what challenges you face as a student, just know that if you put in the work and keep pushing forward, you can achieve any goal you set for yourself.
Further action is required to make this image accessible
One of the below criteria must be satisfied:
Add image alt tag

OR

Mark image as decorative
The image will not display on the live site until the issue above is resolved.
Kayla Colen
I grew up in Rising Sun Indiana. I graduated from South Dearborn High School in 2011.
I was motivated to go to college because I wanted better for myself. Having a college education is pretty much required now for any higher paying careers. My goals are to be a Veterinary Technician in two years then hopefully go on to get my bachelor's degree. I want to work in a zoo or aquarium.
The military was a huge reason to go to college. I joined because my family could not afford to put me through college. I decided to serve my country and earn money to go to college.
My family is very proud of me. My mother and father never graduated high school. My mother did get her GED a few years back so I'm proud she got it. Being a first-generation student has its pressures. Statistically most first-generation students do not finish college but I plan to hold strong and follow through.
Luis De Jesus
I was born in Dominican Republic and I grew up in Forest Park, Ohio. I attended Winton Woods high school and graduated in 2013.
My motivation to go to college stems from my passion to be the best version of myself I can be. In high school, I didn't quite hit the academic levels that I was capable of and now that I'm in college I want to make up for it and go above and beyond my previously set limits.
My family is extremely proud of my decision to attend college after being out of high school for so many years. We all know how key financial stability is when you're a student and during the years after high school graduation and returning to student life in college I worked hard to save up and be able to afford my education.
My advice to any first-generation student planning to return to school is that if you're 27 and are afraid of graduating at 31 or 32, you'll still be 31 or 32 in 4 or 5 years, so if the resources are at your disposal, make the right decision and go to school. Embrace learning as a sacred responsibility. A college degree can improve your life intellectually and financially so future generations of your family can be inspired by your journey and success.
Sharon Smith
After moving to a few foster homes, I was fortunate to be placed in my adoptive home in Forest Park, Ohio. I attended Winton Woods High school.
I strive every day to overcome the odds and break the generational cycles that have impacted my family negatively. I realized that the key to changing my destiny was to continue my education and earn a college degree. I am pursuing my passion, which is to help those in need. I plan to transition to UC's Uptown campus to continue working toward a degree in social work and possibly a minor in entrepreneurship.
My mom passed away, but my siblings are very proud of me and consider me an inspiration. They comment on how I have always been determined and found ways to follow my vision and make it to college through hard work and perseverance.
My advice to other first-gen students is to write down the reasons why you started college and use a motivational quote to get you through the tough weeks. Eliminate distractions, STAY FOCUSED, think positively and DREAM so BIG that it scares you. I promise you it will be hard but hang in there and know the mountain you climb will be worth it. Network and use your resources! Get to know your professors! They are your biggest support and they will go above and beyond for you.
Chauncey Luce
I grew up in a farm town to the east of Cincinnati called Fayetteville, Ohio. I graduated from Fayetteville-Perry Local Schools. I also went to vocational school at Southern Hills Career Technical Center in Georgetown, Ohio for my last two years of high school.
Originally, I went to UC Clermont for mechanical and manufacturing engineering technology and I received my associate degree in 2016. The motivation for that degree was different than the motivation for my current degree, which is electronic media technology. I also intend to get my bachelor's degree, though I'm not sure if I'll get the BTAS degree or continue in electronic media.
My family is proud that I am going to college and they support it wholeheartedly. My dad worked hard to make ends meet for my family by working as an electrician, and he wants to see me find a job that pays well and makes me happy.
It is scary to be the first to do anything and being the first to start college is no different. The resources for getting started in college are available to you and they are only one call away. I know how daunting it is to have no family guidance for taking the first steps down your college path. Don't be afraid to sit down with a faculty member or an advisor and get a plan together for your college career. UC wants to help you succeed!