Modes of Representation - Art Exhibition

Exhibit Dates:
September 8, 2015 - October 2, 2015
An Introduction by H. Michael Sanders
The term "representation" suggests a type of description or portrayal of someone or something. In the visual arts this implies that the art object depicts something other than or outside itself. In some cases the mode of representation is iconic and relies on ideas or symbols. Other modes of representation include the spectrum of "realism" ranging from photorealism to expressionistic realism, all of which attempt to portray subjects from real life in both physical and metaphysical ways (sensory and affective). Then, there is the mode of abstract representation that is derived from formal considerations, and often seeks to depict subjects that are not purely physical (non-objective, ephemeral, fleeting, spiritual and pataphysical), often relying on aspects of symbolism and theory. Overlaying these three main modes of representation are hosts of "-isms" after which many movements in the art world derive their names: realism, naturalism, illusionism, idealism, romanticism, surrealism and countless others.
In this exhibition, artists Jeremy Long, Nicole Trimble and Elijah Van Benschoten explore a wide range of representational strategies, all of which revolve around creating visceral, intimate worlds that reach far beyond mere reproduction of subjects in the physical world. While they differ in style, media and inspiration, all three of these artists are engaged in active investigations of the fertile intersection between concrete reality and eternal flux, from whence a surprising, instinctive sense of poetry emerges into compelling visual form.
Jeremy Long's work, deeply involved in exploration of the human figure, simultaneously evokes both the quiet tensions of external, familial relationships and the constant, introspective pull of private, personal experience that bristles at the root of our everyday lives. Nicole Trimble explores her own introspective tensions in the existential synapse bridging objective reality and subjective, personal experience in works that are simultaneously fluid and static, and which function as amorphous looking glasses reflecting thought and idea onto physical form and sensation. The intense technique and work ethic evident in Elijah Van Benschoten's drawings contrasts curiously with the wacky pop culture references and Dadaistic humor of their titles. This contrast underscores and helps to fuel the persistent tension between interior experience and exterior reality running freely through the work.
By bringing these various approaches to visual representation together, and allowing them to interact with one another within the confines of the gallery, it is hoped that the viewer will be able to discern how a wide range of techniques and artistic interests can converge on the same poetic well-spring to illuminate, and perhaps entertain, as well as depict both the objective and subjective worlds that we concurrently inhabit.
Jeremy Long is an American painter who is an exponent of the Figurative movement in painting, specifically Post Abstract Figuration. He was born in Chicago, Illinois and studied with a number of leading American painters, including Gabriel Laderman, Stanley Lewis and Wilbur Niewald at The Kansas City Art Institute.
After graduation from The Kansas City Art Institute, he returned to Chicago where he co-founded the Streeterville Gallery, at 864 N. Wabash, with fellow alumni. Following six months in Rome to paint landscapes, Long was accepted into the Painting program at American University in Washington, D.C. where he earned his MFA working closely with Stanley Lewis and visiting artist Richard Ryan. Long has exhibited in NYC, Chicago IL, Washington DC, and St. Louis MO.
Long has taught at Knox College, Assumption College, Ithaca College and is currently an Associate Professor at Wright State University in Dayton, Ohio.
Study for Ithaca Summer (2013), Jeremy Long
Artist's Statements
Tackling the problems of creating paintings as spatial worlds rather then mere images is of interest to me. This can also be thought of as advocating thoughtfulness over excitement, or poetic meaning over novelty. The quality of light, the visceral geometry of space in depth and as a pattern on the surface in the paintings reinforces these concerns. Painting that is based on conviction and perpetual doubt is also of interest to me. The goal, as I see it, is to create an ordered, harmonious vision and on the other hand to understand that everything seen is relative.
Nicole Trimble is an Ohio-based artist and educator with a studio practice grounded in painting and observation of the human figure. Her work has been exhibited in galleries throughout the United States and in publications such as Studio Visit and Professional Artist Magazine. She holds a BFA in painting and printmaking from Miami University, and an MFA from the University of Cincinnati's College of DAAP. She currently lives and works in Cincinnati, Ohio.

Artist's Statements
I am focused on capturing the flux, rifts, and shifts between interior mental spaces and exterior physicality. Within these paintings I'm exploring routes to expose this intermediary space and my meanderings through it, making it material and tactile for the viewer. I attempt to create work that capture sensations more than rendering likenesses, using the human body and its artifacts as sites of common sensual and affective occurrences to engage viewers in this shared experience.
Central to the creation of these works are my own experiences with anxiety and feelings of cerebral discord - including causation and effect, potential triggers and eventual outcomes. I choose images that speak to my psychological quirks and impulses; that pictorialize a state of dissettlement or unease. By aggregating acutely rendered imagery with passages of more impulsive and visceral paint handling, I seek to make visible the spectrum of sensations at play, from manic and frenzied energy, to quiet and stillness, ultimately collapsing the spaces between.
Elements of self-examination and introspection lie at the core of my work, but it is not my intent for the imagery to be viewed directly as self-portraiture or as solely personal. Rather, I want viewers to be active in their perceptual responses to the imagery, and to draw connections between it and their own experiences. These paintings are my attempt to outline the sometimes tenuous and turbulent connection between one's interior and exterior environments - acknowledging both the unique experience of the individual and universality of the sensation.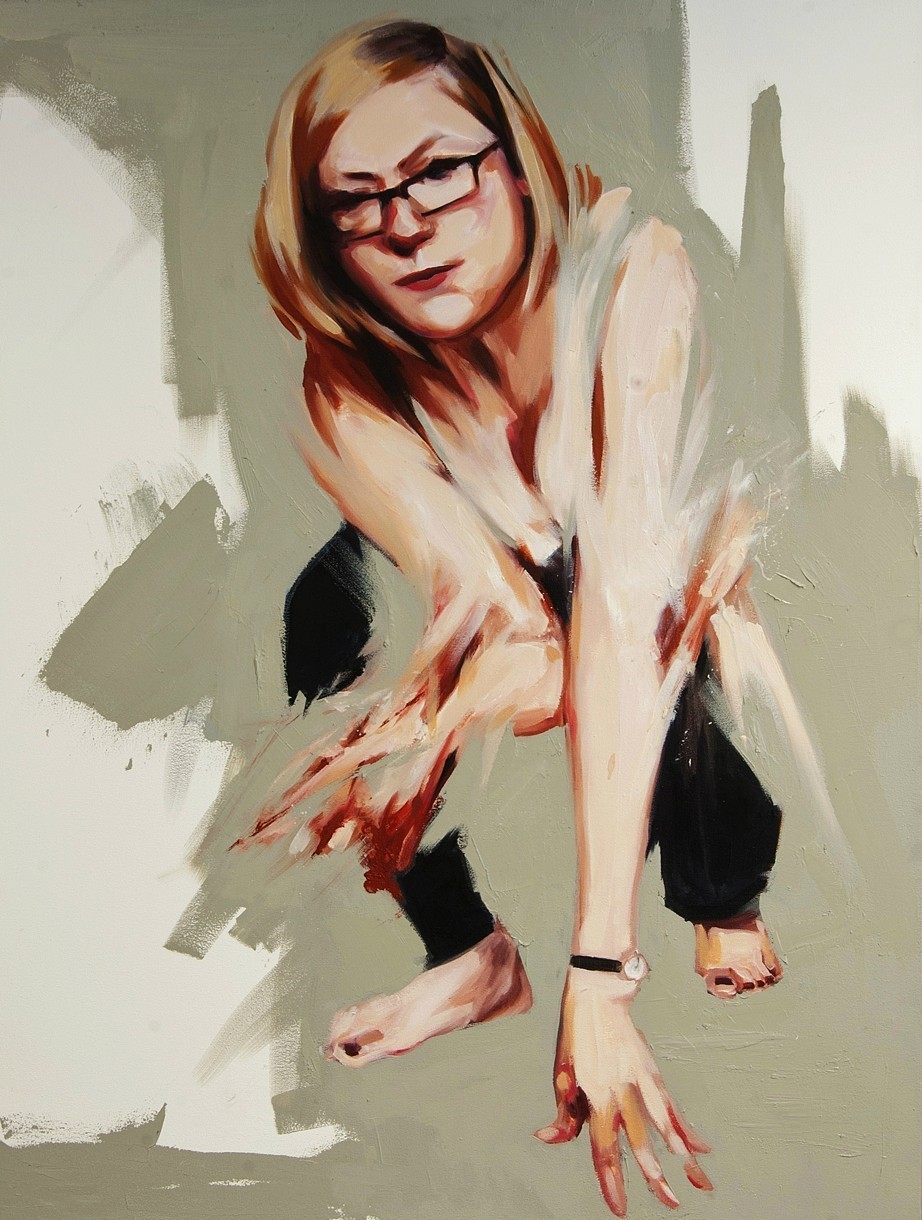 Work in Exhibition
The Catch, oil on canvas, 48" x 36" (2013)
Muddled 1, oil on canvas, 34" x 40" (2012)
Muddled 5, oil on panel, 32" x 42" (2013)
Muddled 4, oil on canvas, 20" x 16" (2013)
Shift, oil on canvas, 40" x 36" (2013)
Clutter, oil on canvas, 20" x 32" (two parts) (2014)
Clutter 2, oil on canvas, 18" x 24" (2015)
Clutter 3, oil on canvas, 12" x 24" (2015)
Garbage Heap, acrylic & oil on polyester canvas, 36" x 48" (2015)
The Pile, oil on canvas, 36" x 48" (2015)
Two, oil on canvas, 20" x 32" (two parts) (2015)
The Fold, oil on canvas, 16" x 20" (2015)
View a more extensive collection of Nicole Trimble's artwork. If you would like to know more about any of her work, you may contact her at b.nicole.trimble@gmail.com.

As a painter, drawer, printmaker, and photographer, Elijah Van Benschoten maintains a vigorous multidisciplinary studio practice as well as an active college teaching career. Elijah recently completed 1,000 consecutive days of producing at least one drawing per day and 1,000 consecutive days of color study works. Currently, he is over 500 days into a new challenge of 1,000 days of figure study. His work has been shown in galleries and museums across fifteen states and on two continents. In 2003, Elijah earned a BFA in Painting from Siena Heights University and an MFA in painting from Syracuse University in 2006. Originally a Michigan native, Elijah has taught at various schools in New York, South Dakota, Nebraska, Kentucky, Michigan, and Ohio. He currently resides in Cincinnati where he teaches at Miami University and online with South Dakota State University.

Artist's Statement
For the general public, art is a lot like vegetables. We know that we're supposed to have them in our diet, but few actually do or know why they should. Often, we'll eat a loaded baked potato, such as Thomas Kinkade, and feel good about it. But that usually ends up doing more harm than good. With my work, I lure you in with a chocolate-chip cookie title, and then spoon-feed you broccoli.
Everybody needs a hook, right? So my recent titles are inspired by Buzzfeedesque headlines, with a little Dada influence. Some of my recent work incorporates a mix of pop culture homage to the greats of art history, such as a meme face in place of the lone figure in Caspar David Friedrich's Monk by the Sea.
Visually, my work is very much rooted in love of traditional paint and materials. Landscapes are a source of great inspiration for me as they have the potential for so much symbolism. I've also dedicated myself to daily art practice since August 12, 2008. The first thousand days were spent producing at least one drawing a day, then a thousand more of color study, and now I'm on to the human figure. I've reached a point in my life where I choose to make art that pleases me and maybe also makes me laugh. This feels a lot more meaningful than anything else I could be doing right now.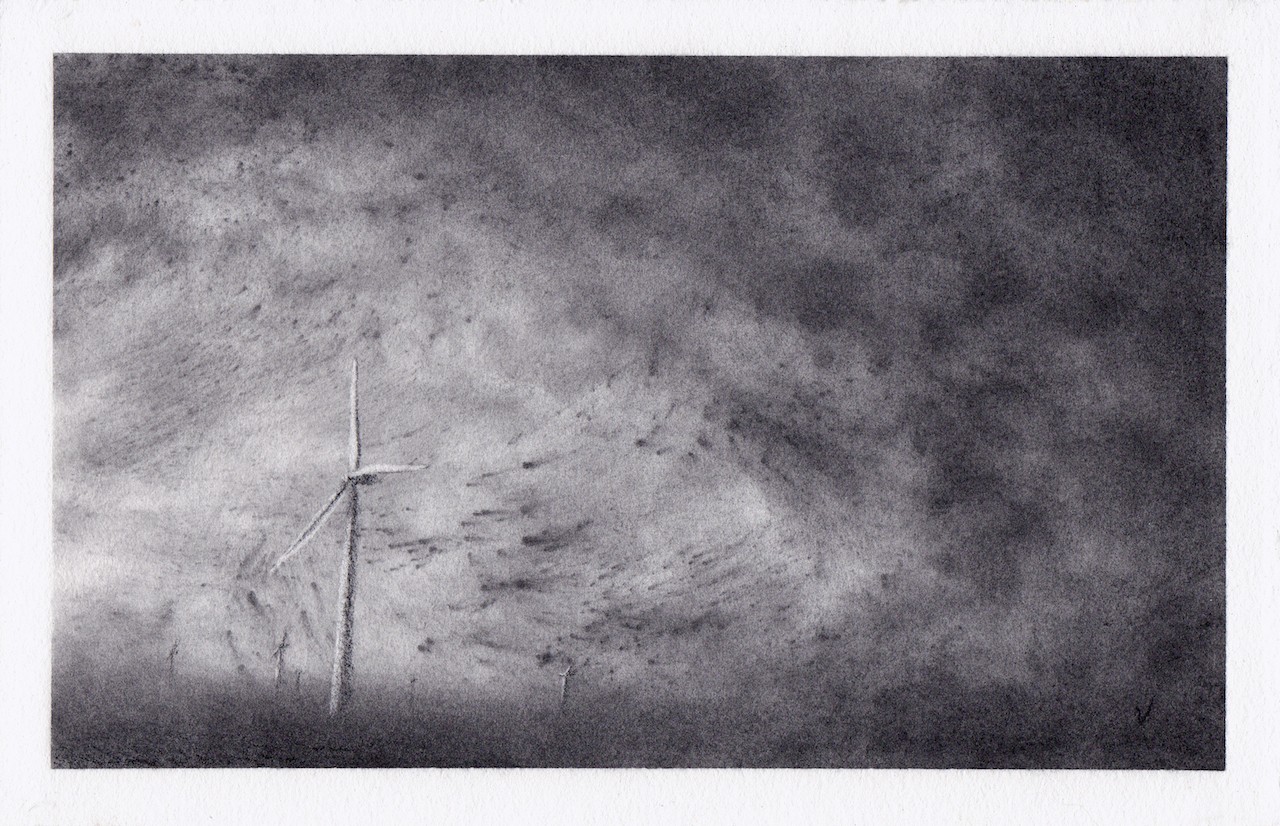 Work in Exhibition
Adair, charcoal on paper, 7" x 11" (2011)
Carpenter, charcoal on paper, 7" x 6.5" (2010)
Fears II, charcoal on paper, 6" x 8" (2009)
Grand Army of the Republic: Homecoming, charcoal on paper, 12.5" x 14" (2012)
Grand Army of the Republic: Liberation, color pencil on paper, 8" x 10" (2012)
Grand Army of the Republic: Separation, color pencil on paper, 10" x 8" (2012)
Grand Army of the Republic: Tides, color pencil on paper, 5" x 9" (2012)
Lebanon II, charcoal on paper, 3" x 7" (2010)
Saint Andrew IV, charcoal on paper, 4" x 9" (2010)
Which Muppet Baby is your soulmate? I, charcoal on paper, 5.5" x 5.5" (2015)
Which Muppet Baby is your soulmate? II, charcoal on paper, 6" x 5" (2015)
Which Muppet Baby is your soulmate? III, charcoal on paper, 5" x 6.Elijah Van5" (2015)
The worst 11 food to get stuck in your teeth, charcoal on paper, 10" x 12" (2015)
12 restaurants in Georgia to try before you die, charcoal on paper, 9.5" x 15" (2015)
19 things only teenagers in the Paleolithic era will remember, charcoal on paper, 11" x 7" (2015)
View a more extensive collection of Elijah Van Benschoten's artwork. If you would like to know more about any of his work, daily artwork updates are available on Facebook, Twitter, Tumblr and Instagram @evanbens.

The UC Blue Ash Art Gallery is supported by the Office of the Dean and the departments of Art & Visual Communication and Electronic Media Communications. This exhibition and publication is also supported, in part, by the University of Cincinnati Research Council. Gallery publications are edited by H. Michael Sanders and designed by Michael Ziepfel.