Narrative Portraiture - Art Exhibition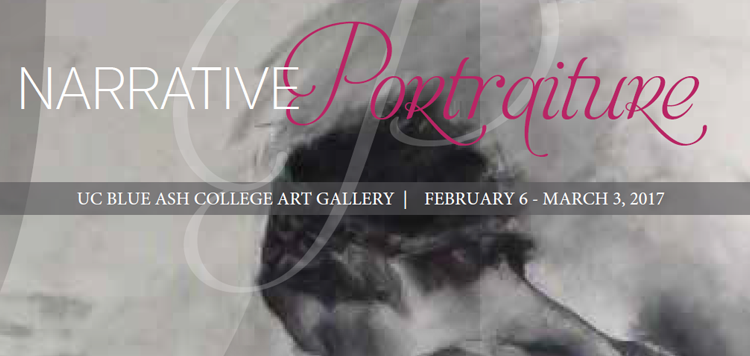 Exhibit Dates
February 6 - March 3, 2017
An Introduction to Narrative Portraiture
Pictures tell stories in a different manner than do words, but rich and textured stories nevertheless. The shopworn notion that a picture is worth a thousand words, widely attributed to Fredrick R. Barnard from an article published in the 1920s about advertising, underscores the traditional use of art in society prior to the modern era. In this regard, the history of art is primarily a survey of the use of imagery to convey allegory, history and theology to a population of largely illiterate viewers. Think stained-glass scenes in cathedral windows, religious paintings of scenes and stories from the Bible, the historical pageants documented by royalty and nobles in commissioned paintings of their exploits, and scenes found carved into walls, tombs, monuments and plaques throughout the ancient world.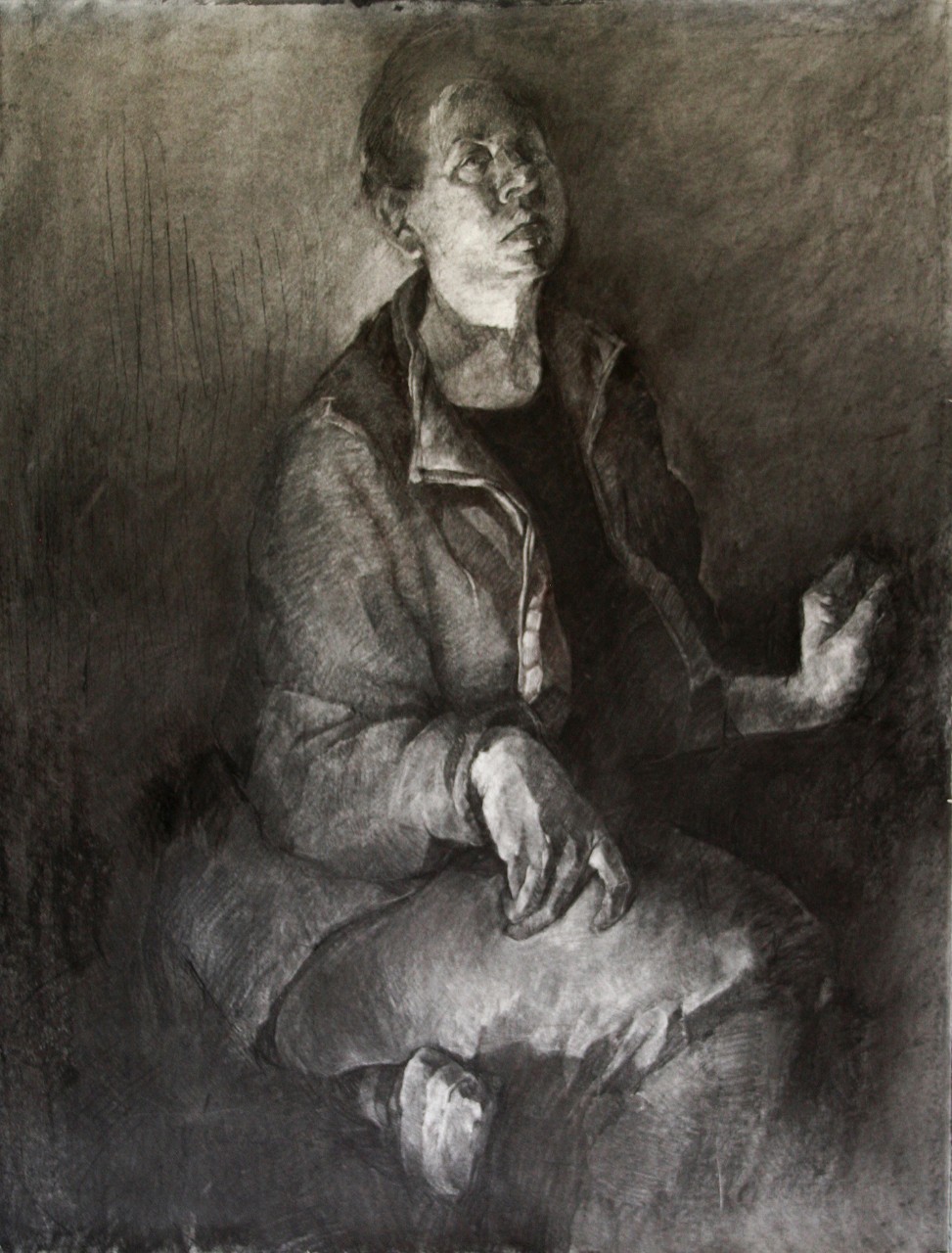 In the full-throttle grip of modernity, we still persistently turn to pictures for a quick conveyance of the gestalt of a thing, harking back to Barnard's quip about the power of imagery in advertising. Contemporary artists have continued to exploit this conventional use of visual art to offer insights into our culture, attitudes, relationships, personal experience and sense of self. The five talented artists included in this exhibition have all discovered different, but equally powerful, ways to utilize the profound storytelling potential inherent in images of people. Such images we often label "portraits." These narrative portraits do more than reveal physical likenesses, in part because they require attempts at interpretation. These portraits plumb our psyches and provide a fertile field in which to sow our individual and idiosyncratic reflections.

Drawing upon "psychoanalytic theory, symbolist poetry, and absurdist humor," Kathryn Jill Johnson's work comically explores a pastiche of complex ideas about human experience both symbolically and figuratively. Using the juxtaposition of unrelated elements in the utterly modernist mode of collage, her nervously energetic drawings of people evoke both self-knowledge and evasive maneuvering.
Melanie Johnson's work is more intense and brooding in character, directly challenging the viewer in many instances with a palpable sense of melancholy, suggesting the visible transit of memory, hope and thought through the mind. Her chiaroscuro sense of light, finely rendered line, and rich shading combine to imbue her human subjects with a profound physicality redolent with self-awareness.
The eerie quality of familiarity, amid the influx of disjointed and incongruent elements found in the work of Boryana Rusenova-Ina, functions like an echoing memory in our mind that we can't quite tune-in clearly or fully recall. Teetering between portrait and landscape, her paintings imbue the inhabited environment with a distinct personality that simultaneously reflects our expectations and renders them strange and unfamiliar.
Stafford Smith has created a direct and vibrant visual metaphor for the contemporary American family in his montage of individual and self-sufficient portraits that compose his family "remixes." What most strikingly pops out at us in seeing these visually constructed aggregates of people is that simple proximity counts for quite a lot in defining what constitutes a family.
Not content to let pictures speak alone, William Paul Thomas has integrated text and sound into his portraits, which explore labeling, classification and symbolism. In this way words help to frame the subjects with contexts that might otherwise be overlooked, and allow the accessible simplicity of his visual approach to carry with it layers of complex meaning that may be revealed to attentive viewers in thin onion-like layers.
The narrative storytelling embedded in the varied portraits of this exhibition offers tantalizing but inconclusive glimpses of others through the reflective filter of the self. We are pressed to offer interpretation and to decode meaning at every turn, despite the blithe appearances of mundane familiarity at the heart of each of these works. The same task confronts us in mirror each morning, if we are paying attention.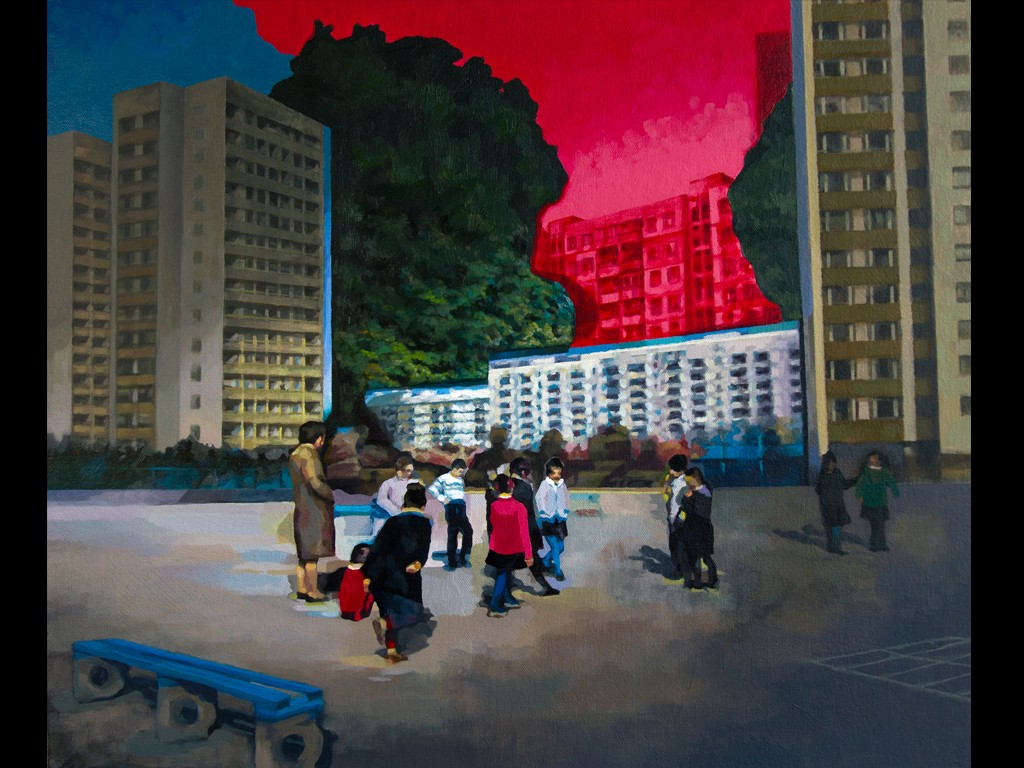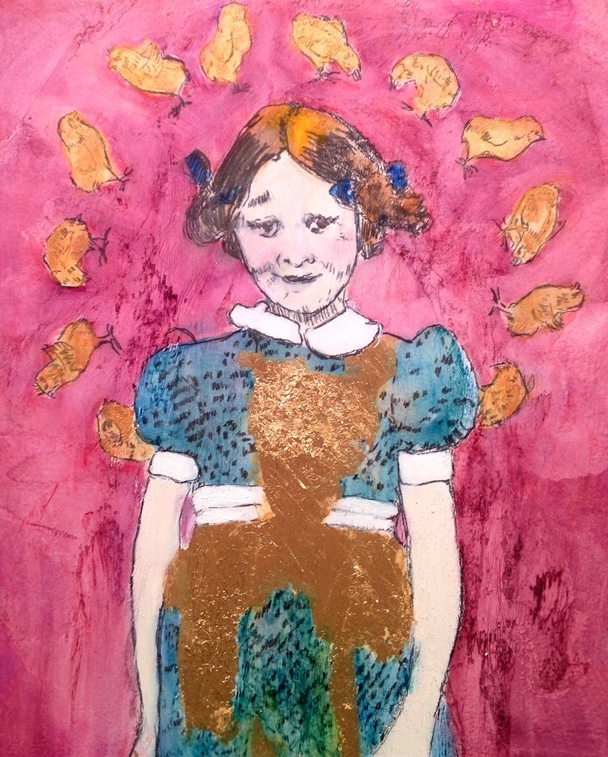 Artist Statement 
My drawings are informed by psychoanalytic theory, symbolist poetry, and absurdist humor. Each work has a cast of characters, images and elements, in flattened landscapes or ambiguous spaces. These vignettes are a way of investigating what makes people be the way they are, but I am the worse sort of detective. I just like to pile up clues and rearrange them into melancholic jokes, farcical calamities and occasional moments of grace. I think about "thrownness," the set of circumstances that make each person's own horizon line. In these drawings, horizons are not there to separate earth and sky. They are something to stand on, duck under or trip over. They provide points of appearance rather than vanishing. I look at the way we travel, who shows up, the near misses and the head on collisions. These things make and unmake us.
About the Artist
Kathryn Jill Johnson has an MFA from the University of Georgia and BA from the University of South Florida. Currently she is associate professor of painting and drawing at the University of Alabama in Huntsville. She has exhibited nationally and throughout the southeast, with solo shows in Lowe Mill Arts Center, University of Wisconsin-Madison, and Firehouse Gallery in Georgia. Her group exhibitions include Tennessee Valley Museum of Art, University of Montevallo, and ARC Gallery in Chicago. While her work is informed by the southern tradition of narrative figure painting, its focus is drawing. When displayed together the narrative qualities of each piece are amplified. Each vignette becomes a piece of a larger, but similarly nonsensical story.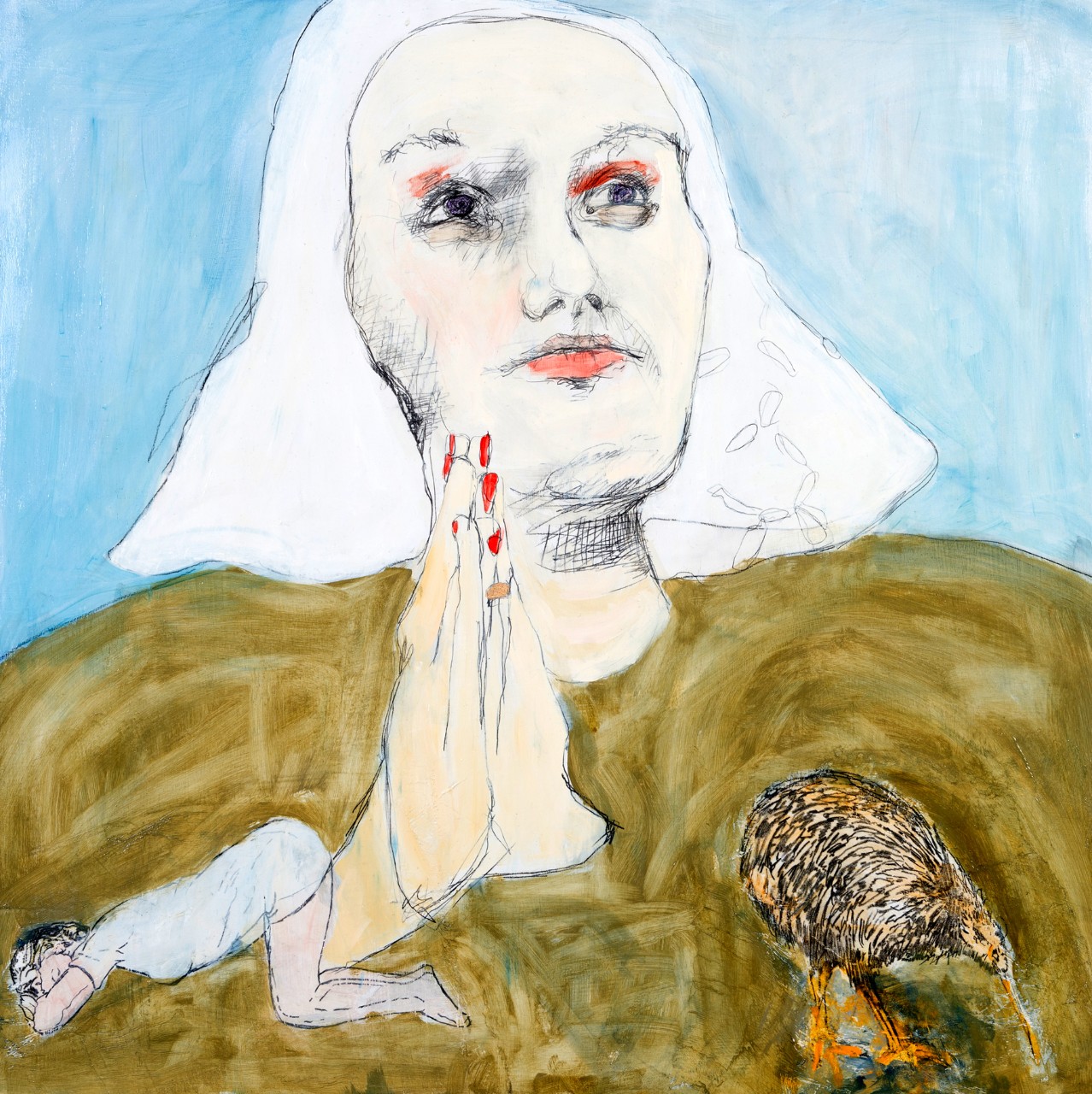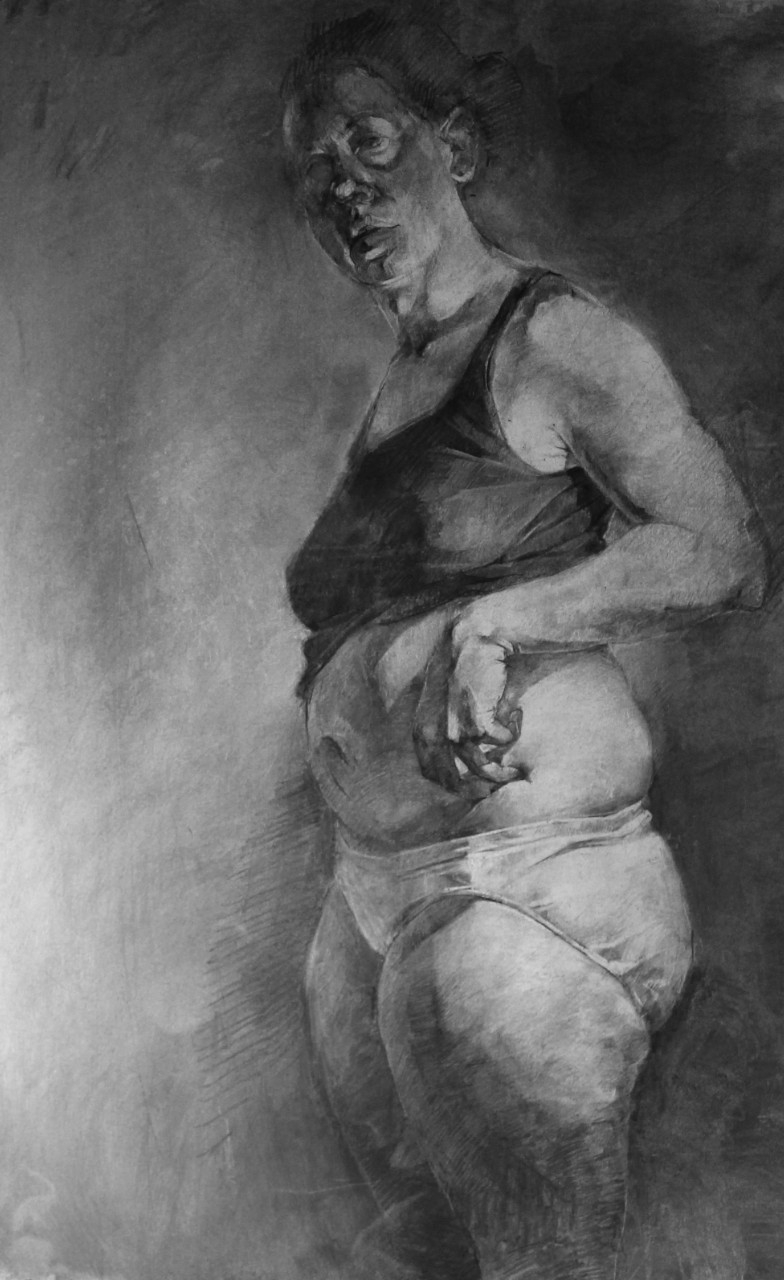 Artist Statement
Narrative is employed loosely here. Imagery gives form to a dissonant accrual of lived experience, family histories, personal and appropriated iconography, and the acting out of roles both obligatory and imagined. Rather than explicit tales, I try to conjure a habitat that evokes the slipperiness of memory, longing, and a disquieting curiosity. I navigate this territory intuitively when working, seeking to arrive at an image that is both unflinchingly candid in physical representation and psychologically evasive. I am interested in the simultaneous read of an immediately recognizable image that asks the viewer to linger over history and meanings that unfurl more slowly. Residual buildup of the physical mark is suggestive of the indexical process of investigation and also serves as a metaphor for accumulation of time, thought, and clutter. Mark, line and material become an extension of touch in the act of representation. The relationship of hand to subject, negotiated through the material, can elicit a response of both haptic empathy and repulsion.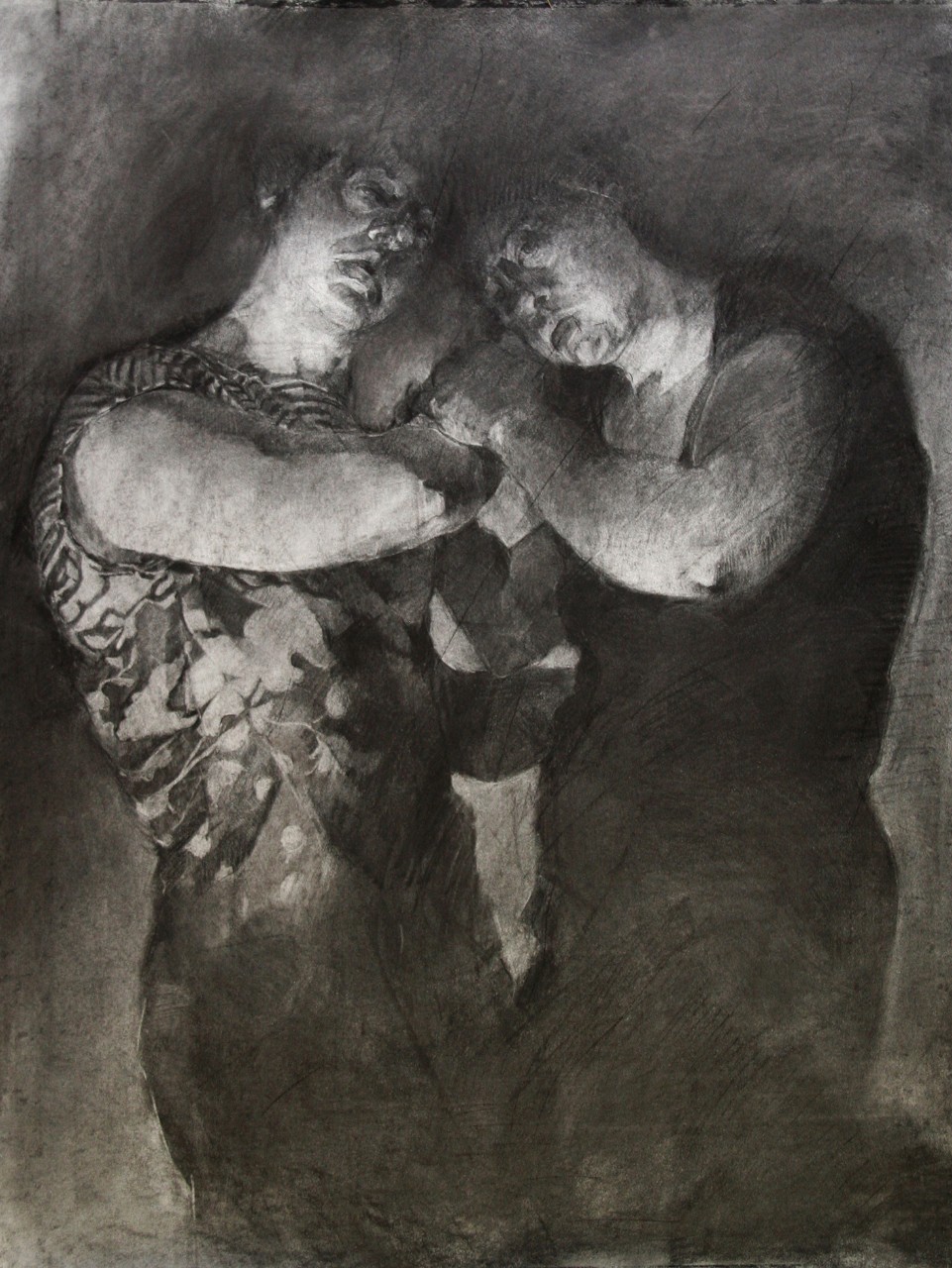 About the Artist
Melanie Johnson lives and works in Prairie Village, Kansas and received her MFA in Painting from Indiana University, Bloomington. She currently teaches drawing, painting and art foundations at the University of Central Missouri.
Works in the Exhibition

Asymmetry, charcoal on paper, 50" x 42" (2013)
Knots, charcoal on paper, 50" x 42" (2014)
Self Portrait, charcoal on paper, 50" x 42" (2014)*
Study for Maps, charcoal on paper, 60" x 44" (2016)*
View a more extensive collection of work by Melanie Johnson. If you would like to know more about her work you may contact her at mljohnson788@gmail.com.
Artist Statement
My work is about familiarity and estrangement, and questions what it means to belong. It also explores how images of landscapes frame our relationship to places. As a bilingual artist who grew up outside of the United States, I look at landscape as a network of cultural codes and collective identity. My process begins with the collecting, editing and cutting of found and autobiographical images. These fragments are then assembled, enlarged and layered together with fabric to construct dioramas. Each set functions as a still life in my studio and a personal artifact. I use lights to choreograph the shadows and emphasize the theatricality of each set. Through painting I am able to translate physical edges into shapes that make a homogenous surface. The final painted image reads as both coherent and disjointed; the parts belong together and yet imply multiple viewpoints and histories. Instead of panoramas of nature, I work with images that reference block housing, playgrounds and public squares. Now that I no longer live in Eastern Europe, I see these spaces as both mundane and yet strangely foreign.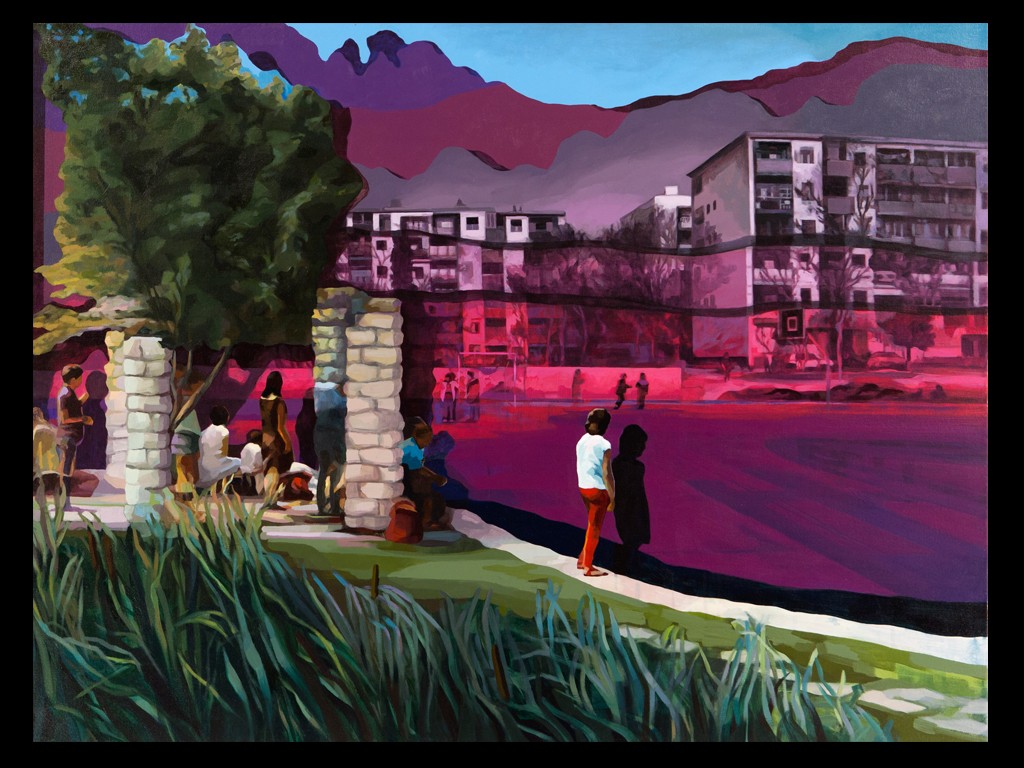 About the Artist
Boryana Rusenova-Ina lives and works in Columbus, Ohio. She received an MA from the Glasgow School of Art in Scotland, and an MFA from The Ohio State University. Her work has been exhibited across the United States in in Europe. Recent exhibition include group shows in Bakehouse Art Complex, Miami, Florida and the Museum of Fine Arts at Florida State University. A recent solo exhibition was featured at the Columbus, Ohio Cultural Arts Center.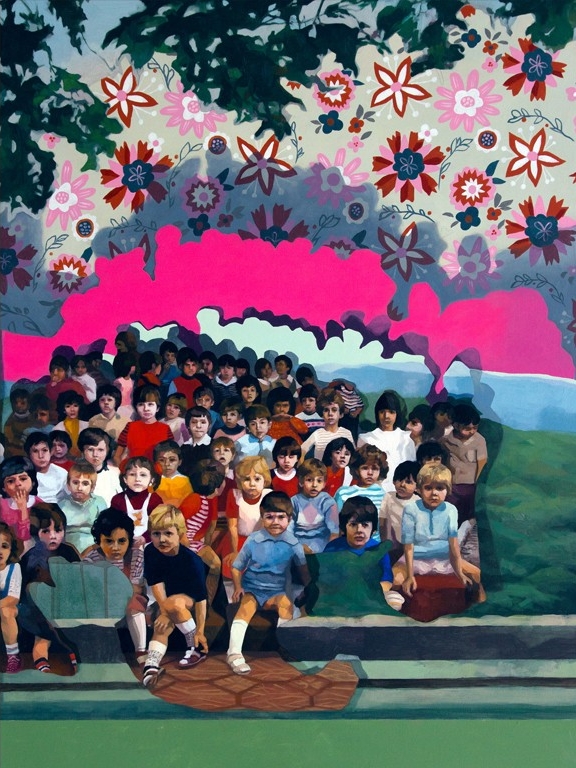 Works in the Exhibition
Front Row II, oil and acrylic on canvas, 40" x 30" (2016)
Here's It's Pink, There It's Magenta II, oil and acrylic on canvas, 40" x 60" (2016)
Triavna Lake, oil and acrylic on canvas, 36" x 48" (2016)
Yes, We Have Tall Trees I, oil and acrylic on canvas, 20" x 24" (2016)
View a more extensive collection of work by Boryana Rusenova-Ina. If you would like to know more about her work you may contact her at boryana@boryanarusenova.com.
Artist Statement 
These family portraits are from my "Remixing the Family Portrait" series of over 100 family portraits produced since 2005. They are postmodern assemblages of individual portraits that present the family as an intersection of relationships. The structure is inspired in part by DJ culture and the remixing of musical tracks which references the state of flux of the contemporary American family and the variety of configurations or remixes it can come in. I am renouncing the old paradigm of the family portrait as it has too much authority of what a family should look like, thereby rendering all that do not adhere to the midcentury modern nuclear family model as outliers or somehow broken or odd. This strategy breaks the infinite loop of recreating an image one has already seen and frees expectations of what the subject should look like. Most recently, 40 pieces from this series appeared in FestFoto Porto Alegre in Brazil.
About the Artist
Stafford Smith resides in Grand Rapids, Michigan and has taught photography for eight years at Grand Valley State University in Allendale, Michigan. He is fascinated with "the brutality of photography and how it shoves aside the real for its representation." Photography is a second career for Smith, who previously worked for eight years on both the East and West coasts of the US for the Japanese television industry as a cameraman, producer, writer and on-air presenter of business news, and in Tokyo for Bloomburg TV. His MFA in photography is from Cornell University.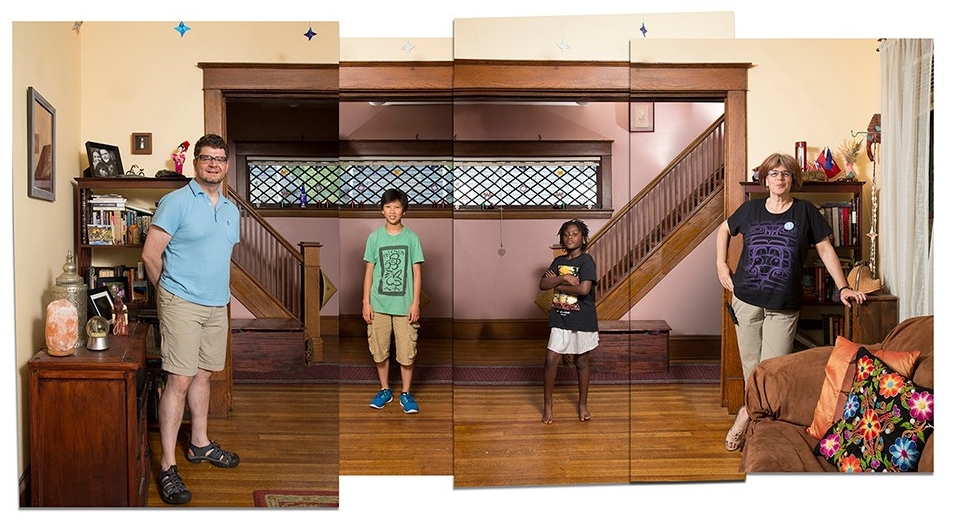 Works in the Exhibition
The Clark-Depolos, photograph (montage of archival inkjet prints), 20" x 30" (2015)
The Roycerol-Lafayettes, photograph (montage of archival inkjet prints), 20" x 24" (2005)
The Scotts, photograph (montage of archival inkjet prints), 20" x 30" (2007)
The Singhs, photograph (montage of archival inkjet prints), 20" x 30" (2007)
The Tsai-McKinneys, photograph (montage of archival inkjet prints), 20" x 24" (2005)
View a more extensive collection of work by Stafford Smith. If you would like to know more about her work you may contact her at smithsta@gvsu.edu.
Artist Statements
All human bodies are subject to critique, classification, and unfortunately, abuse. How does one wield visual language to interrogate any of those endeavors? I start with images of the human figure that are larger than life; disembodied, psychological portraits that sometimes include off-kilter labels and symbols to help "frame" the subjects' identity.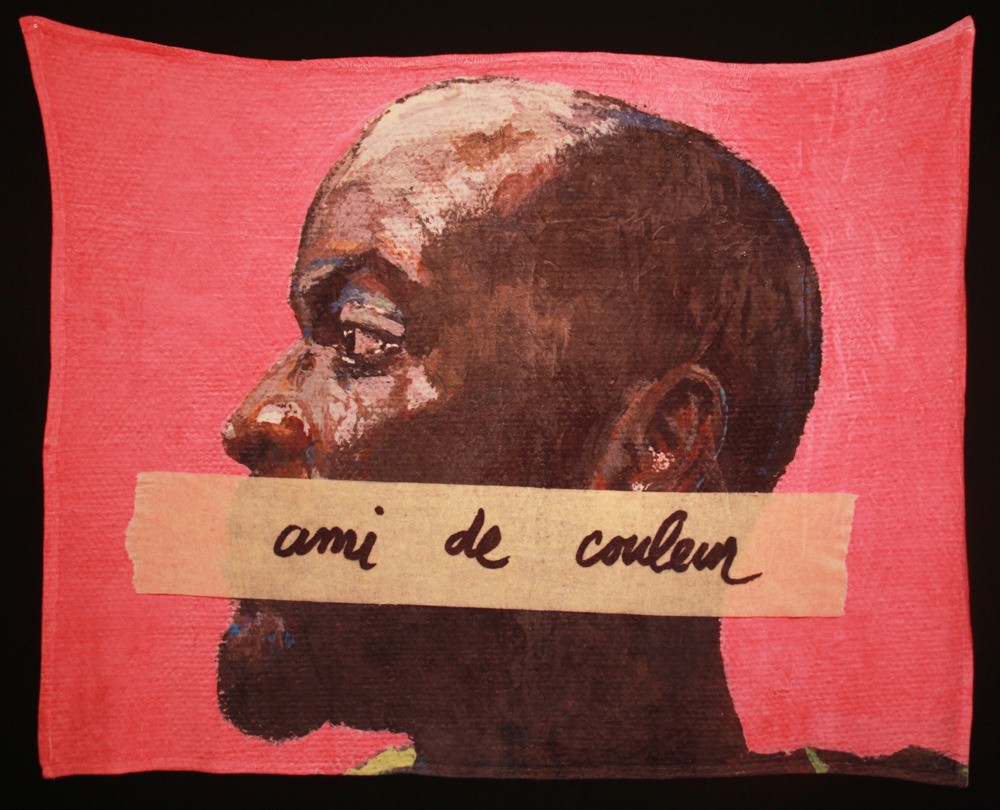 I aim to bridge the gap between politically correct conversations and oversimplifications of race and class-based conflict. Many of us have immediate psychological connections to representations of the human face. We look for similarities between ourselves and those represented; note key differences between "us" and "them." Assumptions or questions about the subject's state of mind usually follow. If the expression of the subject is ambiguous enough, we might begin to project our own emotions onto them to interpret the painting's message. The work begins as an intimate acknowledgement of an individual and is subsequently transformed into a set of symbols poised for the viewer's investigation. I relish being able to honor everyday people through making images.
About the Artist
William Paul Thomas is a Chicago native currently residing in Chapel Hill, North Carolina. He earned a BFA from University of Wisconsin - Whitewater and an MFA from University of North Carolina - Chapel Hill. He is the recipient of the 2016 Ella Fountain Pratt Emerging Artist Grant, which funded his video work Teef included in the current exhibition; and the 2011 Elizabeth Greenshields Foundation Fellowship in support of his portrait work, which focuses on complex and enigmatic representations of people of color.