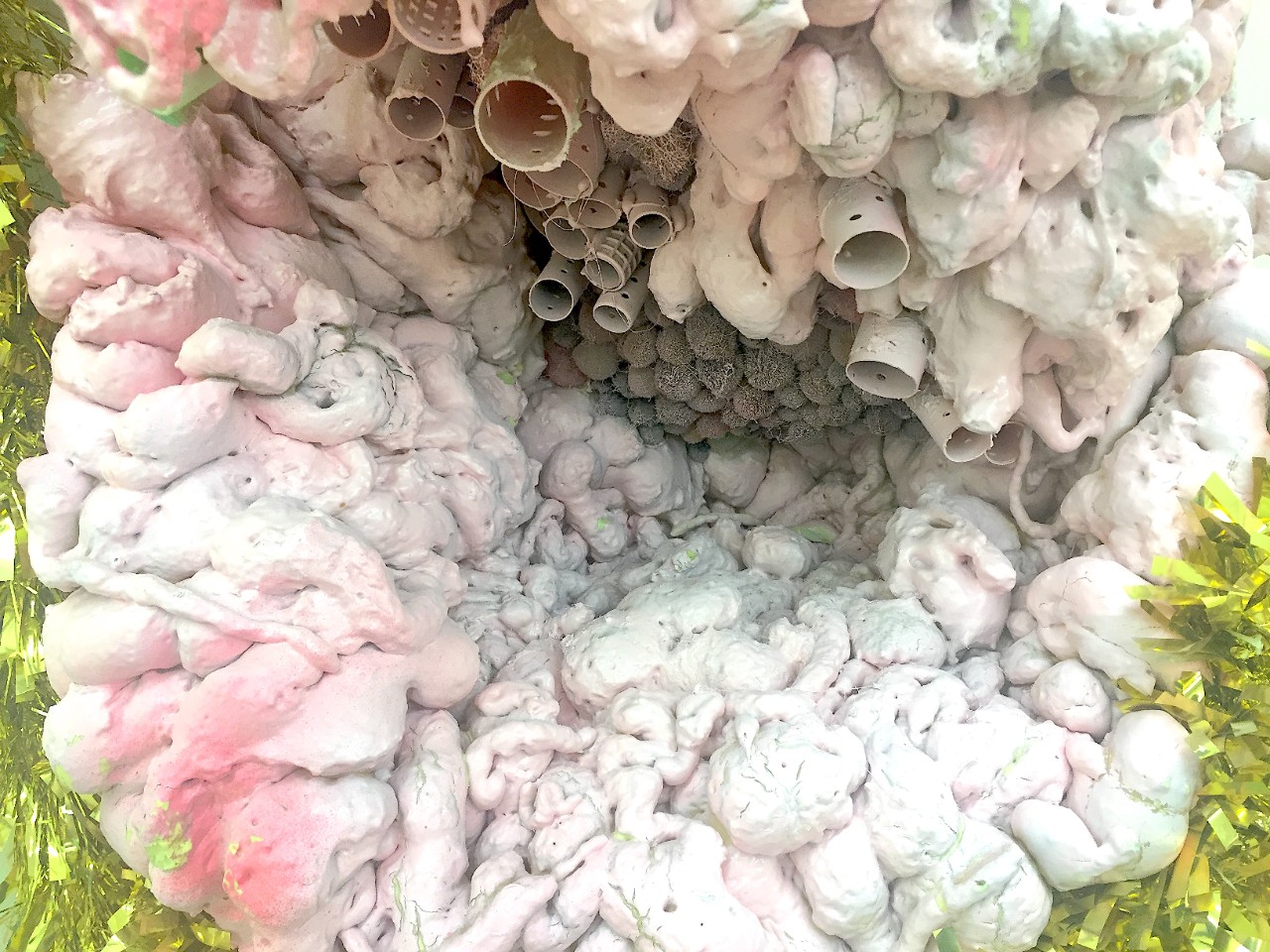 Monday through Friday from 9:00 a.m. to 5:00 p.m.
Saturdays from 10:00 a.m. to 2:00 p.m.
The Art Gallery is free and open to the public.
Event Details
Works by Jennifer Acus-Smith, Sam Dorgan, and Casey Dressell
Show runs October 21 – December 6, 2019
Opening Reception on Friday, October 25, 2019 from 5:00 - 7:00 PM
Closing Reception on Friday, December 6, 2019 from 5:00 - 7:00 PM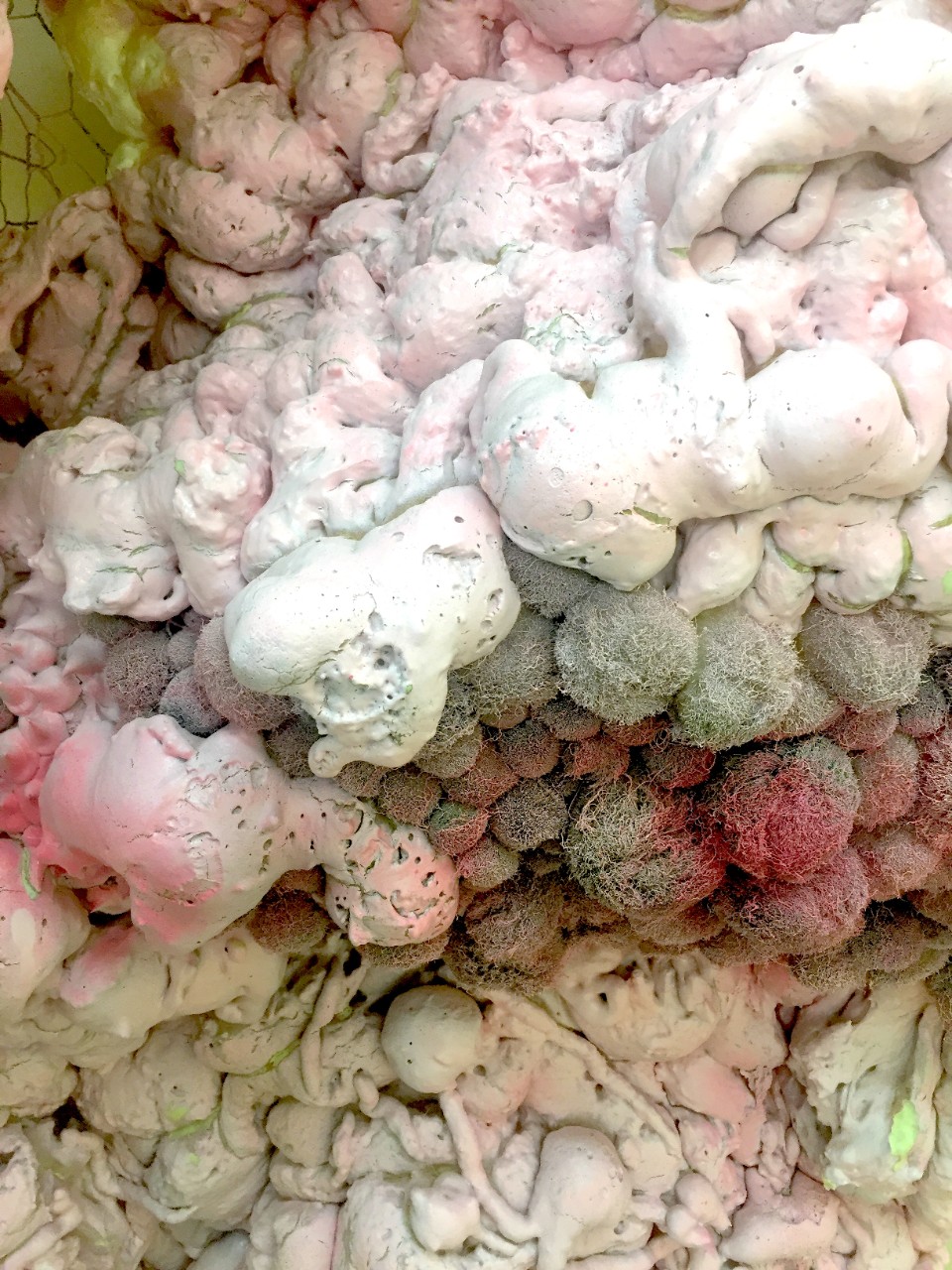 jux·ta·po·si·tion | \ ˌjək-stə-pə-ˈzi-shən
An Introduction by H. Michael Sanders
Juxtaposition is a clear case of a word literally acting out its meaning, as many longer words are prone do. Such words, of course, are fragments of words from Latin or some other language, combined to form a new descriptor or inferred idea. In this case, the Latin juxta (meaning near) is connected to the English word position (which is also from Latin, meaning place or location). In this self-evident example, we can observe the basic notion to which the word refers; disparate and discrete elements being joined together, at times in jarring and unexpected ways, to create surprising new amalgamations that assume meaningful lives of their own.
In the world of art, we see juxtaposition used to refer to works composed various unrelated elements or fragments placed side-by-side, or atop one another to create an interesting effect of comparison or contrast. These works speak to us from a place that is beyond words and symbols, This is due to the fact that they are visually "swallowed whole" to create an immediate and visceral impression, or gestalt, derived from the combination. Artforms that result from such techniques are often called collages, photomontages, assemblages, and constructions. Musical medleys, sound collages, and mash-ups share this pedigree of origin in the world of audio. We also can't forget that the basic theory of motion picture editing rests firmly upon the notion of juxtaposition in that a montage of discrete clips is formed into a seamless new fabric of imagistic storytelling.
The current exhibition, the first conceived and curated by our gallery colleague Nicole Trimble, demonstrates the concept of juxtaposition on two levels. First, a group of three artists, working in vastly different media and each speaking in visual languages unique to themselves, have been assembled to present their works together in our gallery. Second, all of these artists, irrespective of medium and iconography, are deeply engaged in creating work through the processes juxtaposition in their assertive combinations of disparate elements and use of unorthodox materials.
Jennifer Acus-Smith presents a series of eight diminutive objects, all in three-dimensions, that function as reliquaries, or shrine-like containers for holy or deeply personal relics. These peculiar assemblages of objects, in wooden and glass boxes, are assembled using the same sort of dynamic combinations that render words into poetry when their
idiosyncratic juxtaposition surprises us. Employing keys, Scrabble letters, doll parts and doll furniture, plant materials, spectacles, and mirrors, these small-scale works suggest a complex matrix of personal memories and achieve a sense of preciously guarded preservation of the quickly receding, and increasing mysterious past.
The work of Sam Dorgan is no less idiosyncratic, nor any less poetically defamiliarized than the reliquaries, as it erupts from the gallery walls and spills onto the floor in an enormous organic conglomeration of pink buboes. These two pieces, constructed of hardened plastic foam, hair rollers, knitted pom-poms, tinsel, LED lights, and a video monitor appear before the viewer like reanimated creatures from the watery depths of vague and uncertain memory. An aggressive emphasis on the viscerally organic is reinforced through a myriad of features; organic shapes, choices of color and texture, and the use of light and motion. This emphasis suggests that the deep, complex memories from which these objects arise is an ocean of conflicting emotions excreted by the vicissitudes of daily existence.
Casey Dressell presents four large-scale mixed-media paintings, several of which she terms "painting shelters," as they float away from the wall suspended by poles and provide ready cover for our meditations. These works percolate with impasto and reticulated surfaces of tactile density, broken by vague inscriptions of stitched seams and bulging pockets of fabric stuffed with implication. The dominant mode of visual abstraction found in these works also occasionally gives way to a dense and complex matrix of words, ideograms, and symbols that function like hieroglyphs, providing layers of suggestive reference always playfully receding from transparent interpretation to challenge the viewer.
In bringing together these three distinct bodies of work in the UCBA Art Gallery, the additional level of juxtaposition created from that combination and layering of imagery has been presented to entice and challenge viewers. It's our hope that, through their encounters, viewers will attempt to discern the rich and varied implications embedded in the work, and to venture into the interpretive landscape carved out by these fertile impressions of memory, thought and personal expression.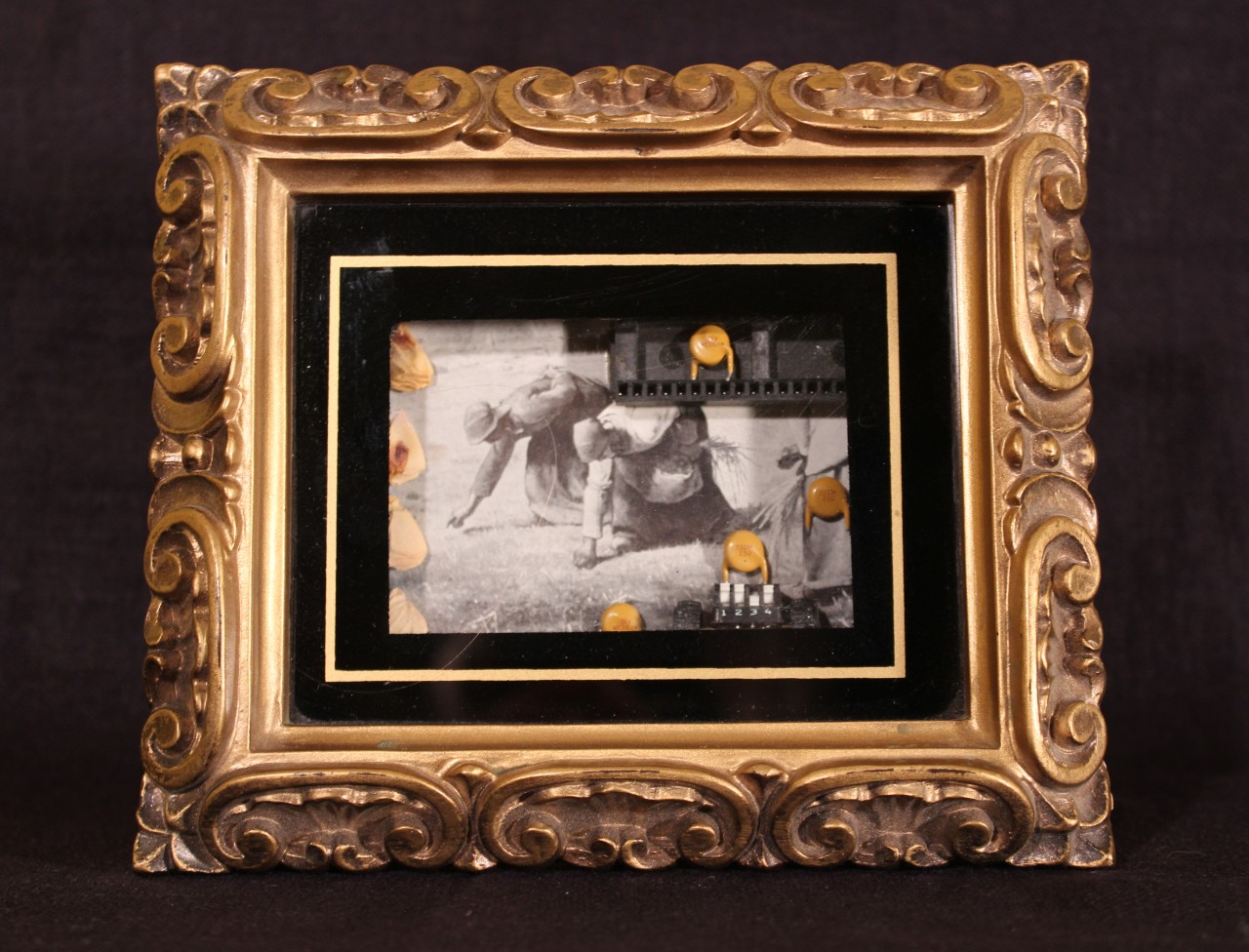 reliquary n A container or shrine in which sacred relics are kept.
artifact n 1a - Something created by humans usually for a practical purpose, especially an object remaining from a particular period. 1b - Something characteristic of or resulting from a particular human institution, trend, or individual.
Each object has a unique significance. As I collect the remnants of these forgotten artifacts, their mysterious origins intersect with my own story. I try to assemble each piece in a way that may continue this new narrative. The assemblages become reliquaries; a way to preserve and elevate things that have been discarded or that have died. I am interested in how quickly we pass through the world and how, without hesitation, we can choose to dispose of an object for a shinier alternative.
Many of the pieces contain elements that were once alive - a spent seed pod or the skull of a bird. All pieces contain things made by once living things - an abandoned wasp's nest, a photograph, or functional belonging. Through our own lens, we see only a tiny fleeting set of moments. Whether by choice or chance, this creates our story. I wonder what artifacts each of us will leave behind and what stories they will continue to tell.
About the Artist
Jenn Acus-Smith creates artwork in a variety of media including painting, drawing, murals, jewelry and many other forms. She is a collector by nature and her jewelry is made using found and repurposed materials. Whether it's a pendant, painting or collage, each work tells a unique story. She earned an MA in Art Education from Miami University and has been an arts administrator for many years. In this role she manages public arts projects, exhibitions and events with a creative spin, and is the co-founder of Bright Wall Collective, which designs and executes large scale public mural projects. Her work evolves from the belief that art can transform and inspire communities to grow.
A more extensive collection of work by Jennifer Acus-Smith may be found on her website or at Bright Wall Collective. If you would like to know more about her work you may contact her at jennacus.art@gmail.com.
Works in Exhibition
Death Meditation, mixed-media assemblage, 13" x 4.5" x 6" (2013) - $400
Invasion, mixed-media assemblage, 6.5" x 5.5" x 2" (2011) - $150
Listen, mixed-media assemblage, 9.5" x 10" x 2.5" (2011) - $400
Motherland, mixed-media assemblage, 15" x 6" x 5" (2013) - $300
Not Yet, mixed-media assemblage, 7" x 5.5" x 4" (2013) - $300
The Obstacle, mixed-media assemblage, 19.5" x 6" x 3.5" (2014) - $400
Open Your Eyes, mixed-media assemblage, 13.5" x 9" x 2" (2012) - $400
Preta (hungry ghost), mixed-media assemblage, 5" x 4" x 2.5" (2014) - $300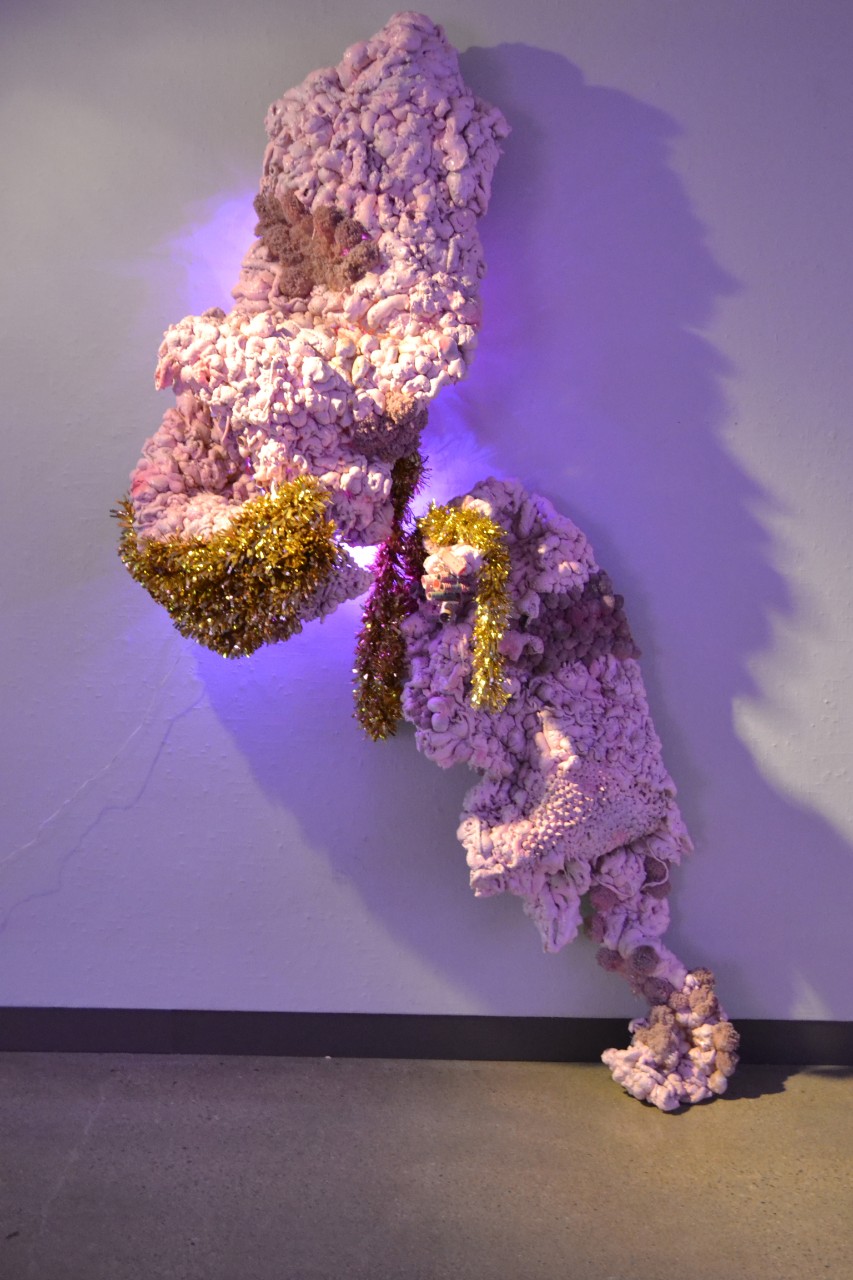 It is that special shift in feeling, from familiar to strange, that intrigues me the most. The search and shimmy for meaning and logic amidst the perverse and disjunctive is an intuitive human function that I continue to explore in my art practice. My exploration ebbs between video and objects that cross the boundaries between the 2D, 3D, and 4D disciplines.
In my projections and sculptures there are combinations of poetics, disjunctive semiotics, obsessive media digestion, and personal experience. Material is mined and filtered from cartoons, music, poetry, and pop culture in unexpected ways in order to de-familiarize the viewer. My work, while emotional in nature, often concludes without any satisfying resolution and is intended to suspend the viewer.
The works presented in this exhibition involve the passing of my mother Tammy from cancer in May 2017. This immense grief was imagined in the hard lumps of foam, which incorporate materials that celebrate the life and love of my mother and of our mother/daughter relationship. They are a mixed expression of this indescribable grief and tremendous love.
About the Artist
Sam Dorgan is an interdisciplinary artist creating semiotic environments through material play and subversion of expectations, in which the viewer is invited to experience the work through free associations and memory. She earned a Bachelor's in Business from Belmont University, a Bachelor's in Fine Arts from University of Cincinnati, and a Master's of Fine Arts from Miami University. Solo and group exhibitions include: ENEM Space in Sacramento CA, KSpace Contemporary in Corpus Christi TX, Valdosta State University in Valdosta GA, Palazzo Ca' Zanardi and Venice Art House in Venice, Italy, and Czong Institute of Contemporary Art (CICA) in Gimpo-si, Korea
A more extensive collection of work by Sam Dorgan may be found on her website. If you would like to know more about her work you may contact her at dorgan.sam@gmail.com.
Works in Exhibition
Lump #1, mixed-media assemblage with LED lights, 96" x 30" x 9" (2017) - NFS
Peek-a-booth, mixed-media assemblage with LCD monitor and single-channel video loop, 96" x 60" x 10" (2017) - NFS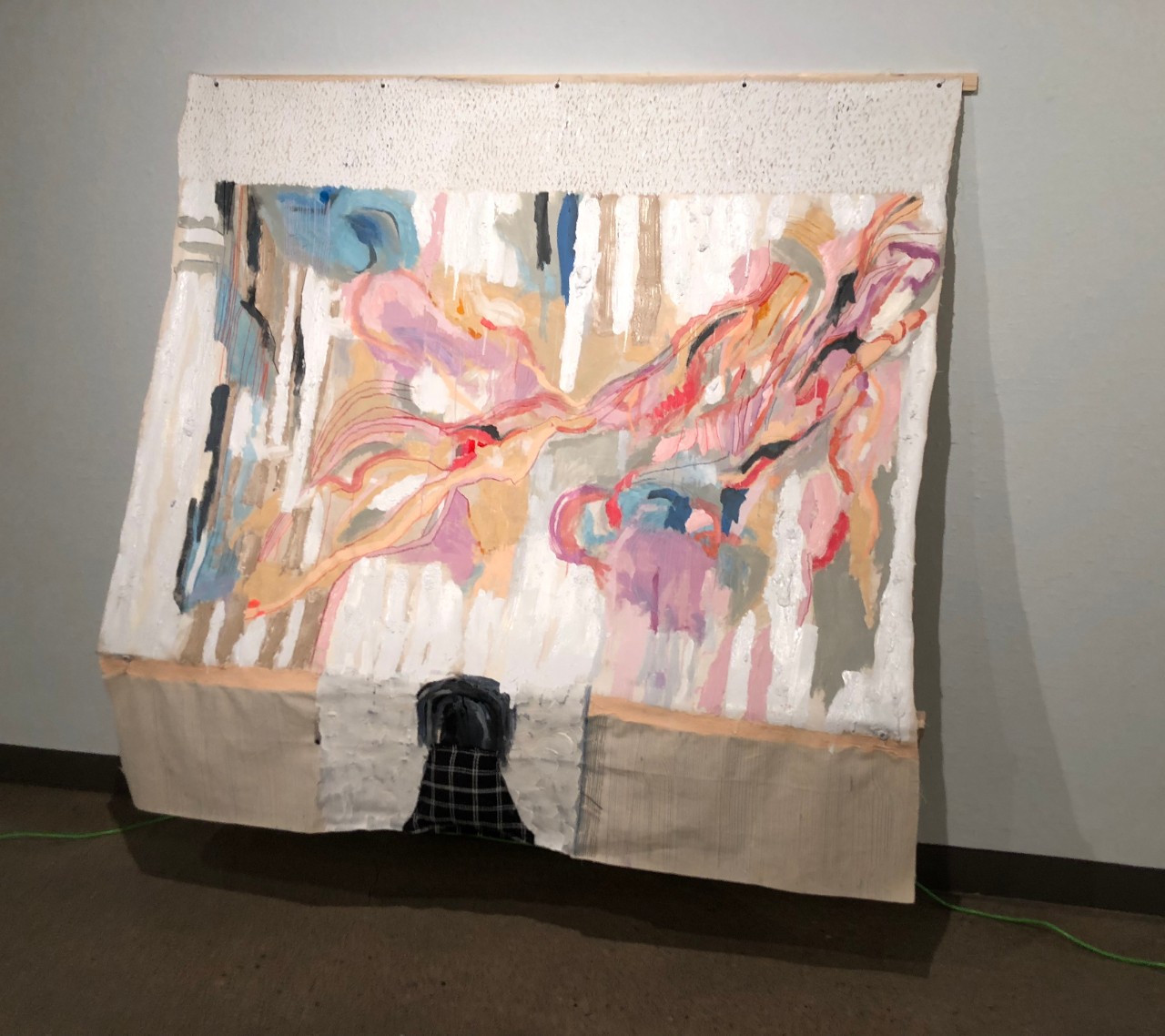 My work is a simulacrum and response of my lived experiences. It derives from the chaotic transitions of life and the resulting responses to change, adaptation, and reconnection with nature. Paintings are elements of the everyday that allow freedom from burden and tools to aid in an understanding of the world. We inherently create our individual spaces, even in dire situations or with limited means, we can reconstruct meaning.
We create and invent systems of order and necessity for ourselves as we move through the world. It is this intuitive inventiveness I choose to celebrate. How we acclimate and adapt to our environments, the objects that we value and carry with us tell our stories of what it is to be human and is one more element that connects us together.
About the Artist
Casey Dressell is a practicing painter and installation artist living and working in Cincinnati, Ohio. Her interests lie in the intersections of art, nature and the built environment. She teaches at Miami University and the University of Dayton, and is the exhibition coordinator at The Indian Hill Gallery in Cincinnati. Casey earned a BFA at University of Cincinnati and a MFA at Miami University. She has exhibited her work nationwide in shows in California, Michigan, and Massachusetts, including an outdoor installation at Bernheim Arboretum and Research Forest in Shepherdsville, Kentucky. In addition to her studio practice, Casey is passionate about learning, education, and helping the underprivileged in her community.
A more extensive collection of work by Casey Dressell may be found on her website. If you would like to know more about her work you may contact her at caseydressell@gmail.com.
Works in Exhibition
Arlene System, mixed-media painting, 36" x 52" (2017) - $700
Bell System, mixed-media painting, 36" x 66" (2018) - $800
Building Off the Grid, mixed-media painting, 72" x 24" (2018) - $300
Comfort Management, mixed-media painting, varying dimensions" (2018) - $900
The UC Blue Ash Art Gallery is supported by the Office of the Dean and the departments of Art & Visual Communication and Electronic Media Communications. This exhibition was conceived and curated by Nicole Trimble with H. Michael Sanders and John Wolfer.
Gallery publications are edited by H. Michael Sanders, with catalogue design by Noah Riddle and Michael Ziepfel. Gallery webpage design and maintenance is by David Bostic. John Wolfer is gallery director. A full online catalogue, including a PDF of this catalogue brochure, is available on this webpage.