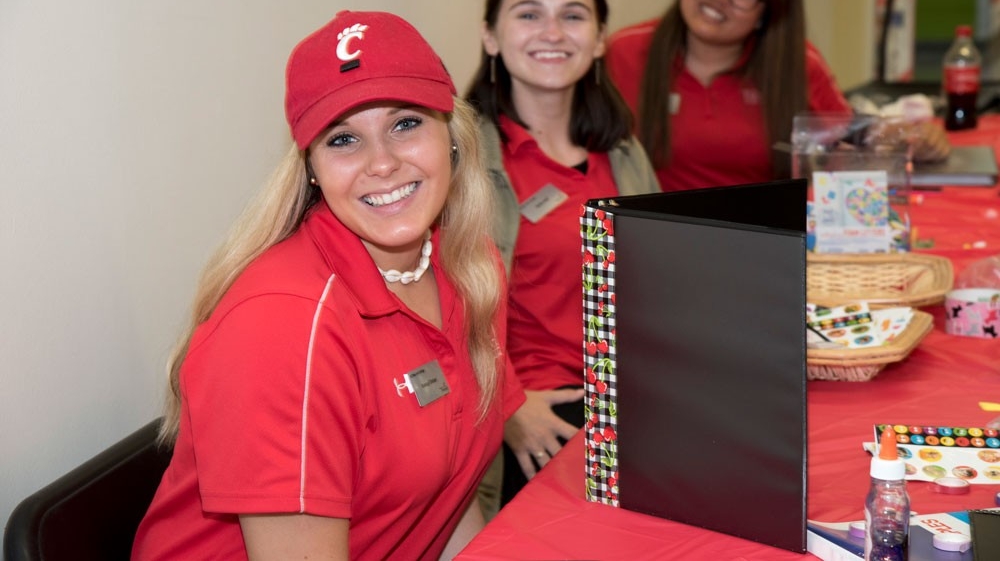 All campus visitation events are suspended as a result of the UC Blue Ash campus response to COVID-19.
On-Campus Express Application Event
UC Blue Ash College
Wednesday, July 15
1 – 7 p.m.
Appointments scheduled each hour.
Meet in-person with admissions representatives, get your questions answered and apply for free (we'll waive the $50 application fee).
Reservations and facial coverings are required for those who attend.
Social distancing will be observed and CDC recommendations for cleaning/disinfecting will be followed.
Please see the full guidelines below for all participants who attend our Express Application event on July 15.
Register for a time slot:
Express Application Event Guidelines/Instructions
Thank you for registering to attend our Express Application Event on Wednesday, July 15. We appreciate your interest in our college and want to make sure your visit to our campus is informative and safe. To comply with public health directives related to the COVID-19 pandemic, please follow these guidelines when attending our event.
Reservations are required. No walk-ins are allowed.
There is a limit of two guests for each student who registers to attend.
We are limiting each one-hour session to 25 guests and requiring that all guests follow social distancing guidelines.
Please bring a facial covering. All guests must wear a facial covering while on our campus, per University of Cincinnati policy.
When you arrive on our campus please park in the Muntz Parking Lot (it's to the left as you come in the main entrance from Plainfield Road).
Please remain in your car or outside until the time of your appointment.

We will send you a text when it's time to check in.

You will check in at the front of Muntz Hall. Watch for signage with directions (depending on the weather, the check-in stations could be inside Muntz Hall).
A presentation will be provided by members of the Admissions Team in Muntz Hall Room 170. Seating will be arranged to allow for social distancing.

Members of the Admissions Team will also be available to answer your questions and provide information on our academic programs, financial aid, One Stop Student Services, and academic advising.

Students will then have the opportunity to complete their application or confirmation on laptops that are provided and thoroughly disinfected. Once completed, we will waive the $50 fee to apply or confirm.
The presentation room and application/confirmation room will the cleaned and disinfected following each session.
Questions? Contact us at 513-745-5700 or admissions@ucblueash.edu.
Give us an hour. We'll kick start your future!
Join us for this free event and learn why UC Blue Ash College offers one of the best values in higher education. An Express Application Event is a great way to submit your application in person in one our computer labs with assistance from admission representatives.
What you will experience at the event:
Learn about our affordable tuition and more than 50 degree and certificate programs in a quick overview presentation.

See our beautiful 135-acre campus.

Complete your application on-site where our team can assist if you have any questions. Application processing fees will be waived!
Save $50 - Have Application Fee Waived
All prospective students and guests are invited to attend and learn more about the academic programs, receive a tour of the campus, and students who apply to UC Blue Ash during the event will receive a $50 application fee waiver for applications* processed during event.
*Applies to UC Blue Ash applicants only, and must be processed during the Express Application Event. $50 free application is for new applications only, and they must be completed at the event.
Please note the following:
If you have already applied to the University of Cincinnati including the regional campuses, the $50 fee will not be waived.
There are no refunds on your fee if you have previously applied to UC Blue Ash
If you have a pending application to any University of Cincinnati college, including UC Blue Ash College, please email your questions to: admissions@ucblueash.edu.
Why You Should Choose UC Blue Ash College
Tuition at UC Blue Ash College is nearly half the cost of most colleges and universities.
Average class sizes of just 19 students ensures specialized attention from our award-winning faculty.
93% of students surveyed are highly satisfied with the quality of teaching at UC Blue Ash College.