Student Success Profile: Josh Alonge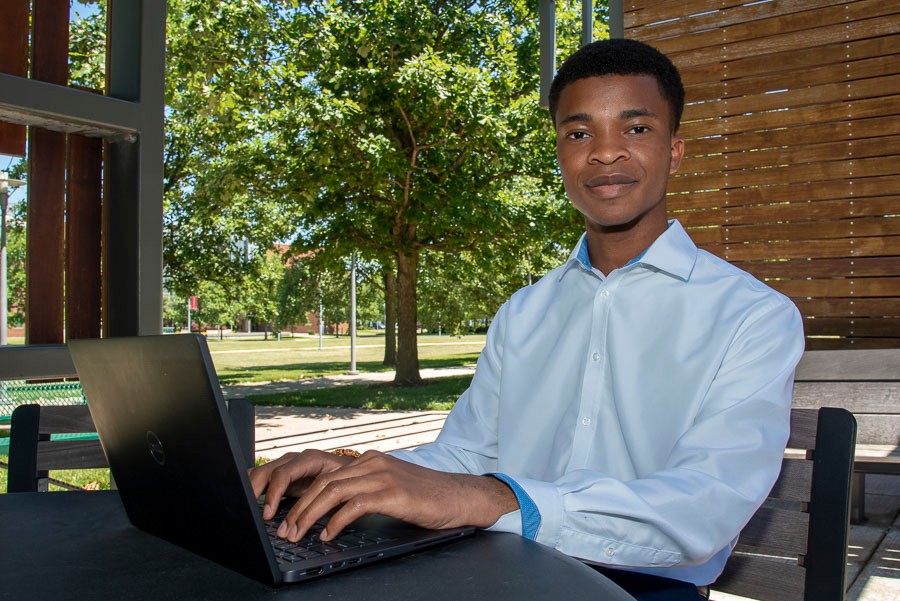 As someone who had a long-time interest in computers and technology, Josh Alonge found that UC Blue Ash College was the perfect place to begin his path toward a career in the growing field of cybersecurity.
"The professors make a point to provide a great foundation in information technology. Whether database management, networking or programming, they introduce you to the introductory ideas for when you move into the field or if you want to plan to continue your education," Alonge shared.
Alonge began exploring this passion for technology more thoroughly when he was presented with the opportunity to assist with developing a pilot program at his high school that taught students about cybersecurity. His involvement with the program ultimately led to his decision to apply to UC Blue Ash to learn more about information technology.
"For anybody thinking about an IT career, UC Blue Ash is a great place to be," Alonge expressed. "Faculty, regardless of whatever position you're in or where you come from, want to help you out. It's a great environment for learning and I have never felt out of place here."
For anybody thinking about an IT career, UC Blue Ash is a great place to be.
Josh Alonge
As a 2021-22 recipient of the Eric C. Broyles Student Success Scholarship, a scholarship created for UC Blue Ash students intending to pursue a bachelor's degree at UC's Uptown campus, Alonge remains thankful for his start at UCBA and the encouragement he's received throughout every step of his Bearcat journey.
"It's encouragement for the future—That is what receiving this scholarship has meant to me. It allows me to delve into more activities outside of school dedicated to cybersecurity training and it also gives me a more positive outlook. [The support from donors] does not go unnoticed and will not be underappreciated."
Alonge plans to complete his bachelor's degree in cybersecurity by making a seamless transition to UC's College of Education, Criminal Justice and Human Services. He is also proactively preparing for a career where he can assist organizations in becoming more security conscious by gaining valuable hands-on experience through UC's co-op program.
"I'm grateful for the ability to pursue a career I'm passionate about and UC is doing a lot to help me achieve that," Alonge said. "I haven't had a single regret about going to UC Blue Ash. I'd say, if you're thinking about it, you should probably do it."