Student Success Profile: Monica Weber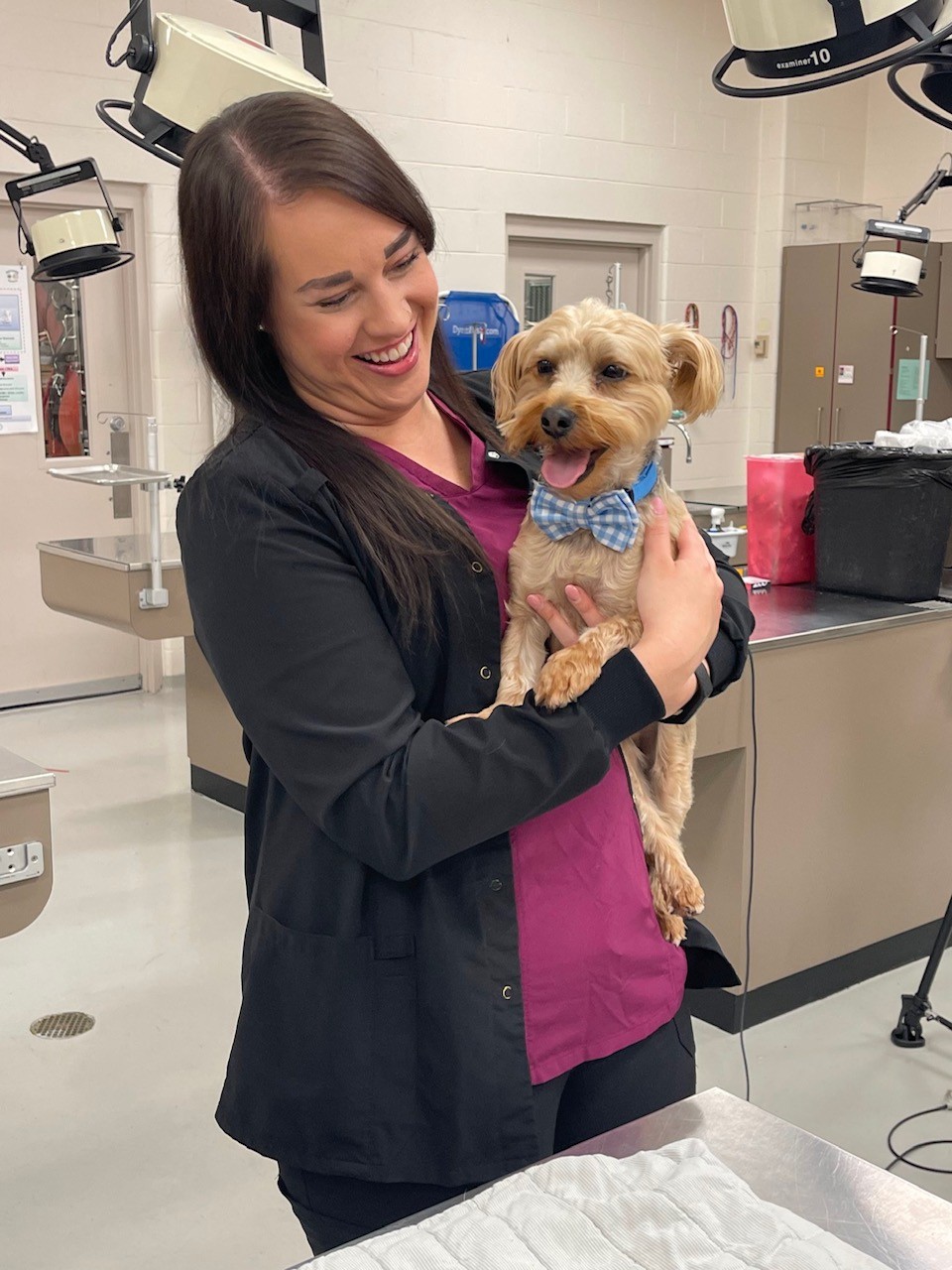 Monica Weber always possessed a love for animals. From dogs and cats to tortoises and hermit crabs, "We had a mini zoo," she laughs when speaking about her pets growing up. She even recalls her ambitious attempts as a kid to care for stray cats in her neighborhood.
A recent graduate from UC Blue Ash College's Veterinary Technology program, Monica has turned such fondness into a career she always dreamed of pursuing. But she describes her decision to initially apply to the program as a big leap of faith after previously earning a bachelor's degree in a different field and comfortably navigating a property management career.
"I was good at [my job] and enjoyed it, but it didn't feel very fulfilling," Monica shared. "I knew I wanted to do something more."
Monica says UC Blue Ash stood out as it offered her an affordable option close to home and an exceptional program with a close-knit faculty and supportive energy. "I noticed the level of dedication from faculty is unlike anything I've ever experienced. I knew they truly cared about me and wanted me to succeed. It made me feel more reassured in my decision to come to UC Blue Ash."
Monica noted that the vet tech program and her professors gave her the tools and hands-on participation to confidently enter her new position as a veterinary technologist.
I'm so happy I decided to go to UC Blue Ash. Everyone I've interacted with has been so supportive and kind, always available to answer a question or to help.
Monica Weber
"I remember I was terrified of surgery and knowing I'd be monitoring an animal under anesthesia. It's a huge responsibility, but now, [surgery] is one of my favorite things to do," she says. "I'm still blown away by how much I've learned. It has honestly been the most rewarding thing I've ever done in my life so far."
Monica is also thankful to have been exposed to a variety of animals and techniques during her time at UC Blue Ash, including small animal medicine, field trips to assist with vaccinating cows and horses, and avian and reptile labs where she learned how to properly hold and restrain birds and snakes, even a large python!
Monica's decision to take her career in a new direction has undoubtedly paid off. She graduated with honors this past spring, earning accolades such as the UC Blue Ash Honor Student of the Year for 2021-22 and the Veterinary Technology Department's annual award presented to the student who best demonstrates a commitment to veterinary medicine.
"I'm so happy I decided to go to UC Blue Ash," Monica expressed. "Everyone I've interacted with has been so supportive and kind, always available to answer a question or to help. I would highly recommend UC Blue Ash to anybody, not just to vet tech students."