Self-Designed Experiences
Some students may find that a Self-Designed Experience will help them to achieve their academic or personal goals. Use the form below to describe and submit your plans.
Carla Henderson, DNP, MSN, RN, CNE, CHSE
Last Names A-D
Walters Hall 281
513-936-7103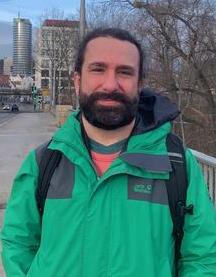 Robert R. Gioielli
Associate Professor of History Director, UC Blue Ash Honors Program , UCBA History
284 BA WALT
513-936-7117
I am an environmental and urban historian whose work focuses on the intersections of social and environmental issues in the American city, especially when it comes to racial and class inequalities. I also have a significant interest in the origins and development of environmental activism, both in the United States and around the globe, and how environmental politics has both created and reinforced other inequalities and hierarchies. 
My teaching is focused on American and environmental history. In the classroom I work to help students understand how historical thinking is a vital tool for understanding their contemporary world. My environmental history classes in particular are focused on experiential learning, and encouraging students to get involved in the greater Cincinnati community through research, volunteering and service learning. Courses I have taught include American History, Global Environmental History, Race and the Environment, and Environmental Activism. I am also firmly committed to international education, and have taught through the University Study Abroad Consortium in Chengdu, China. 
Finally, I am also the director of the UCBA Honors Program, and work to provide a tremendous experience for all of our honors students. 
Books
Environmental Activism and the Urban Crisis: Baltimore, St. Louis, Chicago
. Philadelphia: Temple University Press, May 2014. Paperback July 2015. Refereed.  
Refereed Publications
"Not Quite Suburban: Progressive Politics in Postwar Chicago" in
Social Justice in Diverse Suburbs: History, Politics, and Prospects
, edited by Christopher Niedt. Philadelphia: Temple University Press, 2013.  
 "We Must Destroy You To Save You: Highway Construction and the City as a Modern Commons,"
Radical History Review
, Issue 109, Theme: "Enclosure," Winter 2011. Refereed.  
"How can any community be expected to accept such a scar?: The Movement Against Destruction and Environmental Activism in Postwar Baltimore," in
Common Ground
:
Integrating the Social and Environmental in History
, edited by Genevieve Massard-Guilbaud and Stephen Mosley. Newcastle upon Tyne: Cambridge Scholars, 2011.  
"Get the Lead Out: Environmental Politics in 1970s St. Louis,"
Journal of Urban History
, 36 (4), May 2010. Refereed.  
"Suburbs vs. Slot Machines: The Committee of 500 and the Battle over Gambling in Northern Kentucky,"
Ohio Valley History
, 5 (2), Summer 2005. Refereed.  
Public History Projects
Rethinking Porkopolis: Cincinnati and the Ecology of Slavery
museum exhibition and speaker series in partnership with the Harriet Beecher Stowe House, Cincinnati, OH. September to December 2016. Project director, chief historian and curator.
https://issuu.com/robertgioielli/docs/porkopolis_sample_pdfs
Work in Progress
Race and Urban Sustainability: How White Supremacy Made the American Metropolis Unlivable,
book manuscript in progress.  
"Don't Do it in the Lake: Gordon Sherman and the Public Interest in Postwar Chicago," article in progress for edited volume tentatively titled
Chicago Environmental History
(University of Pittsburgh Press), William Barnett, Kathleen Brosnan and Ann Durkin Keating, eds.  
"Environmental and Conservation Movements in Urban America," under contract with the
Oxford Research Encyclopedia in American History
(Oxford University Press), Jon But