Radiologic Technology Program
Radiologic Technology is the use of radiation to provide images of various body parts (bones, vessels, organs) and various body functions (digestion and circulation) to facilitate diagnosis and treatment of certain injuries and illnesses.

Diversity and Inclusion Statement
The UCBA Radiologic Technology program values diversity and aims to grow a welcoming and inclusive community where all are respected and belong. We purposely take steps to increase interconnectedness within our professional practice. We embrace diversity, and as a result, our viewpoints are enriched and our community strengthened. Radiologic technologists work with diverse patients and health care professionals. One needs to value diversity and practice cultural humility to be a successful radiologic technologist.
Radiologic technologists need to be able to problem solve, think critically, and persist when times are difficult.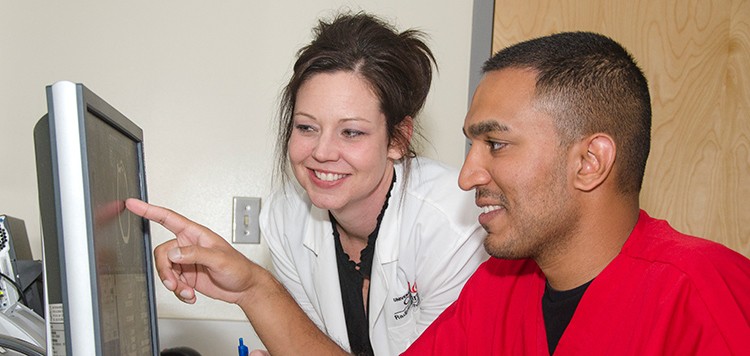 Radiologic technologists (radiographers) are health professionals qualified to perform radiographic examinations ordered by licensed practitioners such as physicians, chiropractors, etc. Radiographers are responsible for the creation of medical x-ray images, the operation of radiologic equipment and the care of patients. They must also be prepared to recognize emergency patient conditions and initiate lifesaving first aid. The radiographer is ultimately responsible for providing the highest quality images with the lowest radiation exposure to the patient.
Education for radiologic technologists is rigorous and includes classroom, laboratory and clinical experience. The program and the profession are physically and mentally demanding. The clinical and classroom experiences require approximately 40 hours of participation per week. This experience is primarily during the day; however, some evening experience is also required.
Goals and Program Effectiveness: The mission of the radiologic technology program at UC Blue Ash College is to educate and prepare students for a career as a diagnostic radiographer.
Frequently Asked Questions: Visit the Radiologic Technology FAQ page to get answers to the most common inquiries about the program.
It's important to be aware of the costs of any program, so we've put together this list of total cost estimates for the Radiologic Technology Program.
Program Costs

| Item | Semester | Approx. Cost |
| --- | --- | --- |
| Healthcare Provider CPR Two Year Certification (from American Heart Association or Red Cross) | Fall 1st Year | $100 |
| Drug Screen & Background Check | Fall 1st Year | $90 |
| Uniforms & Lead Markers (2 sets of each) | Fall 1st Year | $200 |
| Uniform Shoes | Fall 1st Year | $125 |
| ARRT Exam Fee | Spring 2nd Year | $200 |
| Diploma | Spring 2nd Year | $60 |
| State License, Ohio | Spring 2nd Year | $40 |
| Textbooks & Educational Resources (for entire program) |   | $2500 |
| Travel Expense to Clinical Sites (for entire program) depending on distance from residence to clinical sites |   | $500 |
| Non-tuition Cost Estimate |   | $3,815 |
Radiologic Technology Grading Scale

Letter Grade

Percentage Range

 

A

97.0 - 100%

 

A-

93 - 96.9%

 

B+

90.0 - 92.9%

 

B

87.0 - 89.9%

 

B-

85.0 - 86.9%
 

C+

82.0 - 81.9%

 

C

80 - 81.9%

 

Not passing

Less than 80.0%

 

 
The UC Student Grievance Policy and Procedures are available online. Please note that the first step in the process is informal resolution whereby the student talks with the faculty member or instructor about his/her complaint. If not resolved, then the student must talk with the faculty member's department or unit head or a college representative designated by the Dean. The subsequent steps involve mediation through the University Ombudsman and/or formal resolution. NOTE: A student may proceed to mediation or formal resolution no later than the end of the following semester.
In the event that a student has a grievance regarding a clinical evaluation, the student will be asked to discuss the evaluation with the evaluator for the purpose of gaining a better understanding of the meaning of the evaluation. In the event that this does not rectify the grievance, the student will be permitted to attach to the evaluation a detailed explanation regarding their grievance for consideration by program faculty. Students should note that individual evaluations have a minimal effect on a student's grade in the clinical practicum.
The Radiologic Technology Program at the University of Cincinnati Blue Ash College is accredited by the Joint Review Committee on Education in Radiologic Technology (JRCERT). The JRCERT awarded the Radiologic Technology Program at UC Blue Ash an eight-year accreditation status.